SLR cameras are the serious cameras of a lifetime. SLR means "Single Lens Reflex", but they have also always been known under the name of REFLEX.
They are cameras with interchangeable lenses, which use a mobile mirror in their body to produce the image that is seen in the optical viewfinder that has an eyepiece attached.
Many years ago, towards the end of the 70s, when the autofocus was invented, to the main or primary mirror, another secondary one was added, which allowed diverting part of the light towards the focus system, and thus achieve the camera will "auto-focus."
Until not long ago, all SLRs were analog (film, rather). Now, practically all of them are digital, and therefore the D of the new acronym "DSLR".
Even at the risk of telling something that most of you already know, let me put on a small sketch that reasonably illustrates the mechanism of a REFLEX.
Also read:  Best Canon Lens For Portraits and Wedding Photography
SLR vs DSLR Camera
Which is better SLR or DSLR?
SLR (Single Lens Reflex) is an old form of cameras that uses film to form images. SLR cameras offer slightly better color, tone and contrast quality. DSLR (Digital Single Lens Reflex) refers to SLR cameras that take digital photos. … There are more DSLRs available on the market, so they tend to be cheaper.
Which is better DSLR or digital camera?
The digital SLR viewfinder is different from ordinary digital cameras. The DSLR camera works well in low light conditions, where images from a digital camera are grainy, in low light conditions. The construction of the single lens reflex digital camera is heavier and more expensive than that of the digital camera.
SLR camera
Sensor format
The sensor is an electronic device that converts the optical image into an electrical signal. It is a crucial part of the camera because it determines not only the maximum resolution of the photographs, but also the quality of the shots in different lighting conditions. A quality sensor can push itself to high ISO values ​​without producing too much noise, thus allowing you to take pictures even when you are in unfavorable lighting conditions. There are sensors of different formats: the main ones are listed below
Full Frame
A Full Frame sensor measures 24 × 36mm and is equivalent to the standard format of 35mm film. It is used in professional DSLRs which, as easily understood, are also the most expensive (and by a lot, even compared to cameras with APS-C sensors). In Italian it is called full frame, and it is the type of sensor that manages to collect the largest amount of detail within a single frame. Being larger than the other sensors, with the same resolution the pixels are less dense and are therefore able to impart greater sharpness and less accentuated noise. Also the upper shooting angle, such as the blur effect in the background (bokeh).
APS-C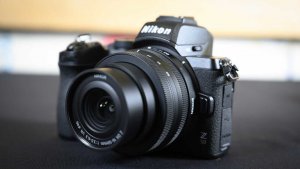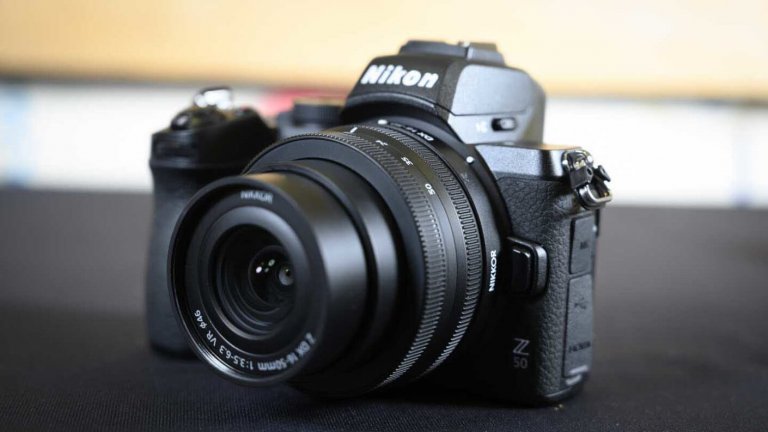 APS – C sensors can measure 23 x 15 mm or 22 x 14 mm, depending on the companies that produce the cameras, and therefore involve a "cut" factor (technically called crop ratio) equal to 1.5x in SLR cameras. Sony, Nikon and Pentax or equal to 1.6x in Canon DSLRs. APS-C DSLRs are the most popular and accessible and include most entry-level and mid-range models.
 The acronym APS-C stands for Advanced Photo System Type-C (Classic), and represents a format that has a form factor of 3: 2. Between APS-C and Full Frame there is the APS-H (High Definition) format, which is less common on the market.
Four Thirds
The Quattro Thirds sensors measure 17 × 13 mm and therefore have a crop ratio of 2x compared to the format of the Reflex Full Frame. There are not many cameras equipped with this type of sensor, also because it is generally better to opt for models equipped with APS-C sensor which are preferred above all by prosumer users (halfway between common amateurs and professionals). The Four Thirds does not specify the form factor, as one is mistakenly led to think, but the diagonal dimensions are similar to those of the old 4/3 "cathode ray tube.
Also read: Best Cameras For Landscape Photography
Technical features
There are terminologies and concepts that you need to know before choosing your SLR, which establish the quality of the photos taken with a particular model and the features present. Below I will explain the main technical characteristics that you cannot fail to know.
Number of Megapixels – Reflex manufacturers tend to "emphasize" the number of megapixels of the sensor, ie the number of millions of pixels from which the images made by the camera are formed. In reality, the number of megapixels is only one of the many factors by which to judge the quality of a DSLR. Even more important are the lenses used and other technical parameters, which we will discuss shortly. To simplify the matter as much as possible, know that with a 16MP camera you can get 30 × 40 cm prints of very good quality.
ISO sensitivity – indicates the "brightness" level of the sensor. The higher this value (which is adjustable during shooting) the more the camera is able to take clear pictures in low light conditions. But be careful, taking pictures with a high ISO value increases the risk of generating "noise" on the final image.
Focus points – DSLRs can have various focus points. The higher the number of these points, the more precise the "direction" of the focus can be.
Video and photographic sequences – Reflex cameras are capable of making photos, videos and photographic sequences, i.e. shots taken in rapid succession. Before buying a camera, therefore, check the maximum resolution of the videos it is able to generate (HD 720p, Full HD 1080p or even 4K) and the maximum speed of the photographic sequences (which is measured in FPS, frames per second).
Lenses – as mentioned earlier, choosing the right lens is crucial in obtaining great photos. To find out which lens works best for you, take a look at my lens buying guide .
Weather resistance – if you intend to take photos and videos in not very "calm" conditions, opt for a water, shock and dust resistant SLR.
Presence of Wi-Fi, NFC and GPS – Wi-Fi and NFC technologies allow SLRs to communicate wirelessly with smartphones, tablets and other devices. GPS is what stores geographic information in photos and videos taken with the camera.
What are some of the disadvantages of an SLR camera
Disadvantages of owning a DSLR:
High price tag. DSLR cameras are more expensive than point and shoot cameras. …
Complexity. DSLR cameras are quite complex to work with. …
Continuous maintenance. The maintenance cost on a DSLR is much higher than on a point and shoot. …
Weight and size. These babies are big and heavy! …
Noise.
DSLR
Sensor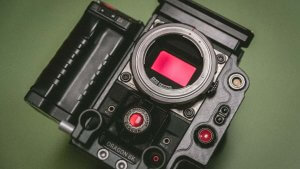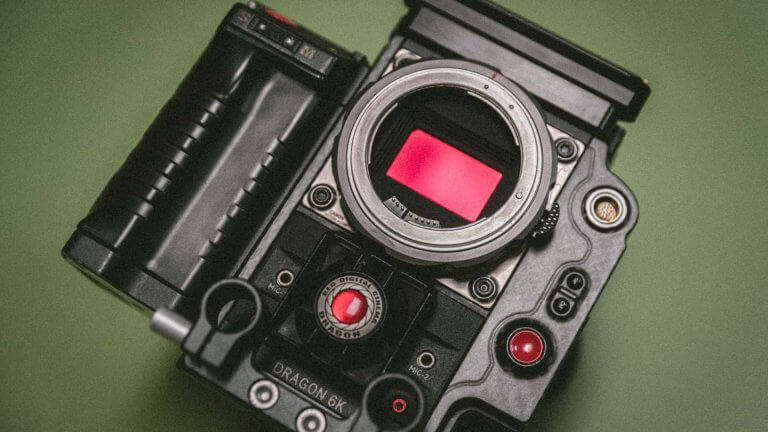 The decent image quality is linked to the size of the sensor: to make you understand, the sensor of a compact covers 3% -5% of the surface of a full frame (36 × 24 mm). There are premium compacts that also mount professional full frame sensors or rarely APS-C and micro 4/3 ", but generally do not exceed the 1 / 2.3" formats (with which mediocre results are obtained) and 1 ".
Do not believe those who try to sell you a camera as good just because "it has many pixels", that is, those tiny digital pieces that, from being light, are transformed into an image : what matters is the size and quality of the sensor, not the number of pixels ! In fact, it is mistakenly believed that the greater the number of pixels, the higher the image quality: in reality, the resolving power is primarily determined by the sensor, and that is why you must carefully evaluate its characteristics when purchasing.
Furthermore, let's remember that the human eye can really appreciate the resolution of a photo (so how many megapixels the camera contains) only on large screens , certainly not enough that of a smartphone.
Also read : Unrivaled Guide to Long Exposure Photography
Lens and crop factor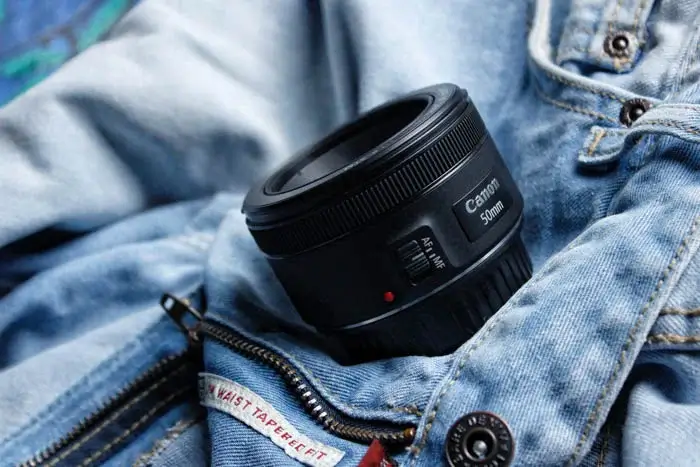 Another typical feature of compact cameras is the absence of interchangeable or retractable lenses ; instead, they have fixed lenses (x5 / 10 in the cheaper models up to x30 / 40 in the more expensive ones), which makes the lens an important factor to be taken into consideration as it cannot be replaced at a later time.
In short, if you mount the same lens on two cameras with different sensors, the image result will be different . The real focal length is indicated on the camera lens, which is misleading as the value to consider is the full frame equivalent, which is obtained by multiplying the real focal length with the crop factor (ie how much is "cropped" image versus a full frame image).
We need this factor to know the angular aperture of the field of view: as this value decreases, the field of view of the image increases. More simply? We need to understand how much we see the close-up image compared to a full frame sensor. That's why it's an important value to keep in mind if you're undecided about which camera to buy, compact or not.
Below, I share an interesting table where you can see the crop factors for each type of sensor.
Also read: why do photographers always wear black?
Viewfinder and zoom
Another typical feature of the compact is the absence of a precision optical viewfinder : in the cheaper models, even, to aim you simply use the screen, in others there is the presence of a digital viewfinder, but there are also professional compact with electronic viewfinder.
The same goes for the zoom which, being digital, crops the image creating the approach effect . In reality, qualitatively poor photos are obtained.
Also read: Types of Photography: A Complete List of Photographic Genres
High-end compact
It is important that you know that in recent years, manufacturers have been able to improve (and greatly) the quality of compact cameras , meeting both beginners and those who do not want to enter the complex world of photography. But not only that: considering the smartphone market that runs at lightning speed, it has had to reinvent itself to offer a product that at least holds up to comparison.
There are high-end compacts with excellent quality, which are equipped with full frame sensors, electronic viewfinders and powerful lenses. An example is the very powerful Fujifilm X100V , whose selling price is around $ 1500.
SLR Vs DSLR Camera | Infographics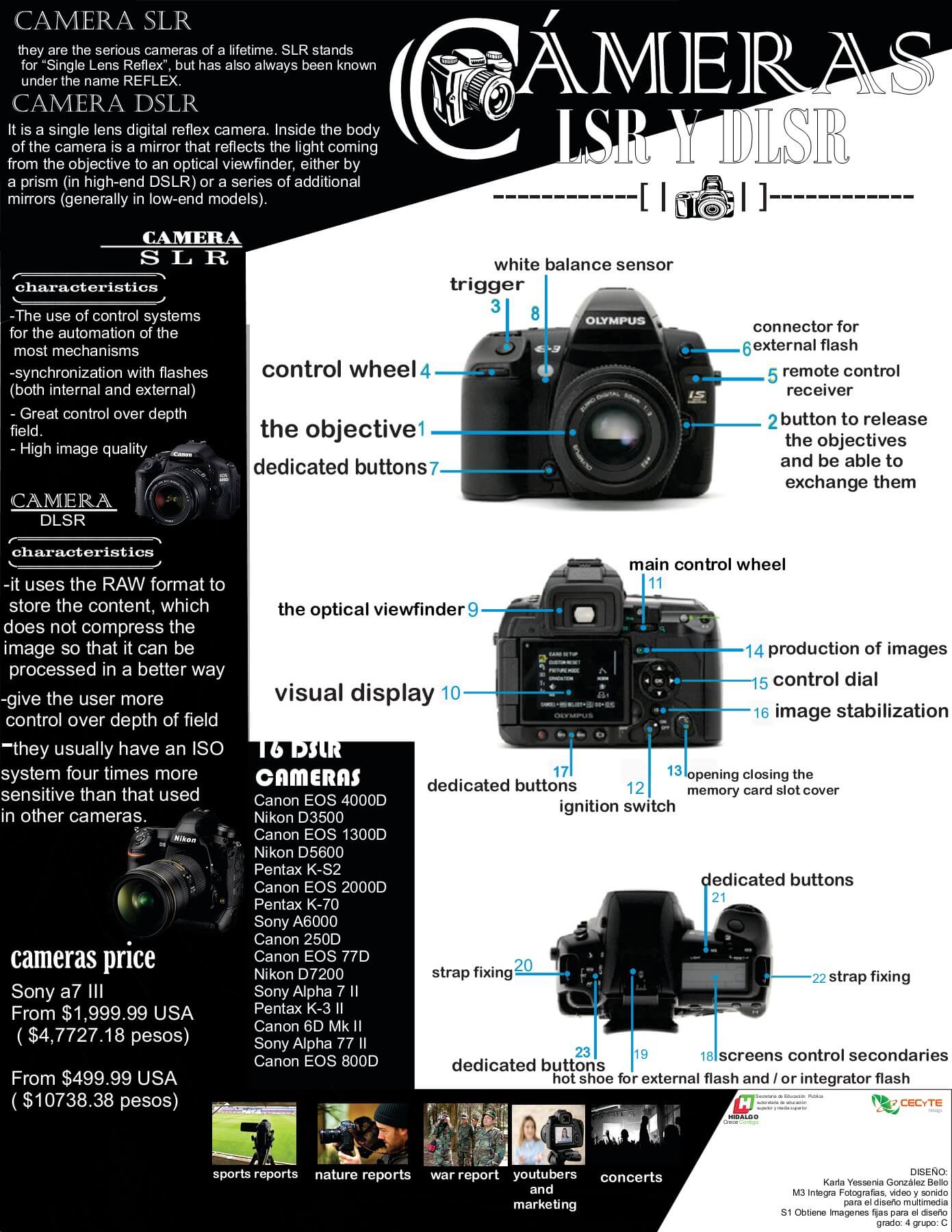 SLR Vs DSLR Camera | Video Explanation
Also read:  Best Strobe Lights For Photography
FAQs
Do SLR lenses work on DSLR cameras?
Any Canon "EF" lens manufactured after 1987 will fit any Canon DSLR, but none of the older "FD" mount lenses produced before 1987 will fit. … Any Canon EF DSLR lens will work perfectly with both systems with the correct Canon adapter, while smaller EF-S lenses can only fit EOS-M cameras via the "EF-EOS M mount adapter".
What does SLR stand for?
Definition: The ratio of liquid assets to net demand and temporal liabilities (NDTL) is called the legal liquidity ratio (SLR).
Is it worth getting a DSLR?
While the answer is a solid yes, things aren't as simple as they might seem. For 95% of photographers (both amateur and professional), a DSLR camera is worth a purchase, but only if they have a profitable photographic business. While for people who love photography as a hobby, it's not worth it at all.
Do you need a DSLR for photography?
Digital SLR cameras (DSLRs) are still the go-to option for many of these budding photographers and remain the weapon of choice for professionals. … Today, if you are an amateur and looking for a professional camera to satisfy your urge to shoot high quality images, you don't need a DSLR.
Is DSLR Dead 2020?
DSLR technology is ancient. DSLRs are dead. … All of that may be true, but there are still some good reasons to buy a DSLR in 2020, particularly a slightly older model, according to photographer Hyun Ralph Jeong.
What are the benefits of an SLR camera?
There are many benefits to shooting portraits with a DSLR (digital SLR camera). A DSLR camera will give you better resolution, sharpness and clarity because it uses a larger sensor to capture the image and more powerful processing power. Using a DSLR also offers the versatility of interchangeable lenses.
What are SLR cameras used for?
A DSLR camera lets you see the exact image you're shooting directly through the viewfinder, allowing you to better view and capture your scenes.
What are the advantages of SLR cameras over other types of cameras?
The main advantage of an SLR camera over framing is that you can switch lenses so that you can have exactly the right lens for the subject you are shooting. (Obviously when you are on the pitch, the right target will always be the one you left at home because it's too heavy, but that's another story
Conclusion
We hope that this guide might help you to differntiate betrween SLR Vs DSLR Cameras . For any queries contact us . Our team will respond to all your queries and questions ,
Also read:  How To Take Low Light Photos