Have you ever noticed that professional photographers often wear black or dark colors? This is particularly the case during concerts, plays, or any other event. Beyond giving yourself a certain style, this clothing choice is much more thoughtful than it looks and can be summed up in one sentence: be as discreet as possible .
Also read: Best Cameras For Landscape Photography
Concert photography and black clothes: the winning duo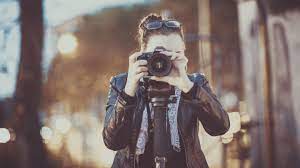 If you've ever been to a music festival, concert, or theater, you might have noticed that all the staff members wore black clothes. For photographers, it's the same thing: black is de rigueur. But why?
The reason is simple: during a performance, the star is the artist, not the photographer – sorry for your ego. If you're wearing a white or patterned t-shirt, you're bound to draw attention to yourself. To keep the focus on the performer, everyone on stage or around should be as unobtrusive as possible – even invisible.
Also, dark clothing (with long sleeves) is a must – as well as ear protection to preserve your hearing. Indeed, skin tones or light colors attract the eye more – which would have the effect of distracting artists and spectators alike. And that is exactly what we are trying to avoid. Some light-haired photographers even go so far as to wear a dark hat or beanie .
Also read: Outdoor Photography
Ultimately, wearing black aims to fulfill 2 complementary objectives. On the one hand, to be as unintrusive as possible to retain all the spontaneity of the moment – ​​which guarantees better photos of the event. On the other hand, the objective is also (incidentally) to allow spectators to have a good time, without the technical team, photographers, or videographers coming to cause a distraction every two minutes.
Also read: Types of Photography: A Complete List of Photographic Genres
Dress in black to be more discreet, even when no one is around
Dressing in black doesn't have to be limited to concert or event photography. If black makes it possible to be as discreet as possible with the public, it also makes it possible to be the most discreet in the final photo. Indeed, light is an essential constituent of photography, and black has the power: to reduce the reflection of light as much as possible .
Also read: 5 Reasons to go to school to learn photography
In the studio, the photographer uses light sources and reflectors to shape the light. If he wears a white or light t-shirt, he adds one more reflector to his image: himself. This is often not desired, and it is for this reason that a dark coat is advisable.
In product or portrait photography, wearing dark clothing also helps to avoid appearing in shiny surfaces that reflect light, such as metal, glass, or even the eye of your model. Imagine that you are wearing a green polo shirt and in each photo, you have to remove the reflection of this polo shirt in post-production. What pointless work!
It may seem like a detail to some, but in a professional and commercial setting, where every detail is scrutinized for the perfect picture, it makes sense.
A black garment also makes it possible to avoid any projection of color on its subject. If I am wearing red clothing and a strong light hits me, it is possible that a red tint will impact my subject. For this point in particular, a gray or white garment also helps to avoid any color casting.
Also read:  Best Strobe Lights For Photography
Black, not to choose
Finally, some professional photographers will recognize themselves in this last point: dressing in black or with dark and solid colors allows you not to have to choose. Here, the garment is similar to a work uniform, which allows the photographer not to worry about what he will wear on a daily basis for all the photo events he has to cover.
Of course, some photographers take the opposite approach, preferring to choose the best way to dress for each occasion: whether it's for a wedding, corporate photography, reporting, a concert, etc.
A last fringe of the profession will finally adopt another position: "I dress as I want because I am an artist".
This article did not try to tell you how you should dress to be a good photographer, but rather allows you to understand what drives so many photographers to choose black as their clothing, to place themselves as a true ninja of photography. . The next time you're asked why photographers wear black, you'll know what to answer.
why do photographers always wear black |Video Explanation
And you, how do you dress for your photo assignments? Tell us in the comments.