Portraying someone is stealing a bit of the soul, telling their secrets through their eyes, their story through their scars and their fears through their wrinkles. A portrait is not just a photo, it is much more, it is the image of a person with a soul, with feelings, with so much to tell!
And no matter what camera you use, you are the person who has to know how to transmit all this. And the goal … does it count?
It is important?
In my opinion, and I think that when you finish reading the article you will agree with me, yes it is. It is not that it is essential to use one or the other, in the end, as I said you are the one who transmits and the person portrayed who counts. However, the lens can contribute or distort more than we imagine.
Yes, after seeing these images you also think that the objectives have something to say for their focal length, this post interests you, accommodate yourself and read on…
I will tell you which objectives would be the most recommended for portraits. But first I would like to underline the word "recommended", and I say this because in the end, as I mentioned before, it is you who takes the picture and decides how to transmit, how to create.
Therefore, although I tell you that a fish-eye, for example, is not among those recommended, you may want to make a different, original portrait and you are looking for precisely the distorting effect produced by the fish-eye.
In that case, you have the last word and who decides, of course. You already know that the rules are to skip them, although for this you must know them and know with what intention you skip them.
The first thing we are going to see is what elements influence when an objective is more or less recommended for the portrait.
Best Canon Lens For Portraits and Wedding Photography
FOCAL DISTANCE
In case you do not know what I mean by this term, I leave you the following summary scheme because they say that a picture is worth a thousand words 😉. If with the scheme you do not clarify at all, do not worry, here is everything you need to know about the focal length of your lens.
The important thing is that you know that the appropriate focal length for portraits is between 50mm and 135mm. If you look back at the images at the beginning, you can see how the face is distorted below 50 mm.
The shorter the focal length, the more you will have to approach the person you are portraying. This is an important factor that you have to take into account. You may be one of those who hide behind a "TV" for shyness, but if that is the only reason you portray "from afar," your portrait may also be a little "far" from what the subject has to tell.
That is why I recommend that you lose your shyness and if you want to portray strangers who do not necessarily hide behind a telephoto lens, a smile will always help you overcome that shyness and get permission (almost always) from that person.
Another reason for using a telephoto lens is the ability they have to isolate the subject from the background. This is a good reason to use them, but for that, you don't need to hide 😉.
Also read :  Best Cameras for Street Photography
FIXED FOCAL
Focal can be fixed or variable. The fixed ones are those that, as the name implies, you cannot vary, with them you cannot do any kind of zoom. The variables, on the other hand, cover different focal distances. The former is more suitable for the portrait because they achieve greater sharpness, are brighter and allow a lower depth of field, and are also cheaper 😉.
The disadvantage is that they are less versatile and that to re-frame you will have to move from the site (although the latter does not have to be a disadvantage).
Also read: Types of Photography: A Complete List of Photographic Genres
OPENING
A really important element in an objective is the opening of the diaphragm. The greater the aperture, the greater the brightness and blur. Lenses with larger apertures allow you to further isolate the subject from the background and focus on certain details (you can even isolate the eyes from the rest of the face).
In addition, these types of objectives usually work better when it comes to focus. If you are not very familiar with the term, you should know what is indicated by the number "f", but the smaller the number "f" (or depth of field), the greater the opening.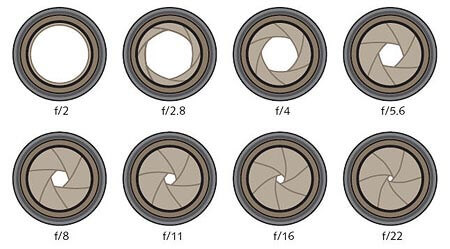 Best Canon Lens For Portraits and Wedding Photography
Now that you know the most important elements to consider when choosing a lens for portraits, I leave you a list with some of them. If I name only Canon it is not because it is the only brands, of course, but because most users have one or the other. If you are from Sony, Pentax …
Best Canon Lens for Portrait Photography | 2022 Products Overview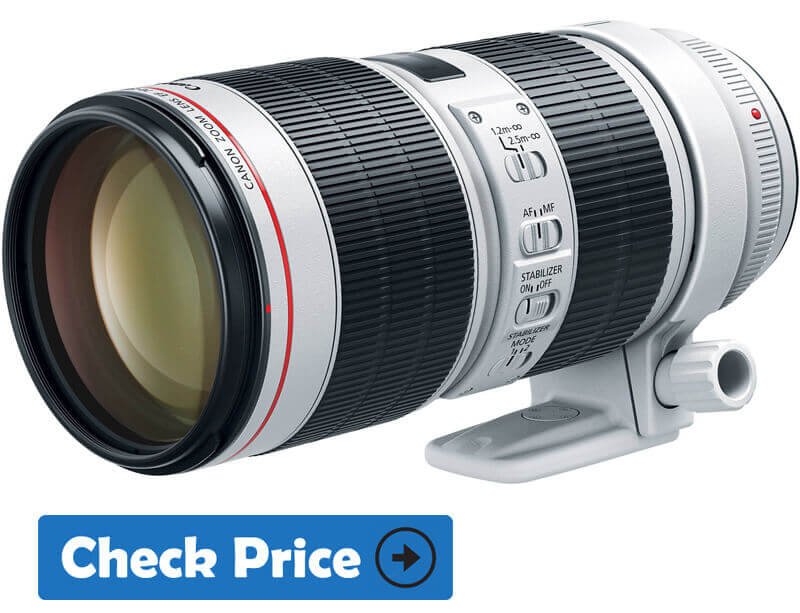 Specification:
Focal Length: 70-200mm
Maximum Aperture: 1:2.8
Lens Construction: 18 elements/15 groups
Min. Focus Distance: 4.9 ft. (1.5m)
Optical IS: Yes
Diameter x Length: 3.3 x 7.6 in.
Weight: 46 oz
The EF 70-200 mm f / 2.8L IS II USM is an off-road zoom telephoto lens designed for professional use. It has a robust and durable design, a four-step Image Stabilizer and special lenses.
Its versatility (from portraits to sports) and its robustness, it has become a classic. In addition, being 2.8 it holds a 1.4x or a 2x in good light conditions. Price according to its quality.
It has a fluorine coating that helps reduce dirt and water that adheres to the lens. We have checked it in a real environment, surrounded by nature and dust, and it really works, because although it is inevitable that we have to clean the target after a long session, the truth is that we do not find so much dust attached.
It also has a coating, called Super Spectra, which serves to eliminate parasitic lights and the optical veil, in addition to fluorite elements to correct color aberrations. In general, in making contact their behavior has been very correct in this regard, even working with headlights
It incorporates the usual Canon ultrasonic motor, which means high auto-focus speed, as well as being very quiet, as expected. In practice, all kinds of situations are very effective, with somewhat less success when there is little contrast in a scene or light is scarce.
A zoom lens as versatile as a 70-200 mm allows us to work for various purposes, especially for nature, landscapes, wildlife … which is where it unfolds with great ease and where it offers good results. It leaves us the best sensations when used at its maximum opening.
That f / 4 tells us that it is not the brightest TV (for that we have the aforementioned older brother also recently presented) but it allows us to work in scenes where light does not abound and we can take advantage of it with the effective stabilizer , or, take advantage of its maximum opening to get a nice blur . The result is very good, gradual and with a bokeh that will surely delight wedding photographer or portraits.
Pros
High-performance L-series zoom telephoto lens
A maximum constant aperture of f / 2.8
Four-step Image Stabilizer
Target elements of fluorite and UD
Enhanced durability
1.2 m minimum focusing distance
Water and dust resistant
USM ring-type auto-focus motor
Bottom Line: The quality it gives is exceptional, and I love its bokeh. Even at maximum aperture its sharpness is more than remarkable throughout the image. It also provides a quick approach, it is ergonomic
Also read: Outdoor Photography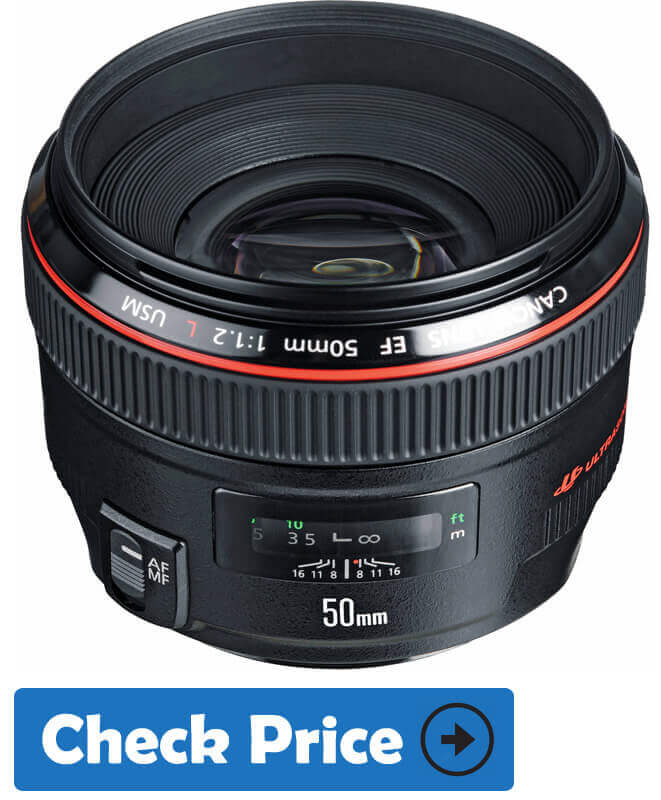 Specification:
Focal Length: 70-200mm
Maximum Aperture: 1:2.8
Lens Construction: 18 elements/15 groups
Min. Focus Distance: 4.9 ft. (1.5m)
Optical IS: Yes
Diameter x Length: 3.3 x 7.6 in.
Weight: 46 oz
With the brightest diaphragm of all the range's objectives, the extraordinarily fast EF 50mm f / 1.2L USM offers excellent performance in low light situations, which makes it the ideal choice for graphic reporters who wish to be able to control Shallow depth of field or take indoor pictures without the need for flash.
This Mario is called the King of Objectives, do you want to know why he calls him that? Click on the link and you will know all its "benefits". If your budget does not allow it, you may want to know the one called by the Prince of the objectives.
It has Circular opening that allows to obtain an excellent '' bokeh '' in the background
Send the distance information to the camera so it can be used by the E-TTL II flash system
This lens has a large maximum aperture of f / 1.2l, which makes it possible to take pictures without a tripod in low light. These large openings can be used to restrict the depth of field, even with such short focal lengths.
Pros
Exclusive sales arguments
L series construction and optics
Large diaphragm f / 1.2
Fast and silent autofocus
Super Spectra Coatings
Also read: why do photographers always wear black?
Specification:
Focal Length: 24-70 mm
Maximum Aperture: 1:2.8
Lens Construction: 18 elements /13 groups
Min. Focus Distance: : 0.38m/1.25 ft.
Optical IS: Yes
Diameter x Length: 3.3 x 7.6 in.
Weight: 28.4 oz
In response to the ever-increasing demand for digital photo quality, the new EF 24-70mm f / 2.8L II USM format is the latest update to the popular series EF optics series. L: Restoring a new standard for superior optics, durable construction, and high performance with professional zoom.
Standard zoom lenses have large apertures throughout the focal length. Featuring the latest advances in optical lens design, it uses Super UD lens elements and two UD lens objectives that minimize chromatic aberration at the wide-angle periphery and reduce color blur. The edge of the subject.
In addition, two types of spherical lenses are combined to reduce spherical aberration over the entire image area and zoom range. Optimized lens coating also helps to ensure outstanding color balance while minimizing ghosting. The lens is also equipped with a circular nine-blade diaphragm for a beautiful soft bottom.
A high-speed processor with ring-type USM and optimized AF algorithm enables quiet and fast autofocus.
Designed for harsh professional use, it has improved dustproof seals and water resistance while coating to accommodate ever-increasing digital photography. Using fluoride on the front and back lens surfaces can reduce dirt, streaks, and fingerprints.
The zoom lock lever locks the zoom position at the wide end for safe transport when mounted on the shoulder EOS DSLR camera.
Pros
An anti-dust and water coating
Fixed f/2.8 lens opening
Whisper-quiet autofocus motor
Quality of the image is extraordinary
13 months of free damage protection
Bottom Line: For photographers who want to work without added lighting, we take full advantage of this goal in duo with my 5Dsr which optimizes this objective.
Also read: Why should we shoot in RAW format?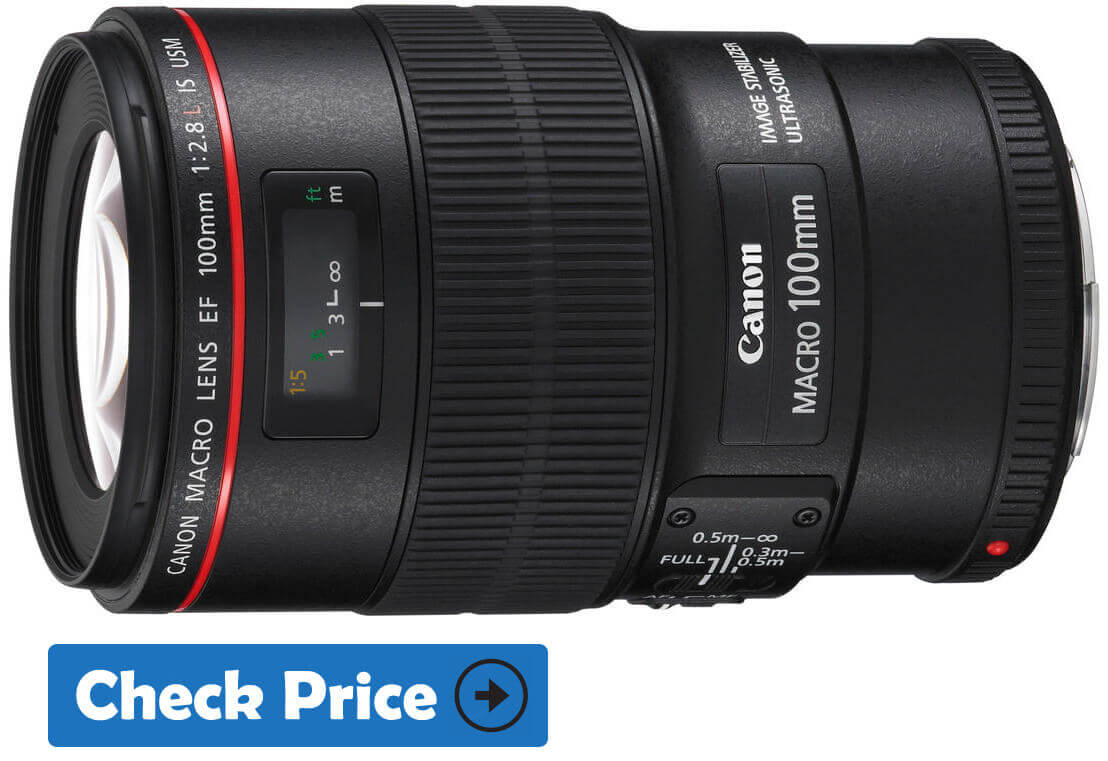 Specification:
Focal Length: 70-100mm
Maximum Aperture: 1:2.8
Lens Construction: 15 elements/12 groups
Min. Focus Distance: 0.99 ft./0.3m
Optical IS: Yes
Diameter x Length: 3.3 x 7.6 in.
Weight: 46 oz
The actual magnification of EF 100mm f / 2.8L EF USM macro is 1: 1. In other words, the subject you are actually shooting is the same size as the camera sensor.
This versatile lens, combined with integrated hybrid image stabilization and lightweight design, delivers stunning results in portrait and film creation thanks to its ability to achieve beautiful blur and shallow depth of field.
It's minimum focusing distance is 90 cm (you can get quite close 😉). Compress the facial features and allow the subject to stand out well on the background.
Pros
Quality of construction
Optical stabilization
Overall optical quality
High dive in the center from f / 2.8
No distortions
No chromatic aberrations
Cons
Optical stabilization performance
Lack of homogeneity of the sharpness between the center and the edges of the images at the largest openings
Vignetting visible up to f / 4
Bottom Line: It is recommended for beginners. You can enjoys a design approaching perfection, like many optical L series Canon: design, build quality (all-weather protection), finishes and grip are at rendezvous.Level optical quality, it is also very good, with a high level of dive (especially in the center) from the largest opening.
Also read: Best Ring Lights For Photograph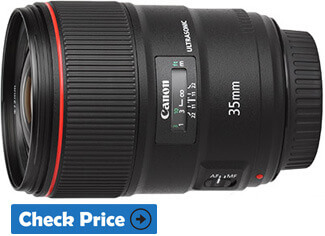 Specification:
Focal Length: 35 mm
Maximum Aperture: 1.4 L II
Lens Construction: 14 elements/11 groups
Min. Focus Distance: 4.9 ft. (1.5m)
Optical IS: No
Diameter x Length: 3.2 x 4.2 in.
Weight: 26.8 oz
A 35mm is a fixed focal length almost unavoidable for a photographer. Focale of excellence for reporting, it can also be quite suitable for landscape, and even portraiture. Canon has, in its fixed focal length range, a 35mm f / 1.4 originally designed for Canon EOS SLR cameras in EF mount, the Canon EF 35mm f / 1.4L II USM. Here is our test of this very bright optics and dedicated to professionals.
This Mario is called the King of Objectives, do you want to know why he calls him that? Click on the link and you will know all its "benefits". If your budget does not allow it, you may want to know the one called by the Prince of the objectives.
This lens has a beautiful optical formula composed of 14 lenses divided into 11 groups. It integrates two aspheric lenses to limit, among other things, geometric aberrations (spherical aberrations and coma). There is also a UD (Ultra Low Dispersion) glass and a BR (Blue Ray) composite glass to limit chromatic aberrations. The flare and the presence of ghost images are limited thanks to the Super Spectra treatment.
It is an ultra-bright lens (maximum aperture f / 1.4 and minimum f / 22) with a circular diaphragm with 9 lamellae and the autofocus motor is provided by the USM motor (Ultra Sonic Motor). The minimum focusing distance is 28 cm which gives it a maximum magnification ratio of 0.21X.
This very long length has the merit of providing some advantages. For starters, the grip is very comfortable: we have plenty of room to grip the lens with all the fingers. It also allows a constant-space design depending on the focus distance. The front lens is always fixed which is a plus for potential use with a polarizing filter. This design is in favor of protection against bad weather and bad shooting conditions (rain, humidity, dust) which is also ensured by the presence of a seal at the mount. No worries about extreme terrain use!
The lens gives the best of itself at f / 5.6 and the overall performance is very slightly behind at the f / 1.4 largest aperture.
Pros
Algorithms optical correction embedded
Devoid of optical stabilization
Ultra large opening f / 1.4 with beautiful effects of bokeh
Quality manufacturing (all-weather protection) irreproachable
General optical quality, character image: pique, no aberrations
Cons
Relatively high weight
No optical stabilization
Bottom Line: An object of desire, of pleasure. A pebble that must be appreciated and learned to tame. Quality of impeccable production Incredible rendering There are those who love and others not Try it is adopt it
Also read: Best Cameras For Landscape Photography
Specification:
Focal Length: 78 mm
Maximum Aperture: 1.2L
Lens Construction: 8 elements/ 7 groups
Min. Focus Distance: 3.2 ft
Optical IS: Yes
Diameter x Length: 3.3 x 3.3 in.
Weight: 36.2 oz
The EF 85mm f / 1.2L USM II lens meets the highest Canon standards for precision optics. The L Series is the flagship range of Canon EF professional lenses, combining outstanding optical performance and extraordinary functionality with a dust and moisture-resistant construction.
Large aperture f / 1.2
The maximum aperture at f / 1.2 ensures fast shooting in low light conditions without the need for a flash. This very large aperture also allows very precise control of the depth of field for portrait photography.
Excellent background blur
The circular aperture creates an aesthetic and consistent background blur when isolating subjects with the full aperture.
Fast and Quiet Autofocus Focus
Ultrasonic Annular Motor (USM) uses ultrasonic vibration to drive extremely fast autofocus focusing on the near-silent operation. A fast processor and optimized AF algorithms further accelerate autofocus. On the other hand, this high torque AF motor stops the focusing lens group without inertia or hesitation. Manual and permanent retouching of the point is possible in autofocus.
Super Spectra Treatment Super Spectra
treatment and optimized lens shape eliminate the possibility of internal glare and ghosting, which can occur with digital cameras due to the sensor's potential reflection. This treatment also provides a natural color balance and enhances contrast for vivid and true-to-life images.
Transmitting Distance Information to the E-TTL II System
The lens transmits camera-to-subject distance information to the camera's E-TTL II flash system for optimal flash exposure metering in all shooting situations.
Pros
With a lot of sharpness and a very soft bokeh (blur).
Fast and silent autofocus focus
Super Spectra Treatment
Transmission of camera-to-camera distance information to the housing for the E-TTL II flash system
Soft case and lens hood provided
Bottom Line: Perfect brightness, incredible depth of field … a real gem with a little bodybuilding on the front arm because it really weighs its weight.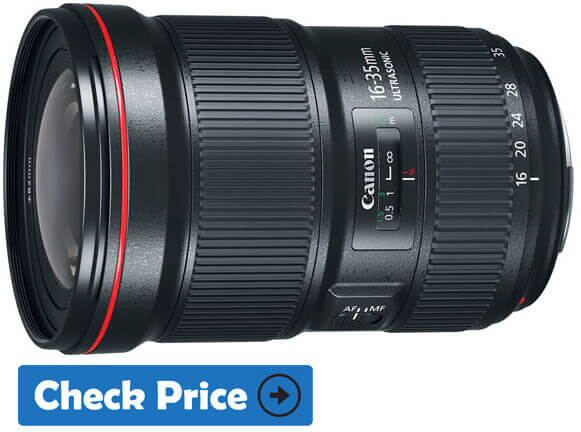 Specification:
Focal Length: 35 mm
Maximum Aperture: 1:2.8
Lens Construction: 16 elements/12 groups
Min. Focus Distance: 4.9 ft. (1.5m)
Optical IS: Yes
Diameter x Length: 3.3 x 7.6 in.
Weight: 27.8 oz
This CANON 16-35mm f / 2.8L III USM Super Wide Angle zoom provides a wider view, faster aperture and close focus.
Developed to succeed the famous 16-35mm f / 2.8L USM II, the Canon 16-35mm f / 2.8L III USM lens is set to become the favorite wide-angle zoom lens for professionals.
The release of the Canon 5D Mark IV and its high resolution of 30 million pixels resulted in the design of this new ultra-wide-angle lens Canon EF 16-35mm f / 2.8L III USM.
Among the novelties to note, a revised optical formula with always 16 lenses now divided into 11 groups and a diaphragm 9 slices, which should ensure a fluid bokeh and accurate.
The constant f / 2.8 aperture guarantees outstanding performance in low light conditions and depth of field control over the entire zoom range. The fast autofocus is controlled by an annular USM (Ultrasonic Motor) engine that is virtually inaudible and features the latest autofocus algorithms developed by Canon. A permanent manual focus is also available. Like all lenses in the L series, it is weather resistant.
What is Canon's L series?
The letter L indicates that this lens belongs to the prestigious series of professional EF lenses: the ultimate in image quality and ease of use with added weather protection and reliability.
The lenses of the L series are designed from special optical materials such as fluorite and ultra-low dispersion glass (UD or super UD).
What is the USM engine?
The USM (ultrasonic) engine is the world's first engine operating on the principle of ultrasonic oscillations used to drive a quasi-silent focusing. It is faster than the human eye.
A USM lens also stops without inertia at the exact moment when the camera detects that the camera is in focus.
What are fluorite and Super UD lenses?
Canon was the first manufacturer to develop the Fluorite lenses and UD glass elements needed to correct chromatic aberration. This aberration results in a different point of convergence for the wavelengths of different colors or in the variation of the refraction of the different rays of light which pass through the lenses of conventional glass. Due to their special diffraction properties, Fluorite lenses and UD glass elements correct these aberrations and ensure optimal sharpness, high contrast, and accurate color reproduction.
Pros
Constant opening f / 2.8
Quality of manufacture, grip, Setting rings
zoom ring is remarkable
Bottom Line:Excellent objective with quality and piqué of excellence. It is very expensive but when you are passionate about photography you must have it for the landscapes, the urban … It comes perfectly complete my material.
Conclusion:
So far the article today, but before I say goodbye I have to tell you that there are many more factors to consider when making a portrait in addition to the objectives. If you really want to master portrait photography, you can't miss the last blog post in which we tell you everything you need to know to get stunning portraits.
If you found it useful, I would appreciate it if you shared it on Facebook, Google + or Twitter. If you think so, someone else may also find it useful 😉. Thank you and see you next time!
Top-Rated Canon Lens For Portraits and Wedding Photography