You're looking for a new camera, but you're not sure which type suits you best. An SLR camera is 1 of your options. But what is it?
Read the following article to find out. We will also explain the situations in which the purchase of an SLR camera is appropriate. Making the right choice has never been easier.
Also read: What is a Tilt-Shift Lens & How its Works
What is a Single Lens Reflex Camera?
Modern SLR cameras are digital cameras with a mirror system that allows you to look at the subject through a mirror. Hybrid cameras do not have this system so you should watch your subjects via a digital image in the viewfinder or on the screen.
By looking directly through the lens while shooting, you can view the subject in an analog manner as you capture it. Another feature of the SLR camera is its interchangeable lens.
Meaning & History of SLR
It stands for "Single Lens Reflex". It simply refers to a digital SLR camera that, like all SLRs, uses a mirror mechanism to reflect the lens light to an optical viewfinder (which is an eyepiece on the back of the camera that allows you to see the image of the scene that you are taking) and that when shooting you raise the mirror, letting the light pass completely to the image sensor (which captures the image).
Although single-lens reflex cameras have been available in various forms since the 19th century with the film as a recording medium, the first commercial digital SLR with an image sensor appeared in 1991. Compared to compact cameras designed to aim and shoot, SLR cameras typically allow the use of interchangeable lenses.
[youtube https://www.youtube.com/watch?v=2tiqxiHnv1M]
Also read : What is Spherical Aberration
What are the main components of an SLR Camera
Camera lens
SLR Mirror
Focal plane shutter
Image sensor
Matte Focus Screen
Condensing lenses
Pentaprism
Viewfinder eyepiece
Check out the following image of a cross-section of an SLR camera (image courtesy of Wikipedia):
Also read: Best Ring Lights For Photograph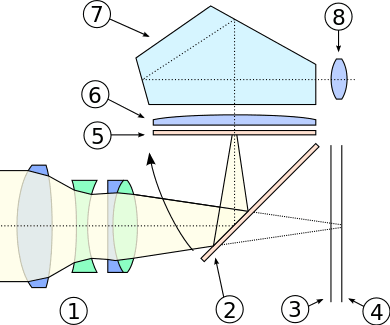 Features of an SLR camera
Currently, a digital SLR camera has a series of minimum features:
Optical Viewfinder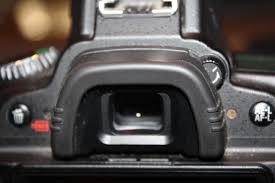 The photographer has a direct vision of the scene through the mirror and prism mechanism (pentaprism or pentameter depending on the brand and model).
For many photographers, the optical viewfinder is essential, because it offers a very clean view of the scene, directly through the lens. And for the fact of completely isolating and thus allow to focus attention exclusively on the frame, without distractions.
Dedicated phase detection focus system
It is a system with an independent sensor and a secondary mirror that depends on the main mirror. It is only operational in photography (not video). It is a very fast autofocus system
Also read: Best Cameras For Landscape Photography
Exchangeable Objectives
The camera itself is the 'body' and the lens is mounted on that body. The photographer can choose between different objectives the one that best suits the scene he wishes to photograph.
Manual mode
Total control of different camera parameters: sensitivity, shutter speed and aperture of the diaphragm.
It is what is known as manual mode, which gives the photographer the possibility to freely choose how he wants to take each photograph.
RAW format
All digital SLR cameras currently have the possibility to record photographs in RAW format.
This format allows you to store image information as it exits the sensor, without being processed by the camera and without loss of information by compression, etc.
In addition, the RAW format stores the parameters with which the image was taken.
RAW format images are like the movie negative. They cannot be used directly to publish, you must first perform development and then you can export them to standard formats such as JPEG.
The main advantage of the RAW format is that it is the photographer who has control and can decide how to reveal and process his image.
Also read: 5 Reasons to go to school to learn photography
What image quality does an SLR camera have?
SLR cameras have a minimum APS-C sensor. After the Full Frame, it's about the largest sensor that exists. It allows you to shoot clear and sharp images with a lot of details. To get an APS-C sensor (and a mirror system) into a camera, you need a bigger box. Today, there are also smaller models. However, the size of most cases remains a disadvantage of the SLR camera.
What settings do you need to adjust?
Generally, an SLR camera has several possibilities of manual and (semi-) automatic adjustments. This type of camera is equipped with several buttons and buttons that allow you to adjust the settings during shooting. For example, you can manually adjust the right lighting to take the perfect picture. Or choose a special mode to take a good portrait picture. The more expensive models, the more options are many. These cameras are perfect for the professional photographer.
Which lenses to choose for my SLR camera?
Since the SLR camera has been around longer than the hybrid camera, there are more lenses for this type of camera. You can choose from several types of lenses, such as macro, portrait, and landscape lenses. Thus, you can choose the ideal angle of view to capture your subject. Changing the lens of an SLR camera is very simple. If you want to fix a telephoto lens on your device, consider its weight because these lenses make your camera heavier.
When to choose an SLR camera?
Choose an SLR camera if you want to watch your subjects in a similar way, directly through the lens. In addition, good image quality is a reason to choose this type of camera. Do not choose an SLR camera if you are looking for a compact model, as most models are quite large. This is partially due to the interchangeable lens. But the possibility of choosing different lenses also gives you a lot of creative freedom, just like the different adjustment possibilities.
Also read: Why should we shoot in RAW format?
Conclusion
Well, this was all about "What is a Single Lens Reflex Camera", feel free to post your feedback below in the comment box.
Also read: Types of Photography: A Complete List of Photographic Genres