Do you like photography? Do you want to take your camera everywhere to immortalize the best moments of your life but without carrying a lot of weight? Are you looking for a new camera that suits your needs?
If you have answered yes to these questions, the perfect solution may be to buy a Mirrorless Camera Under $500. Yes, without a mirror, EVIL, mirrorless … everything comes to the same idea: a camera of smaller dimensions than an SLR, but with an equally large sensor, ability to change lenses and with very good image quality.
In today's article, we bring you a selection to guide you in assessing what your next EVIL camera can be.
Why Should I Buy Mirrorless Camera?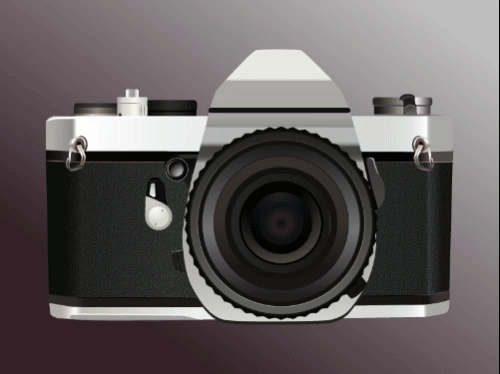 Surely we agree that if you ask yourself this question, it is because you really know what you like photography and feel the urgent need to take the camera with you everywhere to portray what is happening around you.
As comfortable as the mobile phone is to take pictures since we always carry it in our pocket, there are certain situations in which we fall short. Before them, if we look for very good quality, and the EVIL camera can be the perfect solution for these cases.
But where does the name EVIL come from? From the acronym Electronic Viewfinder Interchangeable Lenses, which basically emphasizes highlighting its ability to exchange lenses just like an SLR camera does, and that doesn't have a mirror. Let's see what are its most notable advantages.
They have a smaller size and weight than SLR cameras, which makes them very comfortable to transport.
They have automatic modes, but also manual and semi-manual modes, just like an SLR does.
By not having a mirror (and therefore the movement of this at the time of shooting) the trepidation is reduced and we gain stability.
We have the possibility to exchange objectives.
The sensor of many of the EVIL cameras is usually Micro Four Thirds, but some models use the APS-C or even Full Frame sensors.
They are very flirtatious. Its design is very careful and we will fall in love at a glance.
Best Mirrorless Camera Under $500
Mirrorless cameras become a very attractive option to consider, but who is this type of camera for? Well, people who like photography and demand in their images a higher quality than the mobile or compact camera can offer.
And won't it be better to buy an SLR? Yes and no. First ask yourself the following questions: what do you need it for? and what use will you give it? If you are looking for a camera to take with you on your trips, you buy an SLR and you end up leaving it at the hotel because with all the equipment you carry it becomes very heavy to take it on your excursions, then, of course, these cameras are your best option.
Like everything else, rather than looking for which one is better or worse, let's try to find out what we need to find the best camera for us specifically.
And without further ado, we go with the list of EVIL cameras, although not without mentioning that they are not all that they are, nor are they all that they are. This is intended as a guide, not to cover all the EVIL cameras on the market, which are many and of very good quality. The order in which the cameras are presented is merely from lower to a higher price.
Best Mirrorless Camera Under $500 | Comparison Table 2022
Top Quality | Great Price | 5- Star Picks
Best Mirrorless Camera Under $500 | 2022 Products Overview
1. Sony Alpha a6000 Top Mirrorless Camera (Editor's Choice)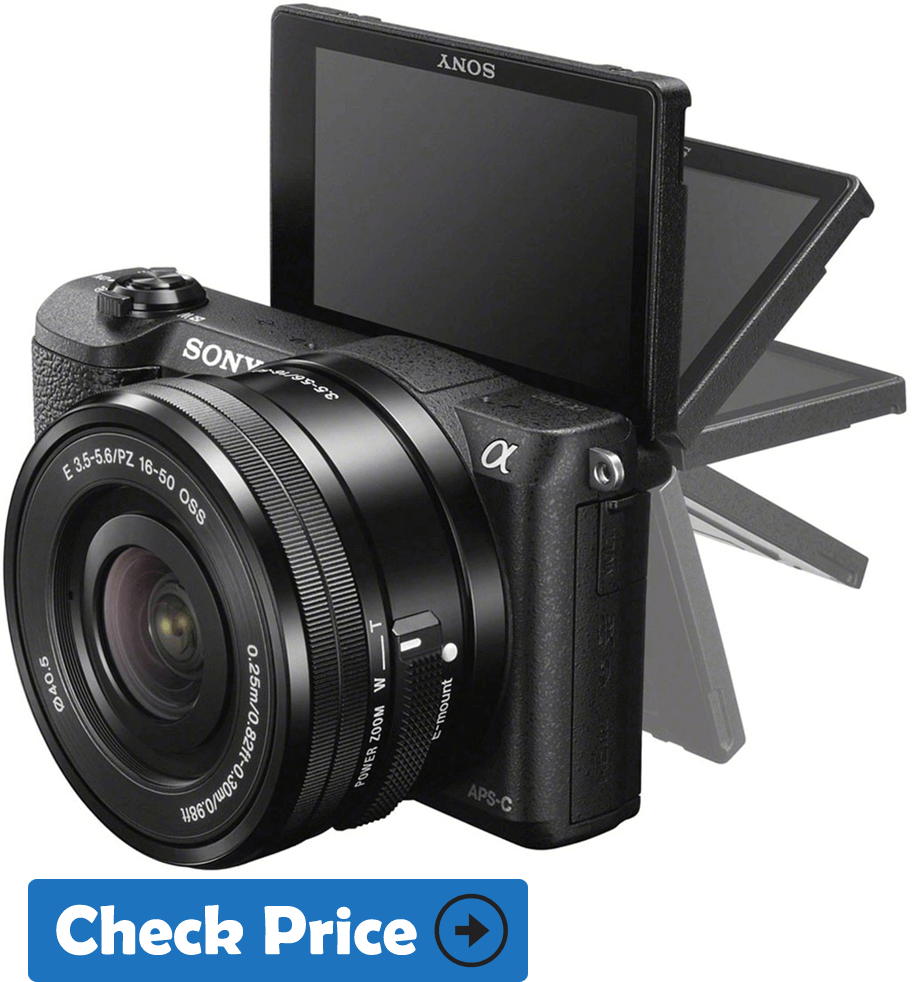 Specification:
Sensor Size: APS-C
Lens: Interchangeable Lens
Resolution Max: FHD 1080p
MegaPixel: 24.3 MP
Image Stabilizer: Yes
Viewfinder: EVF
Screen 3″, Tilt
Connectivity: Wi-Fi
ISO Range: 100-25600
Battery Life:
About:
Test the limits of your creativity with the DSLR Premium Mirror that focuses on speed. The fastest auto-focus in the world with all artistic shots from 24.3 MP details.
To capture significant blinking moments, the a6000 can take 11 shots per second. Compact and easy to use. Change the two quick-access dialing settings on the fly. It's very intuitive.
Also Read: Best Action Camera Under $100
DesignFeaturesConnectivity
It a compact, lightweight design.
The viewfinder design provides a live image that can simulate the appearance of the finalized image before shooting, and can also use focus assist features such as MPM support and Fade functions.
The 921k Rear Xtra Fine 3.0-inch Monitor is a broader alternative for creating more accurate compositions, checking images, and navigating through the menu system. Wide angle and small angle.
The α6000 is an ultra-compact mirrorless camera that is twice the size and weight of a conventional DSLR, but has the same size APS-C image sensor as most digital SLRs.
The interchangeable lens and the E mount system make the α6000 more versatile than most other cameras on the market.
Never miss a moment – the α6000 takes full advantage of the 179-zone, wide-area phase-sensing AF sensor to capture 11 frames per second in continuous-frame shooting mode with autofocus (AF) tracking. Even when dealing with high-speed actions, the excellent motion tracking performance of the a6000 allows you to get great shots while capturing images or videos.
Appreciate to the newly developed 24.3 megapixels Exmor APS HD CMOS image sensor, you get incredible detail and luxurious magnification. The resolution is higher than most DSLRs, and the same gapless on-chip lens structure as the α7R is used to achieve the ultimate image quality and light sensitivity.
The new BIONZ X image processor faithfully reproduces textures and details in real-time with a special high-speed processing function that provides life-like images that can be seen with the naked eye. Whether it 's still images or movies, you 'll get more natural details, rich gradation, low noise, and more realistic images.
The newly-developed Exmor CMOS sensor and BIONZ X processor deliver incredible detail at low illumination in the ISO range 100-25000 with 20% higher sensitivity than NEX-7. Standard hot shoe for a pop-up flash and additional flash accessories.
It offers full digital SLR control and instant access to the features you need to shoot like a pro. The two upper thumb-wheels and the rear-mounted thumbwheel let you quickly select shooting modes and camera settings. In addition to the Fn button, 7 customizable buttons can be assigned to any of the 474 functions.
Create movie magic with 1920×1080 Full HD 24p film-type video, or capture fast action at an incredible 60p and 60i frame rate. You can selectable in-camera – Blu-ray-AVCHD quality or a simple and easy codec for download on the Web-MP4 is available.
For full-fledged videographers, uncompressed video files on an external recording device are possible via an HDMI connection.
The 3.0-inch (921,000 dots) tilting Xtra Fine LCD screen makes it easy to capture crowds or low skies and capture pets. 90 ° or less 45 °. With WhiteMagic technology that dramatically improves visibility in bright sunlight, you can easily scroll through the menu and preview your life. The large screen provides still images and clear-quality video, while facilitating focus operations.
Sharing has never been easier. With Wi-Fi, you can control the camera with a compatible smartphone or tablet and PlayMemories Camera applications.
It 5 Frame the image on the camera's LCD monitor and check the shutter release button on the camera. You can also transfer captured images directly to your mobile device for quick editing and downloading.
With NFC (Near Field Communication), the connection has been simplified in one touch. Just touch the camera to an NFC-enabled device.
An HDMI port is also built into the camera design and can be connected directly to an HDTV.
Also Read: Best Lavalier Microphones
[youtube https://www.youtube.com/watch?v=Dr5FgRsi9_8]
Pros
It has the fastest autofocus
Offers exceptional image quality
Its touch screen is easy to use
Cons
It takes time to master the menu
Bottom Line: The best camera is what you have. The compact size and lightness of the α6000 is an advantage over the bulky and heavy DSLR. But with the creativity of interchangeable lenses and manual control, nothing is sacrificed.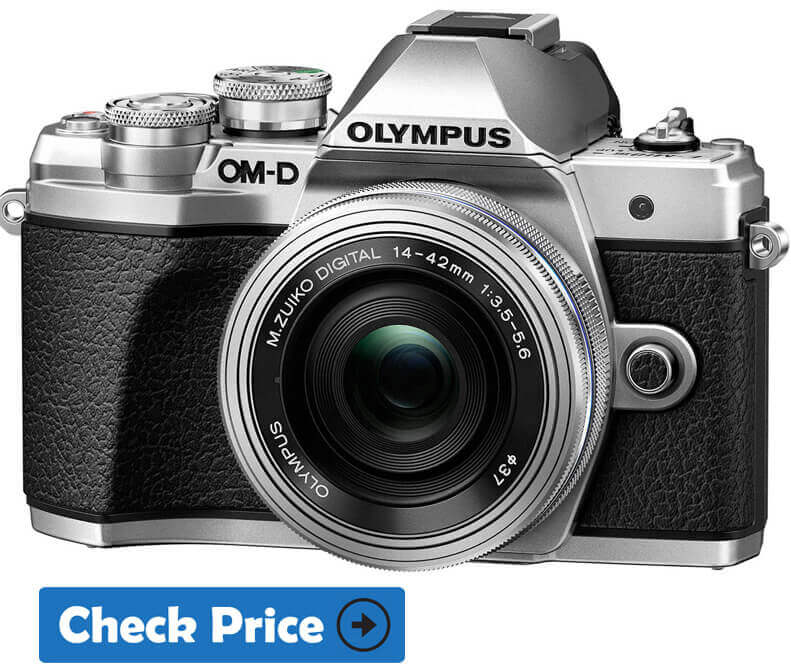 Specification:
Sensor Size: Full Frame
Lens: Interchangeable Lens
Resolution Max: 1080p
MegaPixel: 24 MP
Image Stabilizer: Yes
View Finder: EVF
Screen 3″, Tilt
Connectivity: Wi-Fi
ISO Range: 100-25600
Battery Life:
About:
There is no doubt that this new equipment is shouting "Welcome to the future of photography". Although the future of this noble field is progressing every day, it is thanks to facilities like the Olympus OM-D E-M10 Mark III kit that we can measure the progress made.
The features of this camera are what every professional and beginner must strive to do, not only to make their work quite easier, but to achieve results that are a true work of art.
DesignFeaturesConnectivity
The Olympus Silver OM-D E-M10 Mark II features a classic, compact and lightweight body design with black leather wrap and black metal finish.
The camera that replaces the viewfinder is also equipped with a tilting touch screen monitor from 3.0 inches to 1.04 m. The monitor can be tilted 85 ° up for low angle shots and 45 ° down for low angle shots. Control directly while navigating menus, check images, select focus points or other shooting controls.
An integrated flash can be used for additional lighting, or a top shoe can be used for an optional external flash. When using the built-in flash, the maximum sync speed is 1/250 seconds. If you use an external flash, the maximum sync speed is 1/200 seconds.
I appreciate its 5-axis image stabilization in the body, you can expect clear still images and high quality 4K videos.
It has the ability to make your photos and handheld videos crystal clear, even in poorly lit places. This alone makes it a piece of equipment that any professional would be happy to handle.
Another winning quality is that it offers users an immersive experience; with its display screen, you are open to functions that make the process less stressful. For example, the AF button allows the user to focus on an object and release the shutter simultaneously with a simple touch of the screen. As a result, there is virtually no delay in shooting. All you have to do is touch the area of ​​the screen you want to capture, and the rest is part of history.
It is also equipped with up to 15 built-in art filters, which will take your photography to new levels. The added benefit is that users can take a look at their filtered work on the screen or in the viewfinder before the actual image is captured.
There are no complicated settings here that could frighten you, but using familiar photographic techniques like Nighttime Composite and HDR, you can create a symphony of images with a simple tap on your screen.
Built-in Wi-Fi lets you pair the E-M10 Mark II with your smartphone using the Olympus Image Share app for wireless image sharing and remote control of the camera.
Pros
The image stabilization function is stellar
The life of the battery is very commendable
It allows smooth focus transitions
Allows Wi-Fi syncing
Cons
There is no microphone input.
Bottom Line: A Good choice for anyone on the market for a mirror-less entry-level camera, it's guaranteed to get you out of your artistic shell. With this camera, you can dare to take photos like a professional thanks to its advanced photo mode.
Specification: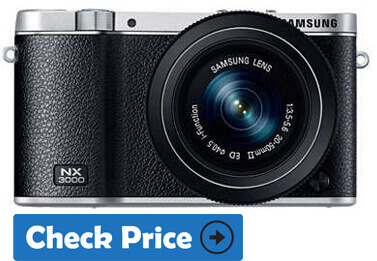 Sensor Size: APS-C
Lens: Interchangeable Lens
Resolution Max: 1080p
MegaPixel: 20.3 MP
Image Stabilizer: Yes
View Finder: EVF
Screen 3″, Tilt
Connectivity: Wi-Fi
ISO Range: 100-25600
Battery Life:
About:
The NX3000 is a compact and lightweight interchangeable lens camera that delivers high quality images in rich colors. The large APS-C 20.5MP CMOS sensor delivers vivid photos with clear detail, even in low light conditions. Retro design with premium metal accents makes the NX3000 a modern design with a perfect analog feel.
With a 20-50mm lens and flash, the Samsung NX3000 Smart Camera combines vintage design and wireless connectivity to create the perfect combination of style and technology. The NX3000 has Wi-Fi and NFC connections for instant sharing and remote control from smartphones.
Smart mode settings let you easily take beautiful pictures with different settings. You can also take a perfect selfie with a flip up display.
DesignFeaturesConnectivity
Its vintage design features a robust, compact body wrapped in a natural imitation leather cover for a timeless look.
The 3-inch flip-up screen is large and easy to see, making it easy to frame your next selfie. In addition, the flash shooting function allows you to wink at the camera and the NX3000 records the photo. It's great for taking fun pictures with kids.
The advanced 20.3 megapixels APS-C CMOS sensor, located at the heart of the Samsung NX3000, captures realistic colors and stunning images at the highest resolution in its class. The camera's ISO range is from 100 to 25,600. You can take detailed pictures in various lighting conditions. With a high shutter speed of 1/4000 and a frame rate of 5 frames per second, you can capture sharp, focused, continuous action shots.
The NX3000 comes with a 20-50mm lens group that can handle a wide variety of shots, from standard portraits to wide-angle landscapes. This camera uses a Samsung NX mount. So you can choose the right Samsung NX lens that fits your needs.
Remote Viewfinder Pro turns your phone into a viewfinder, allowing you to preview images, adjust camera settings, frame scenes, and mark shooting locations up to 10 meters away. If you want to join a group outlet, Remote Viewfinder Pro is easy.
It can records Full HD 1080p video at 30 frames per second for vivid colors and crisp detail. The H.264 format also allows you to record longer MPEG-4 videos, allowing you to capture more actions. With the CMOS sensor, you can take photos with confidence, because you can achieve accurate autofocus even during shooting.
Beginners and experts can make the most of the NX3000. Use different presets in smart mode to quickly obtain high quality photos. Advanced users can use the i-Function control to adjust functions such as white balance, aperture, shutter speed, exposure and the ISO range. You can also program shortcut keys for your favorite custom settings.
With built-in Wi-Fi and NFC, no memory card or cable is required to transfer and share images. There is no need to worry about running out of space for the camera. With Photo Beam and MobileLink, you can upload photos instantly or send an entire album. When AutoShare is turned on, all the photos you take are automatically transferred to your mobile device, where you can easily view and share them.
Pros
20.3-Megapixel Sensor for Crisp Photos
Control camera through your smartphone
Capture the Perfect Selfie with Flip-up Display
Bottom Line: The 20.3 megapixel APS-C CMOS sensor is a professional value designed for enthusiasts and gives images incredible detail and color. Ideal for beautiful, well-defined photos and noiseless images, even in dark places. This camera is also ideal for Youtubing.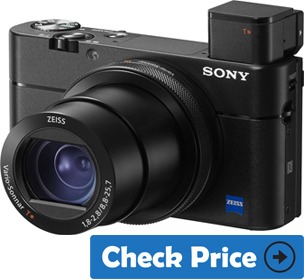 Specification:
Sensor Size: Full Frame
Lens:
Resolution Max: FHD 1080p
MegaPixel: 20.2 MP
Image Stabilizer: Yes
View Finder: EVF
Screen 3″, Tilt
Connectivity: Wi-Fi NFC
ISO Range: 100-25600
Battery Life:
About:
The original Sony RX100 as the best-in-class compact camera available on the market today. In other words, it is a premium compact camera with a sensor smaller than the APS-C size. There are many welcome improvements, but it's no exaggeration to say that the Sony RX100 Mark II now steals the crown and is incredibly valuable in your desires.
Capture all the exquisite details with the compact Cybershot RX100 II when the beautiful landscapes inspire the artists inside.
DesignFeaturesConnectivity
The screen itself is pulled away from the body and tilts upwards to an angle of about 90 degrees or down to about 20 degrees. This is not as versatile as some cameras, but welcomes additional features that make the RX100 II easier to use in tricky situations. 
Capture HD movies in full HD 1920×1080 resolution with a choice of very smooth 60p, standard 60i, or cinematic 24p. The AVCHD codec provides great image quality. The MP4 codec provides a small file to facilitate uploading to the web.
It newly developed a 1.0-inch back-illuminated CMOS sensor and F1.8 lens, you can enjoy exceptional light sensitivity, breathtaking image quality, and beautiful background blur.
Sony's new 20.2 megapixel Exmor R CMOS sensor delivers very high sensitivity and very low noise. Its back-illumination technology collects light more efficiently and combines with advances in image processing to bring the noise to an incredibly low level.
The legendary Carl Zeiss optics and Sony's incomparable imaging technology have extremely precise performance, a powerful 3.6x optical zoom capability (28-100mm in 35mm equivalent) and almost perfect round 7 giant F1.8 Integrated into a high-performance compact lens that provides an aperture blade diaphragm for a beautiful blur background.
The RX100 II incorporates a new ExmorR sensor with the same adaptive noise reduction technology as Sony's flagship product, the SLT-A99V, so it can easily provide a wide range of sensitivity from ISO 160 to ISO 12800.
The 3.0-inch, 1,229k-dot Xtra Fine monitor displays scenes more clearly even in bright sunlight. You can tilt up to 45 degrees when shooting the crowd, and up to 84 degrees when shooting with your pet eyes. WhiteMagic  Wizardry, which combines white and RGB pixels to increase brightness and visibility, allows you to enjoy clear and faithful reproduction.
Most digital zooms use electronic cropping to get close to the subject and produce a blurred image. With Clear Image Zoom, a powerful processor compares patterns found in adjacent pixels and creates new pixels that match the selected pattern, producing a more realistic and high-quality image. Sharp image zoom digitally doubles optical zoom for closer photos.
Touch the camera on your Android smartphone or tablet to create a connection. Just download the free PlayMemories Mobile app to your device and no setup is required.
NFC technology makes it possible. Once connected, you can remotely control the camera's shutter release from your mobile device and receive captured images instantly via Wi-Fi.
With Multi Interface Shoe, you can attach a variety of accessories for taking photos and movies. These include an electronic viewfinder, a powerful external flash unit, and a stereo microphone. You can also connect to a compatible remote control via multi-terminal.
Pros
High speed auto focus
Auto Object Framing
Face Detection tech
Auto HDR modes
3.6x optical/7.2x Clear Image digital zoom
Full HD Movies at 60p/60i/24p
Bottom Line: The RX100 II enhances what many people call the perfect compact camera. The only real problem is the premium price, but if you're willing to pay, there's one of the best compacts you can buy with money.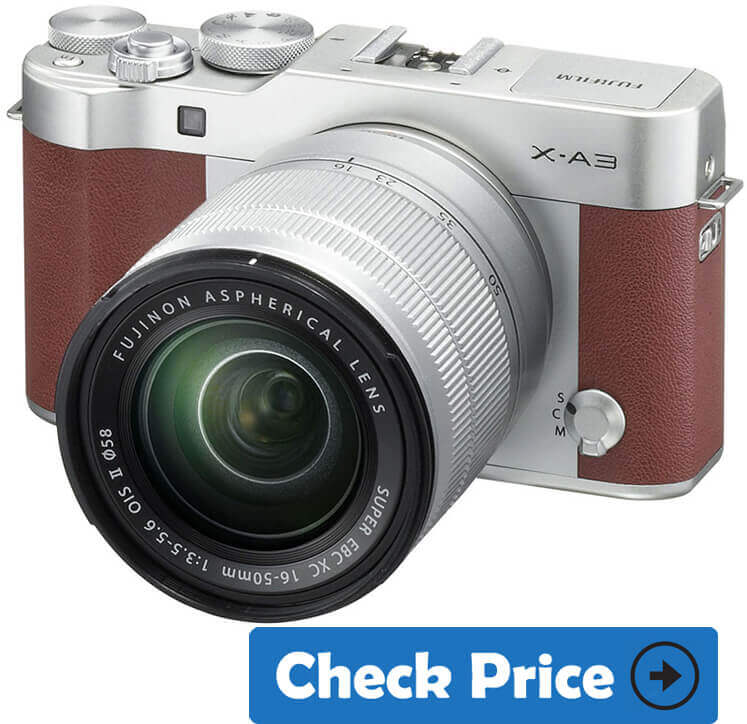 Specification:
Sensor Size: Full Frame
Lens: Interchangeable Lens
Resolution Max: 1080p
MegaPixel: 24 MP
Image Stabilizer: Yes
ViewFinder: EVF
Screen 3″, Tilt touch
Connectivity: Wi-Fi
ISO Range: 100-25600
Battery Life:
About:
FUJIFILM X-A3 is an economical mirrorless 24-megapixel camera with a classic rangefinder design. The X-A3 is aimed at beginners and social shooters by using an LCD screen suitable for folding selfies such as Annex A.
There is less direct control and there is no electronic viewfinder for that model. The X-A3 uses a traditional color filter (Bayer) instead of the X-Trans filter found in more expensive models such as the X-E2S.
DesignFeaturesConnectivity
FUJIFILM X-A3 is a retro design that attracts the younger generation. The retro feel gives a "fresh" and "fashionable" impression. The top cover, the front plate and the top dial are made of aluminum. The newly developed synthetic leather has greatly improved the overall texture.
The LCD on the back uses the touch screen to enable "Touch AF", "Touch Shoot" and "Touch Zoom". Use the pinch gesture to use the main lens as a zoom lens.
The LCD monitor has a touch screen panel that can be operated intuitively like a smartphone.
A 180-degree tilt LCD monitor allows you to verify facial composition and expression before taking a picture. In Selfie mode, you can use the control dial on the rear panel to operate the AF and the shutter to shoot easily.

Fujifilm's color reproduction technology cultivated through the development of photographic film reproduces accurate and warm skin tones, clear blue sky, and lush green leaves in colors that you can remember.
The APS-C sensor provides a beautiful and smooth bokeh effect for portraits and macro photography when using a shallow depth of field. The normal sensitivity range covers ISO200 to ISO6400, but if you want to minimize camera shake, you can select the ISO12800 and ISO25600 extended sensitivity settings.
The FUJIFILM X-A3 produces surprisingly low noise and sharp images even in low light night scenes and indoor shooting where high ISO is essential.
If you place the included lens "XC16-50mmF3.5-5.6 OIS II", you can focus on a subject at a distance of approximately 10 cm. 7 cm from the front edge of the lens for the best macro functions.
The camera automatically adjusts to improve skin tone to improve portrait shots.
When the tilt LCD panel is rotated, the AF eye detection function is automatically activated. By focusing on the eyes, it helps achieve excellent selfies. Select between automatic, left eye priority and right eye priority.
The FUJIFILM X-A3 automatically offers the ideal amount of flash in each scene, capturing bright and bright faces even in backlight and dark conditions. In addition, when taking macro photographs in low light, this smart flash prevents the subject and the background from fading. If you need more light, or if you want to shoot with a lens hood mounted, you can use an optional TTL flash.
The energy efficient design extends battery life to the best in its class, allowing you to concentrate on taking photos without worrying about battery life.
Send photos directly to instax SHARE Smartphone Printer SP-2 to print high quality photos of family, friends, pets and more. In addition, portrait images are generated with comfortable unfocused backgrounds, creating incredibly unique instant prints. This is perfect for home decoration.
For easy wireless transfer of photos to your smartphone or tablet, simply download the free application "FUJIFILM Camera Remote" on your device. It is not necessary to enter an ID or password or change other problematic settings. With the press of a button, you can transfer high quality images to your phone or tablet to upload to blogs and social networking sites.
Pros
Super Intelligent Flash
Flip Screen
Portrait Enhancer mode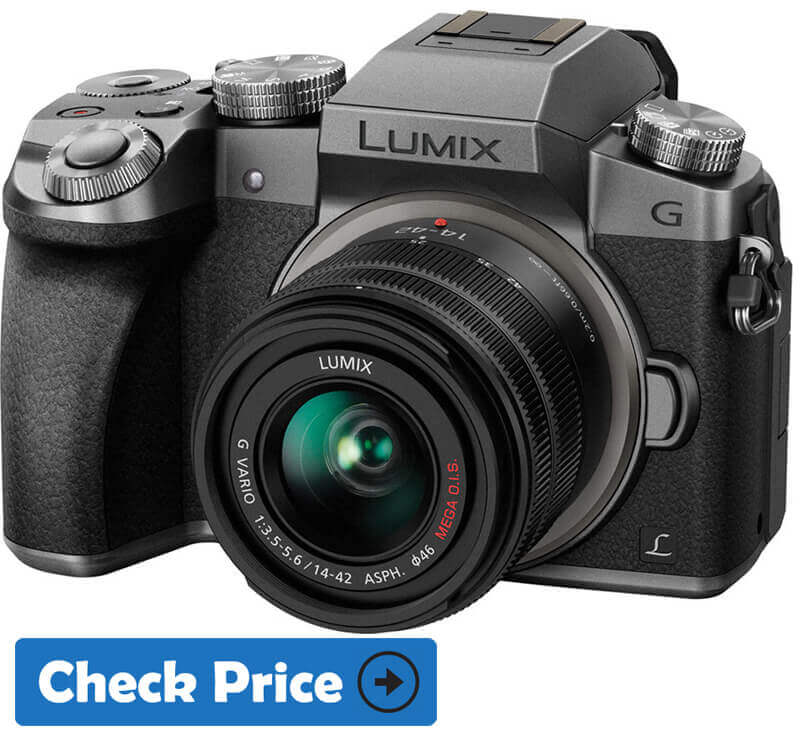 Specification:
Sensor Size: Micro 4/3
Lens: Interchangeable Lens
Resolution Max: 4K
MegaPixel: 16 MP
Image Stabilizer: Yes
View Finder: EVF
Screen 3″, Tilt
Connectivity: Wi-Fi
ISO Range: 100-25600
Battery Life:
About:
LUMIX G7 is based on the next generation mirrorless interchangeable lens camera standard (Micro Four Thirds) developed by Panasonic. This design is lighter and more compact camera body.
DesignFeaturesConnectivity
The G4 features the elegant design that characterizes Micro Four Thirds cameras, combining retro aspects with modern functions for intuitive use and classic appeal.
The front and rear dials allow you to quickly change the ISO and white balance settings in addition to the direct aperture control and shutter speed. 6 function buttons can be assigned to control various custom functions.
The main transmission wheel provides a quick change between shooting modes, such as 4K photography mode. 
The 16-megapixel sensor features a next-generation intelligent image processor that produces video and photos that are free of artifacts that degrade image quality.
With 4K video technology, LUMIX G7 can pause and extract the perfect photo moment from 4K video.
4K video provides nearly four times as many pixels as full HD video. The video has better clarity and sharpness than those recorded in full HD with a camcorder.
It is smaller and lighter than the traditional DSLR, but it is intuitive and easy to access common functions. Easily control the aperture and shutter configuration with the front and rear dials.
The high-resolution OLED live viewfinder (2,360k dots) with 10,000: 1 contrast provides high visibility even in direct sunlight. In addition, the tilt/swivel touch screen adjusts for optimal clarity.
Intelligent autofocus [AF] tracks the color, size, and motion vector of a subject, allowing fast and accurate focus lock. Therefore, you can shoot with confidence without worrying about blurry results.
Panasonic's exclusive Blur Depth (DFD) autofocus (AF) technology calculates the distance to the subject and quickly adjusts the focus. Enjoy up to 6 FPS of continuous autofocus.
The "focus peak" manual color contour shows the exact focus area along with the depth of field distance.
With a silent, high-speed AF system, you can shoot silently in a quiet environment without shutter noise.
With the low light autofocus of 4EV, you can capture the subject clearly using only the moonlight as a light source.
The Panasonic Image application connects to the camera via Wi-Fi and allows you to control various functions through a smartphone or tablet.
Expandable with optional accessories such as the DMW-FL580L external flash and the DMW-MS2 stereo microphone / shotgun.
Pros
HDR (High Dynamic Range)
Compact but decent kit with good image quality and zoom.
Fully connected touch screen with a large detailed viewfinder.
High-speed AF that operates with low light and 6-8fps continuous shooting.
4k video that can extract 8MP of still images at 30 frames per second.
Silent shooting up to Wifi, timelapse, 7-frame AEB, up to 1/16000.
Access to a huge catalog of Micro Four Thirds lenses.
Cons
Lacks built-in stabilization of Olympus bodies.
No USB in-body charging of battery.
Bottom Line: The Lumix G7 is a high-performance midrange camera. Whether it's DSLR or mirrorless, everyone who wants to take it to the next level than the economic model needs to consider. It features well thought-out controls, a large detailed electronic viewfinder, and fully connected touchscreen flexibility. It's responsive and quickly focuses on bursts up to 8 frames per second in low light or at maximum resolution.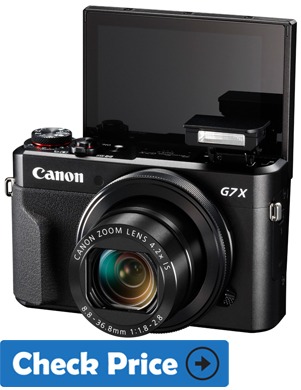 Specification:
Sensor Size: Full Frame
Lens: Interchangeable Lens
Resolution Max: 1080p FHD
MegaPixel: 20.1 MP
Image Stabilizer: Yes
View Finder: EVF
Screen 3″, Tilt Touch
Connectivity: Wi-Fi
ISO Range: 100-25600
Battery Life:
About:
The PowerShot G7 X Mark II camera combines exhilarating speed and performance in a compact design. With a 1.0-inch sensor, powerful DIGIC 7 image processor, and a high-speed 4.2x optical zoom lens, you can capture amazing images whenever creativity is stimulated.
DesignFeaturesConnectivity
The wide dynamic range allows you to fully capture the bright and dark parts of the image, such as the shadows of a building on a sunny day or the lights of a dark night. 20.1 megapixels * means a photo with enough detail to print and enjoy on a high resolution monitor or mobile device.
It has DIGIC 7 image processor power a powerful camera, and the lens has a bright aperture value of f / 1.8-2.8 with 4.2 x optical zoom.
Easily capture action shots with continuous high-speed shots of up to 8.0 fps. Continuous shooting is available in RAW **, JPEG, RAW + JPEG ** modes, so you can save the time you want.
The 3.0-inch high-resolution LCD monitor is tilted 180 ° up and down 45 °, which makes it ideal for taking pictures at creative angles. By operating the touch panel, you can access various settings on the screen with one touch.
It also gives you more flexibility during editing, allowing you to crop the subject and improve the composition while maintaining high-resolution detailed images.
The built-in wireless connection, such as Wi-Fi and NFC, makes it convenient to use while traveling to share photos and videos with friends and family or easily connect to compatible devices.
Pros
Up to 8 fps Continuous Shooting
DIGIC 7 Image Processor's enhanced tracking and detection capabilities
Canon HS System
Bottom Line: This camera is one of the best and recommended mirrorless camera for Youtuber and vloggers.
How to Choose Best Mirrorless Camera For Under $500 | Ultimate Buyer's Guide
Height and weight of Mirrorless Camera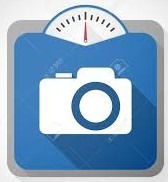 Many products on the market have become smaller over time to meet the needs of the masses. As we have already said, cameras, in general, have come a long way from what their clumsy predecessors were. Today more than ever, professionals need lightweight equipment that they can maneuver effortlessly to achieve the desired result. With the evolution of photography through the ages, the way these devices are handled must also be changed.
What all professionals and beginners should look for are cameras that offer high-quality visuals while being compact and lightweight. On top of that, they must always carry a relatively large sensor, because that's where a lot of the magic happens.
The Image Quality of Mirrorless Camera
It goes without saying that a good mirrorless camera must be able to capture detailed images that work well even at high ISOs. Obtaining this stellar quality is a function of a number of elements of the camera and it is not surprising that the sensors are at the forefront in this area.
Nevertheless, sensors do not work alone, areas like image stabilization and focus have an equally important role to play. In addition, fun little accessories like the display screen and ease of handling during the shooting have a direct effect on the quality of the image produced. So, in case you find yourself looking for some viable options, be sure to read about the pieces that come together to make for good image quality.
Shutter Speed ​​of Mirrorless Camera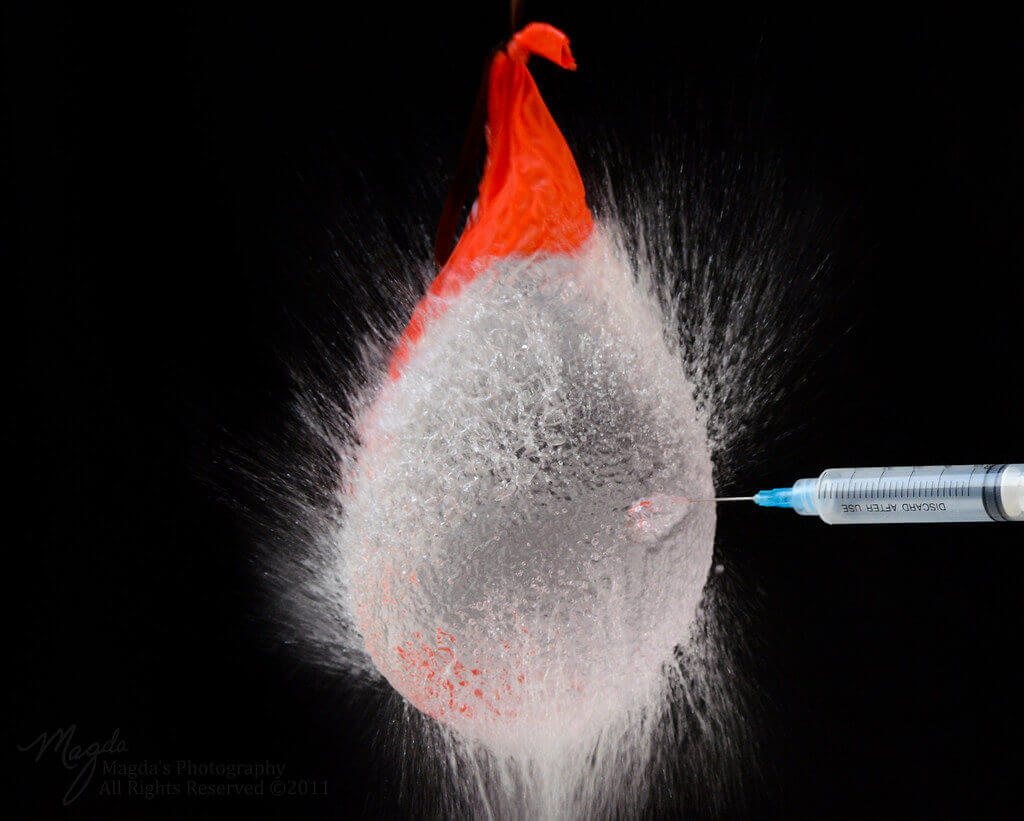 This is basically how long your camera uses to take a picture and the shorter it is, the better for you. The shutter speed has a direct influence on the appearance of the photos and as such, it is important to take this feature into account.
You can do all kinds of cool things, like blurring the motion or freezing, depending on what your camera will let you do. The shutter speed may also affect the lighting of an image depending on the exposure, so it is very important to become familiar with it to get exactly what you are looking for.
The viewfinder of Mirrorless Camera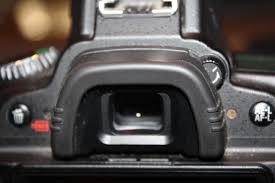 Due to the fact that it is at the heart of their existence to be without a mirror, most of these cameras have viewfinders that work totally different from those of DSLRs. Essentially, since there is no mirror to direct the view from the lens to the viewfinder, they must use electronic viewfinders.
This function is both a blessing and a curse; as well as it works, latency is a constant point of contention, however, more recent designs are working on it. So be sure to get a template that addresses this issue rightly.
Battery Life of Mirrorless Camera
For any device that uses a battery, there is a concern that the total battery life may not be optimal. Mirrorless cameras consume a lot of energy, especially because they use electric viewfinders. So be sure to opt for one that highlights the highlights of the battery life.
Goals
For a minute, DSLRs have got the upper hand in terms of lenses, although mirrorless cameras have always had lighter lenses. Mirrorless cameras, like their DSLR counterparts, now have the ability to use multiple interchangeable lenses to capture images. Note that with mirrorless cameras, you may need to pair adapters with manual focus lenses. So be sure to be clear about this configuration before making your choice.
Video Capability of Mirrorless Camera
Even smartphones have both still and video capabilities, and as such, it's not surprising that these configurations have it too. With these small devices, you can shoot high-quality videos without even sweating. They also give shooters great flexibility with lenses and, in addition, videos can be shot in 4K and HD.
The sensor of Mirrorless Camera
It should have been at the top of the list because the sensors are doing so many things and there is such inter-connectivity between them and the other functions of the camera. Nevertheless, the simple equation you should have in mind is that the larger the sensor, the less noise, and the better the image quality, even at high sensitivity. So, go big or go home.
Megapixels of Mirrorless Camera
In combination with sensors, megapixels are very important, but they alone lose a bit of that importance. That does not mean they do not play a vital role, but not as important a role as manufacturers would have you believe. Do not forget that it is their relationship with the sensors that you must take into consideration.
Autofocus of Mirrorless Camera
There are no focus rules for good autofocus, but the starting point must be the number and type of focus points. To understand the concept of autofocus, it takes a lot more words, but if in doubt, remember that the cheaper the device, the lower the quality of the autofocus.
Wi-Fi
In our day, it's just as important to share photos and transfer them to different devices as taking photos. It is therefore not surprising that most mirrorless cameras are equipped with Wi-Fi technology. If you know that you want to easily upload and download your photos on different devices, look for cameras with Wifi.
The Price of Mirrorless Camera
The price of the product depends heavily on what you are looking for; you can buy some cameras at prices under $ 500 and others have prices that skyrocket by the thousands. Although it is not the most expensive time to get photography, it is not the cheapest either.
If you are looking for stellar equipment, you should be able to shell out the money. Nevertheless, just because price versions are advertised as high-quality products does not mean that there are pocket options that can not offer good quality photos. In case you are a beginner and are looking to consolidate your position in the profession or to indulge in photography, you can opt for the cheapest options.
The Brand of Mirrorless Camera
In the case of any product, the brand is what could be considered a "big deal", which is even truer when it comes to cameras as a whole. When you're looking for a mirrorless camera, it's not only safer but also smarter, to choose brands that are already known for their premium products on the market.
To be honest, photography is an expensive undertaking and there is really no place to explore the market unless you have a lot of money at your disposal. For this reason, playing safety and choosing a known brand is by no means a risk. At least in this way, you can be sure you are buying the equipment you can rely on to produce beautiful images.
Types of mirrorless cameras
Entry-Level Mirrored Cameras – In addition to the fact that they are relatively cheaper, they are also much less complicated to meet the needs of photographers who are still looking to find each other. The dials may not be so large and the settings may seem a little rudimentary, but overall they still deliver high-quality images.
Pro Mirrorless Camera – The first indicator is usually the price, and then you start noticing quite advanced features that are not quite explicit. As one becomes a seasoned photographer, one will feel more and more like an extension of one's limbs.
Full frame mirrorless camera – Typically, a full-frame camera has a sensor size that is the same as that of a 35mm film format. It is usually larger than its crop sensor counterparts and also has a deeper depth of field among other qualities.
Mirrorless camera FAQ
Are mirrorless cameras good at low light levels?
Yes, they have worked on this aspect over the years and a number of brands have this provision.
What are the benefits of using a mirrorless camera?
They are more compact, faster and easier to use for video.
Are mirrorless cameras weatherproof?
Not all are, but you can choose a number.
Are cameras without mirrors silent?
Some more than others.
Are mirrorless cameras sharper than digital SLRs?
Yes, they are.
Conclusion:
Well, this was all about the best mirrorless camera you can get under $500. It should be noted that you can find them available in several colors so that you can choose the one you like, although that may affect the final price. Of course, this is a list, but there are many other very good and competitive models in the market.
What you should keep in mind, is that you already have the first, the last or other EVIL camera model that has not been reflected in the article, what really matters is that you take photos and enjoy it.
Do you have another EVIL camera model that I haven't mentioned? Share with us your opinion about it.
Top-Rated Mirrorless Camera Under $500