Have you ever seen the news reporter clipping mic with their dress, and place near the mouth of the speaker, these are actually the lavalier microphones. This is once set and forget the device and allow you to concentrate on your subject.
If you are searching for the best Lavalier Microphone (wireless or wired), and want to know which microphone is great for you? Then keep reading this article and our Guide till the end. We will show you each and every detail you need about the Lavalier microphones.
Best Lavalier Microphone
The lavalier mic is a small device that is often used for interviews. It is also called 'lapel or lav mics'. Its size is small and it can easily pin to your collar, shirt or tie, and the best part is it allows you to record with hassle-free.
If we define the term 'lavalier' we can say it's a piece of jewelry in hanging form set up around your neck & mouth area to catch the voice clearly and reduce background noise.
Due to its size and inconspicuous, they are great for vlogger & YouTubers even for podcasters and can be plug to your DSLR cameras and smartphones…
Also Read: How to Start a Vlog
Who Uses the Lavalier Microphone?
The lavalier mics are mostly used by the Pro YouTuber, vlogger, public speakers, sports commentators, news anchor, conference presenter, mosques/churches, recording voice and in much other application lavalier mic can be helpful.
They are an actually dynamic microphone and more flexible. It's a part of vlogging equipment.
The Benefits of Lavalier Microphone?
This type of mic is very easy to use, another advantage is that the volume is always constant, no matter how far you move away from the camera. The only small inconvenience is that you will have to carry a hidden pouch between your clothes.
Is a microphone wireless or wired?
It comes in both options, and have benefits as well as cons in both. We will review both and best budget microphone for you.
Keep Reading because we have some more interesting info for you at the end of this post.
We have conducted thorough research & test and found these 10 top models among the best lavalier mics. Let move to the comparison table.
Best Lavalier Microphone of 2023 | Comparison Table
Top Quality | Best Prices | 5-Star Picks
Best Lavalier Microphone 2023 Products Overview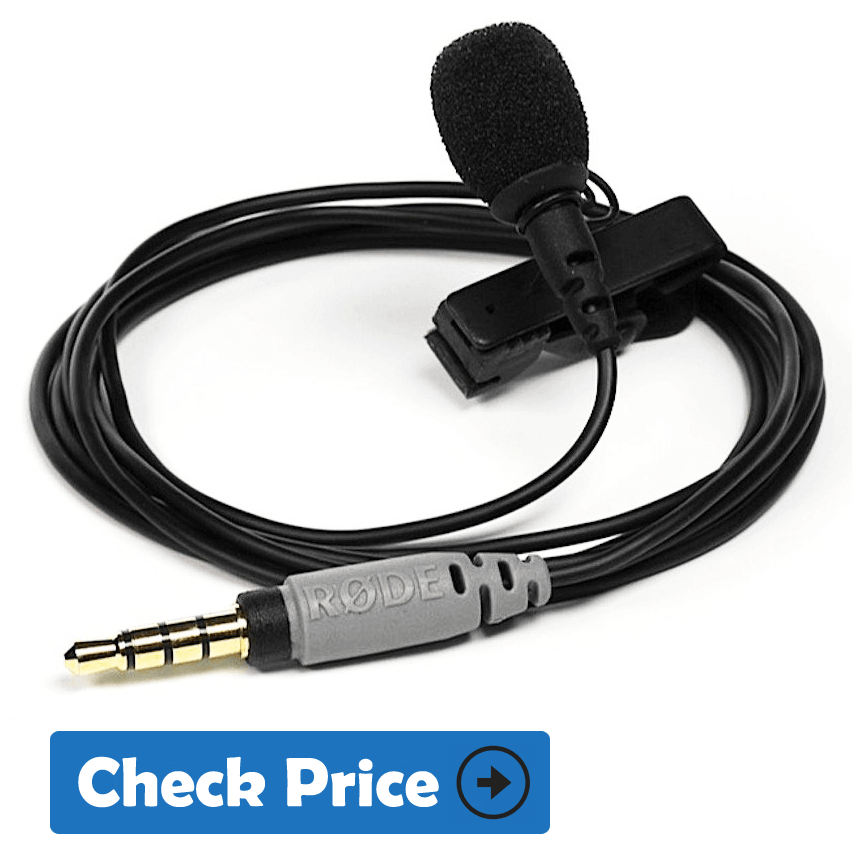 This is one of the best lav mics for vloggers and Youtubers, The smartLav is a professional-quality wearable microphone designed to be used in a wide range of film, television and broadcast scenarios or in situations where professional audio quality is required with small, discrete dimensions.
With the smartLav you simply need to mount the microphone on the artist, connect it to the headset connector of your smartphone /tablet or DSLR and register with the app for iOS RØDE Recor any other audio app of your choice.
With a high-quality omnidirectional condenser capsule, the smartLav picks up sound from all directions, allowing a lot of versatility in microphone positioning and ensuring remarkable ease of use.
An antipope sponge filter is provided with the microphone to reduce wind noise and explosive consonants (the 'B', 'T' and 'P'), as well as a sturdy support clip with a built-in cable gland.
The smartLav is compatible with any audio app that accepts the input from the headphone connector but is designed to match perfectly with the RØDE Rec app from RØDE for Apple iOS devices. RØDE Rec transforms the user's iOS device into a complete portable recorder.
Also Read: Best Vlogging Camera with Flip Screen
[youtube https://www.youtube.com/watch?v=K9FMA4cRuNM]
It comes with;
Storage case for safety
Shielded detachable Kevlar-reinforced quality cable
Water resistant pop filter
Mini-furry
Lapel style cable management clip
SC3 TRRS to TRS Adaptor
Pros
It can capture professional quality sound
It standard EQ settings allow you to export the recording to SoundCloud and DropBox.
The Kevlar-reinforced and the clip is robust, dot fear of its breaking or pealing.
Bottom Line:  If you plan to create vlogs regularly or do Youtube or Facebook Live's You must get this mic right now.
2. Movo WMIC50 Wireless Lavalier Microphone System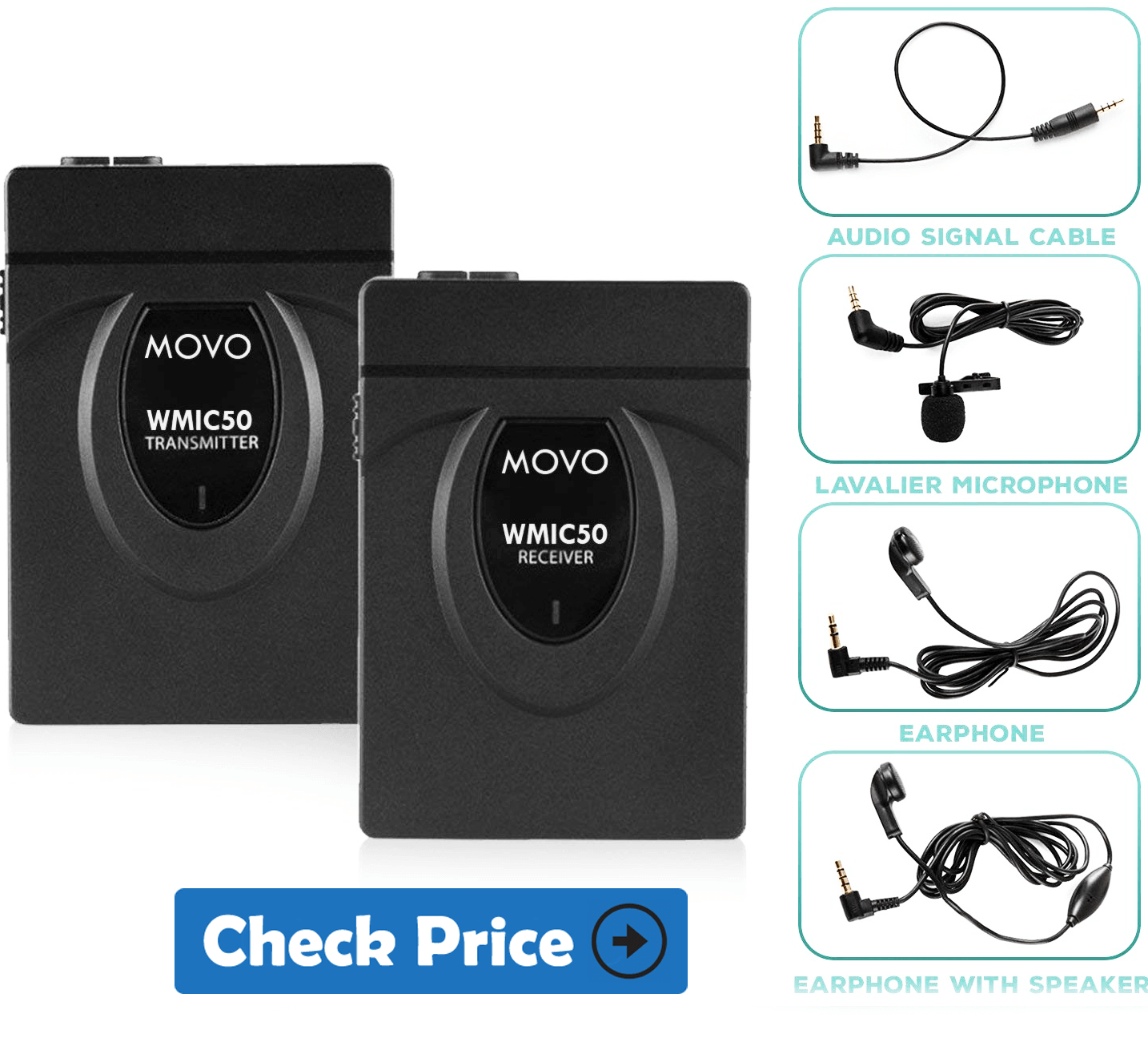 Well, if you are looking for a perfect wireless lapel mic for your podcasting, vlogging or film work, then Movo WMIC50 will be an ideal choice.
It has a radio transmitter that can be easily pinned or hang on your pants belt or waist area, because it comes with a belt clip, while the receiver can be mount on your camera or tripod. Its radio receivers can easily be connected to the camcorder. When we test it voice's capturing quality, it was so clear even when you are moving around.
The antenna range is about 164 feet to catch the sounds that are appealing long. The frequency band of 2.4 GHz is quite great.
It's very easy to use and operate with WMC150 battery, you will need tow energizer battery in both transmitter and receiver.  It comes with windscreen and 2 headphone jacks.
Pros
Complete package
Lowest background noise
Portability
Cons
Battery work for only 3.5 to 4 hours (But you can keep extra batteries for long shoot)
Bottom Line: The best wireless lavaliere microphone with great voice and suitable price.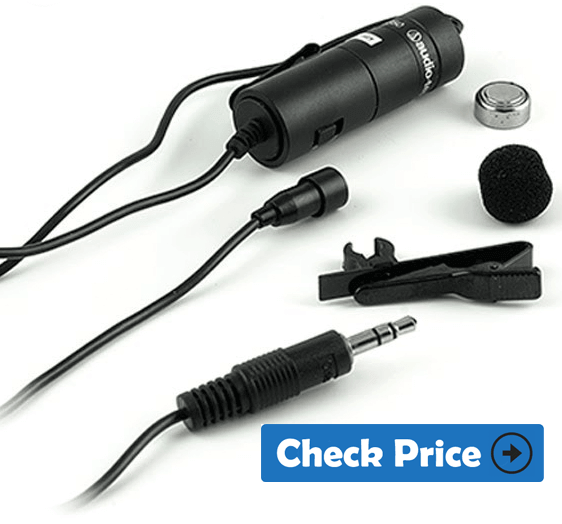 It is a very reliable model and trusted the brand and give you confidence when you choose it because the Audio Technica always provide quality.
If you want the economical and budget-friendly lapel mic then this is best for you. It is one of the highly 4-star rating reviewed model. It has appealing great quality condenser shell built-in & super solid design.
It's come with clip, foam windscreen and LR44 Battery. The battery lasts about a month with hefty usage.
It is recommended for a smartphone but it also works for DSLR or audio recorders as well.
The microphone users highlight its excellent quality-price ratio; placing it as one of the most profitable models in the market.
It is made of quality materials. It has a robust and durable design that makes it usable for years without its quality being minimized.
Adapter
Cable 20 feet
Pros
It offers a professional response to both voice and instruments
ideal model for studies or recordings of models
Its quality response capacity extends to frequencies from 20 to 20,000 Hz
Cons
Some users complaint about that it picks the background voice.
Bottom Line: A very versatile model, capable of being used and offering quality results in many functions, uses or scenarios.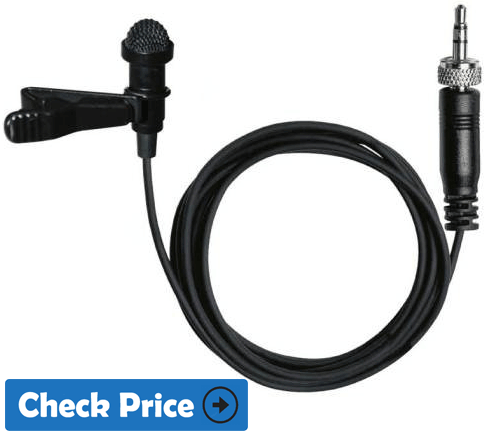 Record tutorials, put a voice over in a video, give a lecture ... These are just some of the uses that can be achieved with this Sennheiser ME2 microphone. It is a lapel microphone model, which can be easily placed on clothes to capture the voice clearly and clean. It presents a quality response to a high frequency range. Its connection is one of the most universal in the world of technology, the 3.5 mm mini jack, so it can be connected to a multitude of devices.
It is an omnidirectional model with the response to frequencies of 50 to 18,000Hz. It is connected through a 3.5 mm mini jack. Its size is very small, being only 4 centimeters long by 3 wide.
The Sennheiser ME2 is a condenser microphone in the form of a lapel or tie, so it can be placed on the user's clothes to capture a clean and clear sound of his voice.
It has an internal windscreen that allows filtering the sound and that the external noises of the environment do not affect so directly in the recording.
It is available in black color. It has a clip to be able to hold it more efficiently during its use and that does not suffer movements or frictions that may affect the quality of the recorded sound.
It has a wide range of response to all types of frequencies, with a noticeable reduction in internal noise and a clear pickup of sound.
It does not occupy any space at the time of storage or store it in a sleeve along with the rest of your electronic equipment.
Pros
At the time of fixing it to the clothes, it has a high resistance clamp that allows a total adhesion, without movements or rubbing during the recording process.
very light model, easy to carry
Cons
TRS style connector, difficult to compatible with SLR cameras
Bottom Line: The Sennheiser ME2 is a lapel microphone suitable for recording interviews, tutorials or event presentations.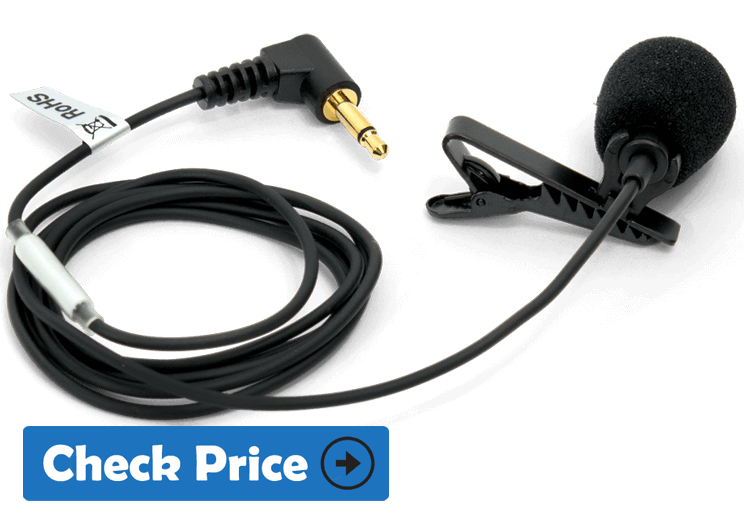 We're gonna take a look at the giant squid audio labs lava mic a cheap lavalier mic to drastically improve the sound of your video
we are pretty big fans here of the giant squid audio labs live mic they have a new version and it is really a nice mic, now the biggest selling point of this mic for me is that the sound sounds like this relative to the on-camera mic and the on-camera mic sounds something more like this.
It has a 3.5-millimeter plug and the cable is about five feet long so really this mic is designed to plug into things like miniature audio recorders like the zoom h1 Taz cam dr-05 and that's how I use it
But you can also plug it directly into many cameras if they have a 3.5-millimeter input and the camera provides what's called plug-in power plug-in power for those of you that aren't familiar with that term is power provided by the camera for the mic in the one point 5 to 9-volt range.
So you'll have to check the specs of your camera to see if your camera supports it now if you are going to plug in directly to the camera I would highly recommend you get an extension cable because again the cable that comes with the mic is only five feet or 1.5 meters long.
It's nice to have that reversible clip it does come with a foam windscreen so if you are going to be shooting outdoors in the wind.
I highly recommend that you actually put the lava mic underneath your talents shirt because you're going to block the wind much more effectively that way this mic doesn't produce a lot of hisses.
Pros
The build quality is super durable
working with many devices
Perfect quality metal clip
Bottom Line: This lavalier mic is most selling mic on the market due to its features and quality build. You can also pick one
6. SONY ECM 77B Expensive Lavalier Mic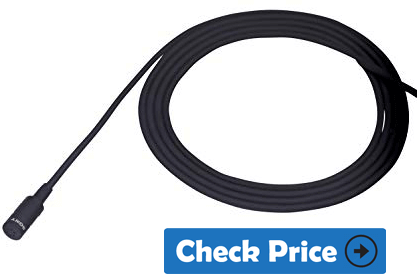 The most popular lapel microphone seen on television, widely used for both studio and on-the-ground production, thanks to the combination of excellent sound quality, robust design and sleek design.
This ECM-77BMP microphone comes with a 3.5mm jack-type jack for use with a WRT-805 and UWP series wireless transmitter.
Hands-free
As a lapel microphone, the ECM-77 is an alternative to the traditional handheld microphone. Its use gives the presenter free rein and allows him to focus on his performances.
Professional image
The ECM-77 is probably the most viewed microphone on television and its compact design gives a professional image.
Simple and familiar operation
The ECM-77 is an indispensable tool for getting a good quality voice recording. The microphone capsule is designed to allow a voice pickup with an extended frequency response and impressive sensitivity. The popularity of this microphone for TV production means that most people working in the field of sound will be used to using the ECM-77.
Designed for a high-quality vocal pickup
The ECM-77's capsule features a voice boost curve, as well as extended frequency response and sensitivity.
Tiny size
The capsule measures only 5.6 mm in diameter and 12.5 mm in length.
Compatible with wireless systems
The ECM-77BMP microphone is compatible with the Sony Freedom WRT-805 wireless transmitter. It offers high quality wireless microphone systems for video production.
Pros
Excellent sound quality
Robust construction
Attractive cosmetic design
Bottom Line: It is one of the Best lapel mic on the market, you get what you pay for !

7. Shure MVL : Condenser Lavalier Microphone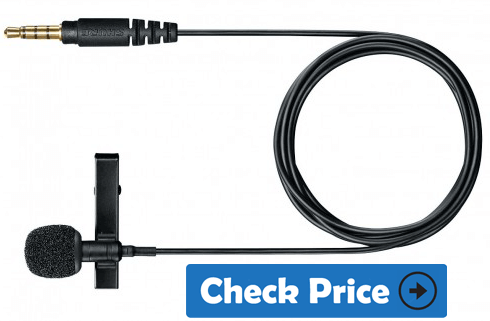 To record outdoors, give a speech, conduct lectures, do interviews ... This condenser lapel microphone offers a professional quality digital recording. You can connect it to any smartphone or tablet that has a 3.5mm Jack input. Includes windproof, clip for clothes and carrying case.
Discreet design that connects to a 3.5mm female connector, through a TRRS connector
Perfect for videography, interviews, and dictations
The best signal-to-noise ratio, dynamic range and maximum SPL in its category
Supplied with windshield, clothing clip, carrying case and user guide
Pros
Discreet
Quality materials
Protection against RF / GSM interference, which blocks noise due to external interference.
Quality cover
Good application (the ShurePlus MOTIV app is responsible for controlling all operations).
Bottom Line: . If you are looking for a Condenser Lavalier Microphone then pick this one.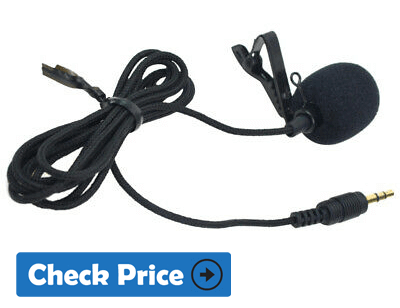 The Vidpro XM-G10 is an omnidirectional condenser microphone that can be attached to your lapel and is suitable for voice recording or interviews. It also comes with a 20-foot long cable so you can have your camera installed a little further while still being able to keep the microphone nearby.
In addition to the microphone, there is also an anti-noise to help reduce wind noise, and you can plug it directly into the GoPro, so an adapter is not needed.
Features
The microphone connects via a 20′ long cable straight into the mic port on the GoPro Camera.
It is aimed for use with GoPro Hero4, Hero3+, and Hero3 Cameras.
In-line LR44 battery capsule with an on-off power switch.
It also Contains steel lapel clip and foam windscreen.
It fall in the category of Electret Condenser
It has Polar pattern: Omni-directional
The Frequency Range: 35Hz ~ 20KHz which is better than other cheap mics
Signal/Noise: 80dB SPL
Sensitivity: -24dB +/- 3dB / 0dB=1V/Pa, 1kHz
Power: (1) LR44 1.5V Button Cell Battery
Connector: Mini USB Plug Weight: 1.1oz (32g)
Pros
Very well made
Cheap price
ligh weight
Bottom Line:
If you are using
action camera like GoHero
then this mic would be ideal choice. If you are looking for cheap priced mic then pick this one.
How to Choose the Best Lavalier Microphone in 2023 | Buyer's Guide
Price
The price is one of the most important aspects, fortunately, these microphones are cheap but if you decide to spend more you can increase the quality. Do you prefer a wireless or wired lavalier microphone? Wireless lavalier systems increase the price. We have compared various reviews before writing this article.
Quality of Construction
It is very likely that once worn, you forget to have it: and so when you take off your jacket, it is very likely that the device falls ruinously to the ground. This is why it is important that the structure is able to absorb the small blows it receives. Always need a little heavy microphone: surely they are all but when you wear it all day, especially the type of bow that is placed around the head, is a factor not to be underestimated.
Operating Range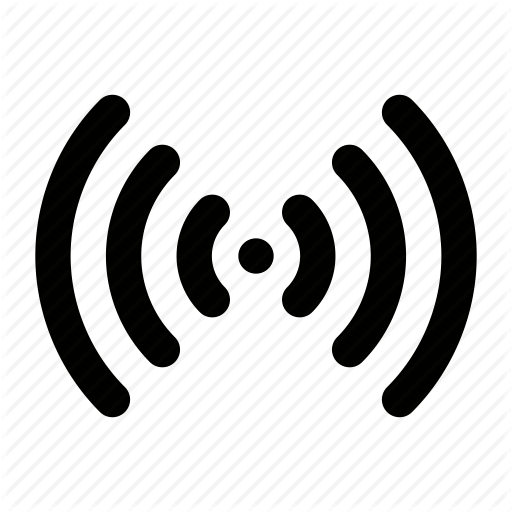 This aspect is more important in some professional applications. If you know that you will be using your microphones in a small controlled environment (such as a podcast) where you can be in the vicinity of the power source, the operating range will not be that important to you.
On the other hand, if you are in a large enough studio, it is important that the operating range is sufficient. Even if your range of motion is within the specified range, things like obstacles or interference can cause problems as the subject moves away.
Recording Quality
It all depends on the circumstances of use. If you're just watching some YouTube videos or you need a wireless microphone for occasional jobs, the sound quality may not be perfect. However, if you are doing some professional shooting, you will need the microphone of absolute quality.
Directionality
It is also important to consider the directionality of the microphone. Some devices are highly directional, while others are omnidirectional/cardioid/super-cardioid/bidirectional/semi-cardioid or hyper-cardioid. Recording a live event requires different features compared to an interview, so make sure you have the right microphone for your needs.
Sampling Frequency (Hz)
Indicates the times per second in which the level of the digital signals changes. The higher this rate, the better the audio quality. If possible, choose a device that has a minimum of 44,100Hz.
In the same way, you should check the frequency response, that is, the sensitivity of the microphone. A flat frequency response would be 20 Hz - 20 kHz (covers the entire range of audible frequencies).

Channel Scan
It is an important feature for wireless lavalier microphones that do not have the technology described above. It allows you to scan the frequencies so you can find a clear one for audio recordings.
Battery Compatibility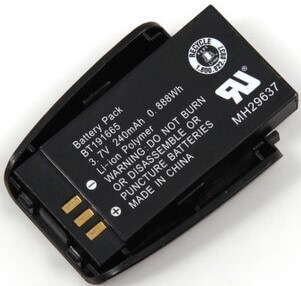 The lapel microphones can be connected to a mobile phone, a PC, a laptop, a tablet, an external recorder, etc. But not all lavalier microphones are compatible with all devices. Verify that the one you are going to buy is compatible with yours.
In this sense, there must be a quality match between your equipment and the microphone to record that you buy. The most effective thing is that everything is of the same range, so it's not worth it if you spend a lot of money on a microphone if your equipment is basic.
The microphones come with different types of connections, so choose a model that allows you to connect it to the largest number of devices. There are XLR connectors, USB or 3.5 mm jack.
Some of the lavaliers come with rechargeable batteries, while others contain slots for AA batteries or even USB charging ports. If you know you're going to film for long periods of time, it's important to have a device with an AA battery power supply or a USB charging slot.
Accessories
You must bear in mind that it is not enough to buy a microphone. You will need additional accessories, so the more you come in the box you buy, the better. Some packs include a microphone stand, shock mount, anti-popping filter, carrying bag, cables, audio interface, etc.
Brand
Many brands manufacture USB microphones, but the most popular are:
Main Features of a Good Lavalier Microphone
Maximum sound pressure level:  This feature is used to know at what decibels the microphone begins to distort. A good micro has to have a sensitivity higher than 135 dB SPL (Sound Pressure Level). For a microphone to be considered with an excellent level of acoustic pressure, it should hold up to 150dB since at this level it will withstand the pressure without distorting the signal.
Signal - noise ratio This feature is very important because if a microphone, for example, has a noise signal at 40dB would be a microphone that captures a lot of noise and therefore, bad. The optimum would be 30dB and the excellent would be a signal-to-noise ratio of 20dB.
Sensitivity: This feature is responsible for calculating the level of output that we will have in the microphone before an acoustic signal (your voice). So that you do not mess up, tell you that the closer you get to 1 (an example that you can see in the characteristics «1V / μbar») this value, much better. The less sensitive, the worse it will pick up the microphone to pick up weak signals.
Impedance: This is one of the most important features when choosing a good microphone, both lavalier, and any other microphone. To give you an idea, a microphone that good impedance would be one that has between 10000 - 20,000 ohms. I leave you a capture where they explain it quite well: Image capture is performed using a 20.1-megapixel CMOS sensor with a DIGIC 7 image processor that provides excellent low-light quality and features a downloadable application called Wi-Fi Camera Connectivity, NFC and Canon, both in Android as in iOS, offers a simple way to transfer video images and photos directly to any device.
What are the Uses of Lavalier Microphones
To Record Youtube Videos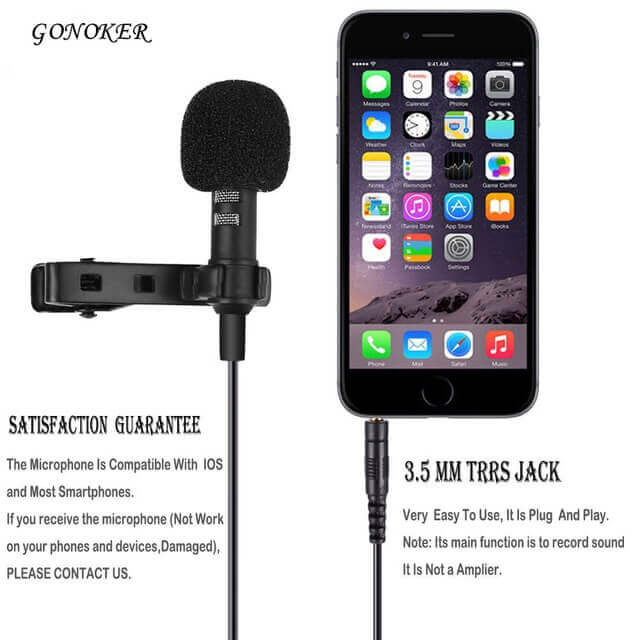 In the guide of microphones for YouTube that I wrote a few days ago, apart from recommending the best microphones for YouTube, I also talked about the importance of audio in the videos that we upload to our channels.
Some say it is fifty percent of the success of our channel, but I think it is something else. Under my humble opinion, and for the more than 11 years that my YT channel has, I believe that audio has to do with more than sixty percent of the global success, both of the videos that we upload daily, and of the channel in general.
Also Read: 10 Best Cheap Camera For YouTube
I give you a practical example: when we search for information about something, if the video has low quality but has good audio, we usually stay until the end, since the information offered by this video interests us, but if it is the other way around, where the audio is terrible and the quality of the video is very good, what I usually do is leave the playback after a few seconds.
To record conferences and meetings
I include this section for my daughter since she is the one who uses her tie microphone (she uses Rode SmartLav +) on her iPhone to record the lectures she attends as a student.
It is very practical, because later when he gets home, I always see her with her headphones on to listen to the lectures that have seemed interesting to her, and with that, she can make notes for homework or for research.
In April of last year, I attended the International Marketing Fair in Madrid, and one of the papers I recorded entirely, but only the voice, I was not interested in the video. For this recording, I used a Huawei P9 Plus and the Shure Motiv MVL.
I placed the microphone at the height of my tie and got as close as possible to the speaker. The recording was great, and I always listen to it again every time I have doubts about what the speaker was explaining.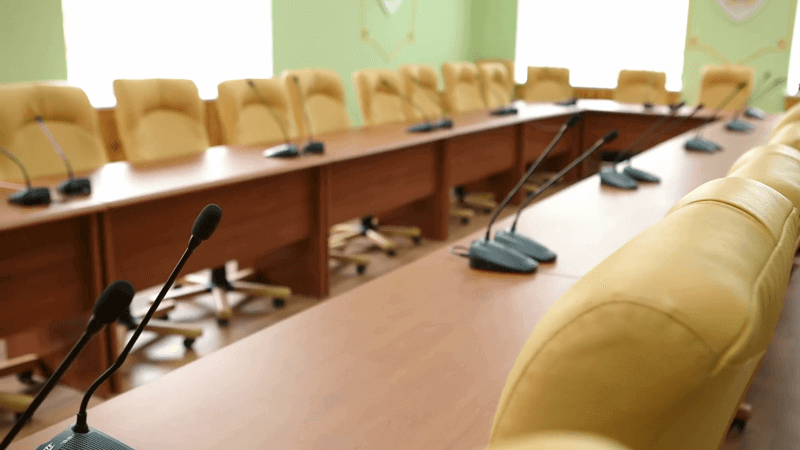 To make direct on social networks
For this purpose, it is for what I mostly use the lapel microphones. For example, this February I went on a trip to New York, and all the live shows were recorded with an iPhone and the Shure Motiv, here you can listen to a video recorded live from New York with this configuration. The video is recorded in the noisiest place in NYC, Time Square at night, where there are thousands of tourists around. If you listen to the audio of the video, you will notice how well it isolates the outside noise.
Also, note that the quality of the video is terrible (360p) since at that time had very bad coverage for the live, but, however, the audio is decent enough, even when the Internet signal was too low for the live.
Without a doubt, if you want to record live with excellent audio quality, for Youtube, Facebook or Periscope, the best option is to place a microphone on your mobile phone.
To make video calls with better sound quality
I use lapel microphones quite often to talk to my clients from my Online Academy of Digital Marketing through Skype or FaceTime. A few years ago I used the microphone of the headphones, but these include a lot of external noise in the audio, and it does not matter if they are from the iPhone, they also pick up a lot of external noise.
My clients always deserve the best, so I did not skimp on buying the Shure Motiv MVL to talk to them on any occasion they need to contact me. The best solution to have the helmets and an external microphone plugged into the only 3.5mm mini-jack port that the mobiles bring, is to use the following Rode adapter (it is compatible with any microphone, even if it is not from Rode, I have personally tested it with a lot of lavalier microphones that I have at home)
Best Lavalier Microphones FAQs
Is any lapel microphone worth it, both for mobile phones and for a DSLR camera?
Do not! You do not have any mobile microphone and DSLR. To differentiate quickly whether a lapel microphone is compatible or not, both with mobile phones or Reflex cameras, you have to look at the jack, if it is TRRS (with three circles) you only use it to plug directly into mobile phones, If you want to plug it into a DSLR, you'll need to buy a TRRS to TRS adapter like the Rode SC3 .
If the microphone is TRS (with two circles on the jack), you only need to plug it directly, either to a DSLR camera, PC or voice recorder. If you want it to work on your mobile, you will need to purchase the TRS to TRS adapter Rode SC4
Why do I recommend the Rode brand adapters and not others cheaper?
I recommend the Rode brand adapters simply because they are the best, and the ones with the best signal and audio quality. It would be useless to buy a lavalier microphone of quality if you then attach it to an adapter of poor quality (the typical ones sold in Asian bazaars for one euro). You will lose all the quality of the mic, and, worst of all, is that the audio will fill you with noise.
How lapel microphones are placed
The best recommendation and the one that works in 99% of cases is to put it at shoulder height (aligned with the shoulders). If you are recording outdoors, remember to put the wind filter. You can also put it under the jacket, so you avoid getting the sound of the wind, in the audio.
Best lapel microphone to record tutorials or courses with the mobile
I leave audio recorded with the Zoom H1N and the Shue Motiv MVL. The first half of the audio is unedited, and the second half is audited with Adobe Audition, I added the effect "Broadcasting" or Broadcast on the Internet.
To avoid outdoor noise and wind
o record videos outdoors, there is nothing better than a lapel microphone to capture the audio as clean as possible, without so much external noise and, above all, preventing the wind from sneaking into the recording. It is advisable to buy a windshield for lapel microphones, to avoid as much wind as possible. Another trick that works very well, is to introduce the lavalier microphone inside the shirt or shirt.
FAQs
How Do I Choose A Good Lavalier Mic?
Choosing a good lavalier microphone, also known as a lapel microphone, can make a big difference in the audio quality of your videos, interviews, or presentations. Here are some factors to consider when choosing a lavalier mic:
Sound Quality: Look for a lavalier mic that captures clear and natural-sounding audio. Some microphones may have a tendency to produce a hissing or buzzing sound, so read reviews or listen to samples to ensure the sound quality meets your standards.
Directionality: Consider the directionality of the microphone. Omnidirectional microphones capture sound equally from all directions, while directional microphones are more focused and capture sound from a specific direction. Directional microphones can be useful for reducing background noise and improving clarity.
Connectivity: Make sure the lavalier mic is compatible with your recording device. Some microphones connect via a 3.5mm jack, while others may require an adapter or a specific type of connector. Check the specifications of both the microphone and your recording device to ensure compatibility.
Wireless vs. Wired: Decide whether you want a wired or wireless lavalier mic. Wireless mics offer more freedom of movement and are ideal for interviews or presentations where the speaker needs to move around. Wired mics can be more reliable and offer consistent sound quality.
Price: Determine your budget and look for a lavalier mic that fits within it. There are many great options available at different price points, so you should be able to find a microphone that meets your needs and budget.
Accessories: Consider what accessories come with the microphone, such as a windscreen or carrying case. Some microphones may also include a clip or other mounting options for attaching the mic to clothing.
Ultimately, the best lavalier mic for you will depend on your specific needs and preferences, but considering these factors can help you choose a microphone that will meet your needs and help you achieve high-quality audio recordings.
What Is The Difference Between A Lavalier And Lapel Mic?
There is no significant difference between a lavalier microphone and a lapel microphone. These terms are often used interchangeably to describe a small microphone that can be clipped to a person's clothing, typically near the collar or lapel. The microphone is designed to pick up the speaker's voice while minimizing ambient noise and avoiding any obstructions that might block the sound.
The term "lavalier" is more commonly used in the United States, while "lapel" is more commonly used in the United Kingdom and other parts of the world. In general, both terms refer to the same type of microphone and are used to describe the same product.
It's worth noting that the term "lavalier" is also used in the jewelry industry to describe a type of necklace that hangs from the neck, but this usage is unrelated to microphones. When discussing microphones, "lavalier" and "lapel" can be used interchangeably to describe a small, wearable microphone that clips to clothing.
How Do You Make A Wired Lavalier Wireless Microphone?
To make a wired lavalier microphone wireless, you will need a wireless transmitter and receiver kit. The kit will include a small wireless transmitter that can be attached to the lavalier microphone and a wireless receiver that connects to your recording device.
Here are the general steps to make wired lavalier wireless:
Choose a wireless transmitter and receiver kit that is compatible with your lavalier microphone and recording device. Look for a kit that includes the appropriate connectors for your devices.
Connect the lavalier microphone to the wireless transmitter using the appropriate connector. The transmitter may have a built-in clip or another attachment mechanism to secure it to the microphone cable.
Turn on the wireless transmitter and receiver and follow the manufacturer's instructions to pair them. This may involve setting a specific channel or frequency for the transmission.
Connect the wireless receiver to your recording device using the appropriate connector. This may be a 3.5mm jack or another type of connector depending on your device.
Test the wireless system to ensure that the microphone is picking up sound and transmitting it to the receiver. Adjust the volume levels as needed to achieve the desired audio quality.
Note that using a wireless transmitter and receiver may introduce some latency or delay in the audio signal. This can be minimized by choosing a high-quality wireless system and ensuring that the transmitter and receiver are within range and have a clear line of sight. Additionally, wireless systems may be subject to interference from other wireless devices or electromagnetic interference, so it's important to test the system in your specific environment before using it for a critical recording.
What Is One Disadvantage Of A Lavalier Microphone?
One disadvantage of a lavalier microphone is that it can pick up clothing rustle and other unwanted sounds that are caused by the movement of the person wearing the microphone. Because the microphone is clipped to the clothing, any movement can cause the microphone to rub against the fabric and create noise.
This problem can be mitigated by using a high-quality lavalier microphone with a windscreen or by securing the microphone to the clothing in a way that minimizes movement. Additionally, choosing clothes made from materials that do not produce a lot of noise when rubbed against the microphone can also help.
Another disadvantage of lavalier microphones is that they may not provide the same level of audio quality as larger, more expensive microphones. However, this is often a trade-off for the convenience and portability of a lavalier microphone.
What Is The Industry Standard Lavalier Mic?
There isn't necessarily a single industry standard lavalier microphone, as different microphones may be preferred by different professionals depending on their specific needs and preferences. However, there are several lavalier microphones that are commonly used in the film, television, and broadcast industries due to their high-quality sound and durability.
Some of the most popular lavalier microphones used by professionals include:
Sennheiser MKE 2: This is a small condenser microphone that is known for its clear and natural sound quality. It is often used in television and film productions, as well as live events.
Shure SM11: This is a dynamic omnidirectional lavalier microphone that is known for its durability and versatility. It is often used in broadcast applications and live performances.
Rode HS2: This is a lightweight and discreet lavalier microphone that is designed for use in live performances and broadcast applications. It features a water-resistant coating for added durability.
Countryman B6: This is a miniature lavalier microphone that is known for its natural and transparent sound quality. It is often used in film and television productions, as well as live events.
Audio-Technica AT899: This is a small omnidirectional lavalier microphone that is known for its clear and natural sound quality. It is often used in broadcast applications and live performances.
It's worth noting that the specific microphone that is considered the "industry standard" may vary depending on the specific industry and the preferences of individual professionals.
Which Mic Is Better Uhf Or Vhf?
In general, UHF (ultra high frequency) wireless microphones are considered to be better than VHF (very high frequency) wireless microphones because UHF signals have a higher frequency and therefore offer greater frequency stability, less interference, and better signal quality.
UHF wireless microphones operate in the frequency range of 400-900 MHz, while VHF wireless microphones operate in the range of 30-300 MHz. UHF signals have a shorter wavelength and are less prone to interference from other wireless devices, such as cell phones and Wi-Fi routers, which operate in the same frequency range as VHF signals.
Additionally, UHF signals can penetrate obstacles and travel further distances than VHF signals, making them more versatile for use in different environments. However, UHF wireless systems tend to be more expensive than VHF systems and may require a license to operate in some countries due to stricter frequency regulations. Ultimately, the best choice between UHF and VHF will depend on your specific needs and the environment in which you plan to use the microphone.
Which Is The Best Wireless Microphone?
There are many excellent wireless microphones available on the market, and the "best" microphone for you will depend on your specific needs and preferences. Here are some of the most popular and highly-regarded wireless microphones:
Shure SM58 Wireless: The Shure SM58 is one of the most popular handheld dynamic microphones on the market, and its wireless version is highly regarded for its clear sound and durability.
Sennheiser ew 100 G4: The Sennheiser ew 100 G4 series is a versatile wireless microphone system that is available in a range of configurations to suit different needs. It is known for its reliable signal quality and ease of use.
Audio-Technica System 10: The Audio-Technica System 10 is a digital wireless microphone system that offers high-fidelity sound and easy setup. It is a popular choice for musicians and performers.
RodeLink Wireless Filmmaker Kit: The RodeLink Wireless Filmmaker Kit is a popular choice for filmmakers and videographers who need a wireless lavalier microphone system. It is known for its clear sound quality and easy setup.
Shure BLX14R/MX53 Wireless: The Shure BLX14R/MX53 is a wireless lavalier microphone system that is designed for use in theater and broadcast applications. It features a comfortable and discreet headset microphone and a reliable wireless transmitter.
Again, the best wireless microphone for you will depend on your specific needs and preferences, such as the type of microphone you require (handheld, lavalier, etc.), the environment in which you'll be using it, and your budget.
How Long Do Lavalier Microphones Last?
The lifespan of a lavalier microphone can vary greatly depending on several factors, such as the quality of the microphone, the environment in which it is used, and how well it is maintained.
With proper care and maintenance, a high-quality lavalier microphone can last for many years. However, the microphone may need to be replaced sooner if it is exposed to harsh environmental conditions, such as extreme heat or humidity, or if it is subjected to rough handling or frequent use.
It's also important to note that the battery life of a wireless lavalier microphone can also affect its overall lifespan. Most wireless systems use rechargeable batteries that typically last for several years before needing to be replaced. It's important to follow the manufacturer's guidelines for battery maintenance and replacement to ensure the best performance and longevity of your lavalier microphone.
What Are The Three Advantages Of Using A Lavalier Microphone?
Here are three advantages of using a lavalier microphone:
Hands-free operation: A lavalier microphone allows the user to speak or perform without having to hold or carry a microphone, which can be especially useful in situations where the user needs to move around or use their hands for other tasks.
Discreet: Lavalier microphones are typically small and unobtrusive, making them a popular choice for film and television productions, theater performances, and other situations where a visible microphone would be distracting or inappropriate.
Consistent audio quality: Because a lavalier microphone is positioned close to the speaker's mouth, it can provide a consistent level of audio quality regardless of the speaker's movements or positioning. This can be especially useful in situations where the speaker is moving around or speaking in a noisy environment, as the lavalier microphone can help to reduce background noise and ensure that the speaker's voice is clearly heard.
Are Wired Mics Better Than Wireless?
Whether a wired microphone is better than a wireless microphone depends on the specific needs and circumstances of the user. Both wired and wireless microphones have their advantages and disadvantages.
Wired microphones are generally more reliable and have a more consistent sound quality because they are not affected by interference or signal dropouts. They also do not require batteries or charging, so they can be used continuously as long as they are plugged into a power source.
Wireless microphones, on the other hand, offer more mobility and freedom of movement, making them a good choice for performers or presenters who need to move around the stage or room. They can also be less obtrusive and more convenient to set up than wired microphones.
Ultimately, the choice between wired and wireless microphones depends on the specific needs of the user and the situation in which they will be used.
What Are Two Advantages Wired Lav Mics Have Over Wireless Lav Mics?
Here are two advantages of wired lav mics over wireless lav mics:
Reliability: Wired lav mics do not rely on wireless signals to transmit audio, which means they are not susceptible to interference or signal dropouts. This makes them a more reliable option for recording or performing in environments where wireless signals may be weak or disrupted.
Battery life: Wired lav mics do not require batteries or charging, which means they can be used continuously as long as they are connected to a compatible audio device. This can be a significant advantage in situations where there is limited access to power sources or where the user needs to record or perform for an extended period of time.
What Is a Wired Lavalier Microphone?
A wired lavalier microphone is a small microphone that is designed to be worn discreetly on the speaker's clothing or attached to an object, such as a podium or desk, using a clip or mount. The microphone is connected to an audio device, such as a mixer, amplifier, or recorder, using a cable that runs from the microphone to the device.
Wired lavalier microphones are commonly used in a variety of applications, including television and film production, public speaking, live performances, and interviews. They are preferred in situations where reliable audio quality is crucial and where wireless signals may be weak or disrupted. Because they do not require batteries or charging, wired lavalier microphones can be used continuously as long as they are connected to a compatible audio device.
Are Wireless Mics Worse Than Wired?
Wireless microphones are not necessarily worse than wired microphones. Both types of microphones have their advantages and disadvantages, and the choice between them depends on the specific needs and circumstances of the user.
Wireless microphones offer greater mobility and freedom of movement, making them a good choice for performers or presenters who need to move around the stage or room. They can also be less obtrusive and more convenient to set up than wired microphones.
However, wireless microphones can be susceptible to interference or signal dropouts, which can affect the audio quality or cause the microphone to cut out completely. They also require batteries or charging, which can be a concern if the battery life is short or if the user forgets to charge the microphone.
Wired microphones, on the other hand, are generally more reliable and have a more consistent sound quality because they are not affected by interference or signal dropouts. They also do not require batteries or charging, so they can be used continuously as long as they are plugged into a power source. However, they can be less convenient to use and restrict the movement of the user.
Ultimately, the choice between wired and wireless microphones depends on the specific needs of the user and the situation in which they will be used.
Are Lavalier Mic Stereo Or Mono?
Lavalier microphones can be either mono or stereo, depending on the specific model and design.
Most lavalier microphones are mono, meaning they capture audio in a single channel. Mono lavalier microphones are commonly used for recording dialogue or interviews, as they are typically attached to a single speaker or performer.
However, some lavalier microphones are designed to capture stereo audio, which means they record audio in two separate channels. Stereo lavalier microphones are often used for recording music or sound effects, as they can capture a wider range of audio and create a more immersive listening experience.
It is important to check the specifications of a lavalier microphone before purchasing it to ensure that it is the appropriate type (mono or stereo) for the intended use.
Can I Use Lavalier Mic For Singing?
Yes, you can use a lavalier microphone for singing, but it may not be the best choice for all situations.
Lavalier microphones are typically designed for recording speech, such as in interviews, lectures, or presentations. While they can capture the human voice, they may not be optimized for capturing the nuances and dynamic range of singing.
In addition, lavalier microphones are typically small and discreet, which means they may not be able to handle the volume or projection of a singer's voice. They may also pick up unwanted sounds, such as breathing or rustling of clothing.
If you are a singer and looking for a microphone, you may want to consider a dynamic or condenser microphone, which are specifically designed for music and vocals. These types of microphones are larger and more sensitive than lavalier microphones and can capture a wider range of audio frequencies.
That being said, if you only have a lavalier microphone available, you can still use it for singing, but you may need to experiment with the placement and settings to get the best sound quality. You may also need to adjust your singing style to accommodate the limitations of the microphone.
Conclusion
If you want to obtain the highest quality possible in the audio recorded with your mobile phone, whether in videos or in voice memo recordings, the Shure Motiv MVL is the best option. The second best option the Buoy and third the Sony with the adapter.
To improve the audio recorded directly with the DSLR, the best option is the Sony + the Rode adapter. Why do I say to improve a little? Because you should only record audio directly on the DSLR for reference sound, if you really want to record audio with the highest quality next to your Reflex, I recommend this version of the Zoom H1 voice recorder.
If you have any doubt, here you have me 24 hours for what is needed, just leave me a comment and I will respond right away.
Top-Rated Lavalier Microphones of 2023