Some time ago I bought a new lens. This is a third-party telephoto lens whose autofocus motor is rather slow. Some friends, intrigued by the new lens, asked me to lend them the camera and took some photos. When I got home, I downloaded all the photos to my computer, both the ones I had taken and the ones my friends had taken. All the photos my friends took were blurry. What happened?
Anyone who has already tried any camera equipped with autofocus will already have guessed what we are talking about. If we press the shutter button of a camera with slight pressure, we realize that, halfway through, the button "resists". If we hold the pressure halfway for a moment, we give the camera time to focus.
Generally, digital cameras, both reflex, and compact communicate that they have focused with an acoustic signal (which can be deactivated from the menu) and by flashing on the LCD screen, or in the viewfinder.
For example, the Nikon D3000, which I talked about in the post regarding the choice of the first DSLR, signals that it has focused by showing a green dot and turning on a red light inside the viewfinder. Keeping the shutter button pressed halfway after the camera has focused, the focus will remain locked. So, if we get closer or further away from the focused object, it will no longer be in focus.
10 reasons your photos are blurry
sometimes you get blurry photos from your camera but don't know why?
1. The shutter speed is too slow
The most common reason photos are not sharp is due to camera shake, with the entire image often suffering from a smudge-like appearance.
So what kind of shutter speed should you use?
Additional information: A to Z of photography: focal length
2. You are too confident in image stabilization
Your camera's image stabilization system, whether it's built into the camera or built into the lens, can be an incredibly useful piece of technology, allowing you to shoot at much slower shutter speeds than usual.
It's nice if you are photographing a static subject, but if the subject is moving – the large reduction in shutter speed will introduce blur into the subject.
Learn more: Brand-by-brand guide to image stabilization
3. The ISO you are using is too high
In some cases, you will need to opt for a very high ISO sensitivity to avoid camera shake when holding the camera.
The sensor design has greatly improved in recent years, allowing you to shoot at much higher ISOs than otherwise would have been possible, but be aware that at higher settings you will see a loss of detail.
To avoid this, shoot the raw files and process the images later to get the best possible results.
More information: A to Z of photography: ISO
4. The lens aperture is too small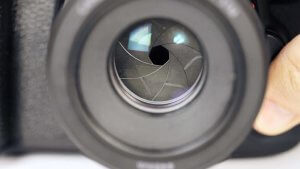 If you are shooting something like a landscape where in most cases you want to capture an image with a large depth of field, a small aperture is a must as it increases the size of the area in focus.
The trouble is that, at small apertures, an inevitable payoff is an optical effect called 'diffraction', which sees fine details starting to blur.
To prevent this from happening, shoot at a slightly wider aperture, such as f / 11.
Learn more: Depth of field explained
5. The lens aperture is too large
Alternatively, if the part of the image you're focused on is sharp and the background is blurry, shoot with a shallow depth of field.
Learn more: the exposure triangle – aperture, shutter speed and ISO explained
6. You are not holding the camera properly
Poor technique can be the cause of many blurry shots.
Rather than using the rear display to compose and shoot, it's better to make the camera rise up in your eyes.
If you don't have a viewfinder, don't worry.
In some cases, you may want to lean against a wall or lie on the ground with your elbows spread like a tripod.
Equipment Guide: Top 10 Tripods You Can Buy Right Now
7. You focused on the wrong thing
Most cameras come out of the box with Auto-area AF as the default Auto Focus setting, which gives the camera full control, letting it decide what it should focus on.
If you're going to photograph static subjects, your camera's AF-S focus mode (known as AI-Focus on Canon cameras) is perfect.
This may be fine for a lot of general photography, but it can and can be wrong, especially if the subject is facing the edge of the frame.
Learn more: 10 foolproof ways to get your photos clearer
8. You need to switch to continuous focus
If you're going to photograph static subjects, your camera's AF-S focus mode (known as AI-Focus on Canon cameras) is perfect.
To work around this, you need to switch to the camera's continuous focus mode (AF-C, although Canon calls it AI-Servo), as this will see the camera constantly update focus as the subject moves, such as
Remember though that not all camera focusing systems are created equal, and for fast-moving subjects, your camera may not be able to keep up.
Learn more: 9 tips for taking sports photos like a pro
9. You have to take a step back
If you are trying to focus on a subject very close to you, you may find that your photos are blurry.
To rectify this, you may need to take a step or two back to extend the distance between you and your subject, but that means you won't have the tight enough crop as you might like.
More information: Macro lenses: how to choose one and how to use it
10. Is your lens clean?
You can have the right technique, but if your kit isn't up to par, you can still end up with blurry photos.
This is not the only problem.
Why Are My Pictures Blurry? | Video Explanation
Some factors can slow focus :
low light can prevent the machine from distinguishing objects to focus on,
small objects (in relation to the overall area of ​​the frame) may not be "recognized" by the camera and can therefore make the autofocus difficult,
Cheap lenses have slower and less precise focus motors, regardless of lighting conditions (this is only a problem if you have an SLR without an internal focus motor).
So what should my friends have done while trying out my new lens?
They should have kept the shutter button pressed halfway until the green dot inside the viewfinder lit up. At this point they could have pressed it all the way down.
In summary, every time we take a photo, we follow this small procedure :
we press the shutter button halfway,
keeping the button pressed, we wait for an instant for the machine's acoustic and / or visual signal,
we press the shutter button as far as it will go.
Do you agree with this procedure? Ever had a hard time with autofocus?