All good vloggers rely on their equipment to create content that will keep their audience engaged, interested and willing to ask again, whether they are vlogs on a specific topic or something for a much wider audience. Without the right equipment, the quality of your content will suffer, and you could end up chasing your potential followers or spectators if the quality of your vlogs begins to lag – and for vloggers, an audience is everything!
Today, I have done in-depth research on Best Vlogging Camera that you can buy Under $300 in 2022.
Best Vlogging Camera Under $300
The list compiled below contains 7 of the best vlogging cameras for video bloggers cost less than 300 USD. we could find, each chosen because of all their different features together rather than for a single gimmick, as well as a few reasons that we think set them apart from the rest cameras on the market.
Best Vlogging Camera Under $300 | Comparison Table 2022
Top Quality | Economical | 5-Stars Pick
7 Best Vlogging Camera Under 300$ | 2022 Products Overview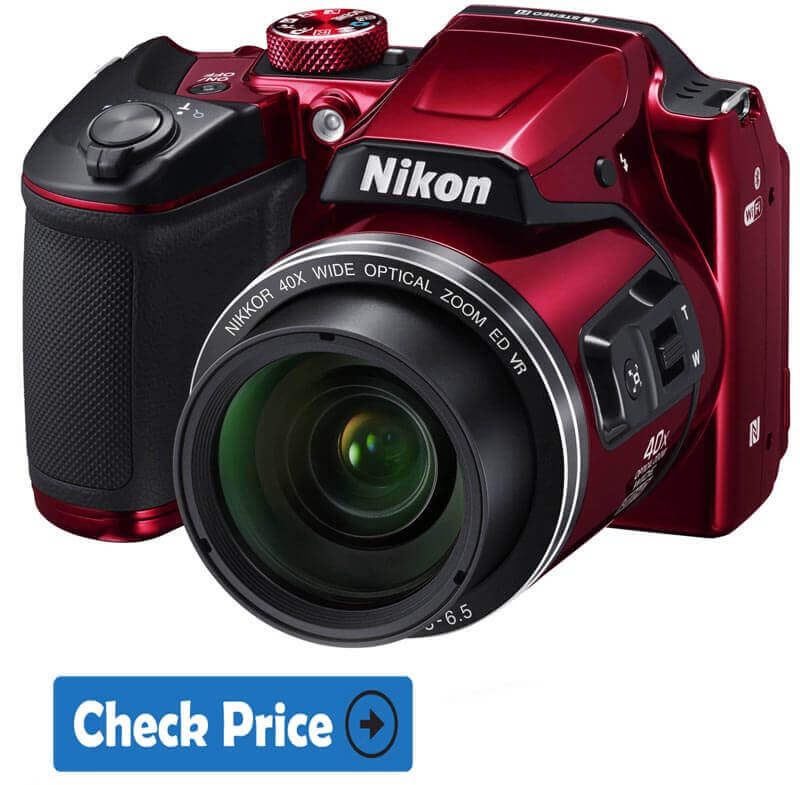 Specification:
Type: Compact
Resolution Max: 1080P
Mega Pixel: 16 MP
Image Stabilizer: Yes
Screen 3″, Tilt
Connectivity: Wi-Fi, NFC
Water Proof: No
Battery Life: 3hr + Recording
About:
This camera is a good "bridge" camera, that is, a "compact" camera with an optics of more possibilities. But it is still a compact one, that is, it is not valid for creative photography. I think the applications of this camera are trips, events, group photos, close-ups of objects.
Situations where you want the camera to take a good picture of you without having to think about anything. But by not having manual controls such as manual focus, fixed focus, open shutter, etc. Not valid for creative photos as I said. All functions are accessible even if you only have one hand available (menus, on / off, zoom, access to the photos taken.)
I love that because the camera is also lightweight. The zoom is beastly and the image stabilizer works very well, so it would be the perfect camera for paparazzi.
Design:
Features:
It is very simple and intuitive operation with superior image quality
It has a Nikkor lens with 40x optical zoom
It has High-performance vibration reduction (VR)
Snap-bridge maintains a constant low power connection between the camera and the smartphone or tablet
Mode dial. Customize your shooting experience by adjusting your favorite functions
Record impeccable videos at maximum definition (full HD, 1080p / 60i)
Large vertical flip screen LCD 7.5 cm (3 inches) and 921 000 points
Battery life: can shoot about. 600 shots when using alkaline batteries, 1240 shots when using lithium batteries, or 750 shots when using approximately EN-MH2 rechargeable batteries. This is very impressive and should mean that you can get a lot of shots before worrying about the battery.
Connectivity:
It has built in Wi-Fi / NFC / Bluetooth connectivity
Pros
16 megapixel CMOS sensor
40x optical zoom lens, 22.5mm-900mm equivalent, f/3-6.5
Vibration Reduction (VR) optical image stabilisation
Camera can shoot at 9fps for 7 shots.
Bottom Line: It a good camera if you want to get started in the world of photography & Vlogging. Resolution and zoom are its strengths. It has a lot of automatic modes. It also lies under your budget of $300.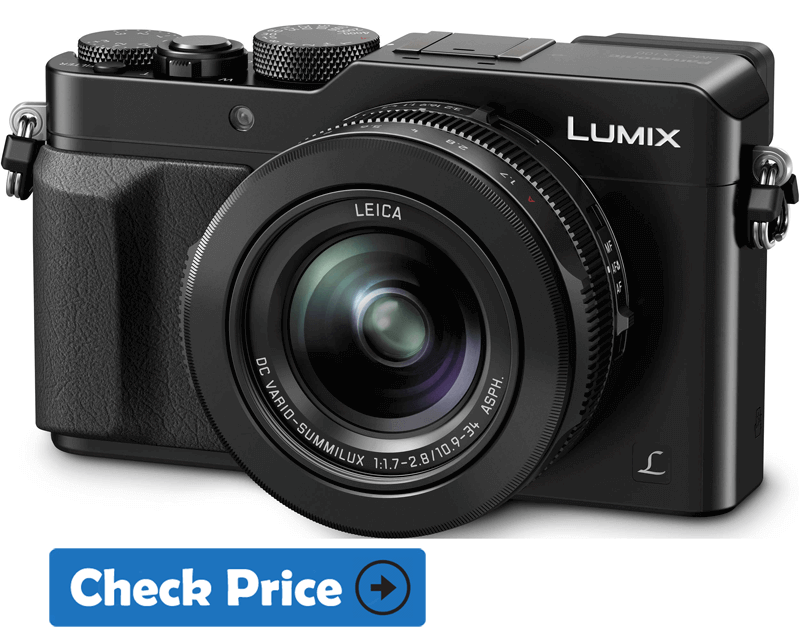 Specification:
Type: Compact
Resolution Max: 1080P
Mega Pixel: 12.1 MP
Image Stabilizer: Yes
Screen 3″, Tilt, Touch
Connectivity: Wi-Fi, NFC
Water Proof: No
Battery Life: 3hr + Recording
About:
Within the compact camera category of Under 300 dollars there is a universe of models, shapes, sizes, prices .. What we are looking for here is a camera that we can take everywhere and that gives us a quality of image and decent performance.
Panasonic is adding or improving features, also maintaining the spirit of small, light and usable camera. The optics are the same as in the TZ60: 30x zoom (24-720mm equivalent) f / 3.3 - 6.4. The electronic viewfinder, although small due to the camera's own size, is usable, is larger than in the previous model and its resolution is much better. It is a plus with respect to other models in this range.
Design:
Awesome Design, But You'll Need Big Pockets
Features:
iA (Intelligent Auto) mode uses various shooting support functions such as i-Food mode and smart handheld night shot to automatically set all camera exposure settings and express the scene clearly by hand. Just compose and shoot. In iA Plus mode, you can adjust background blur, exposure compensation, and white balance settings for even more control.
Connectivity:
Use NFC (Near Field Communication) to quickly and easily link your camera to your mobile device. Once connected, you can efficiently handle remote capture and display, image transfer and exchange.
Pros
Optical stabilizer
Ergonomics & Quality of construction
Good quality viewfinder and screen
RAW format
Programmable lens ring
Cons
absence of touch control is a bit disappointing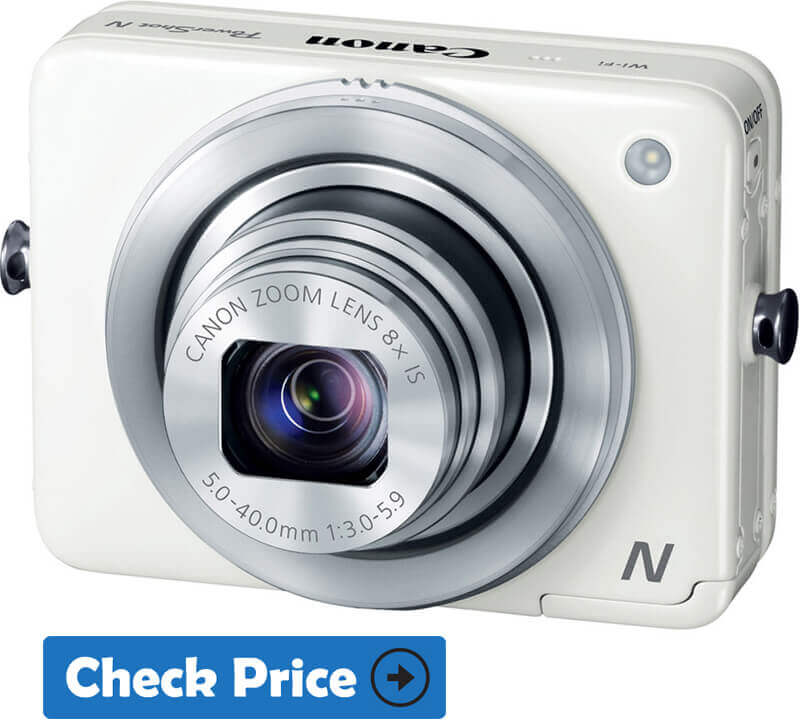 Specification:
Type: Compact
Resolution Max: 1080P
Mega Pixel: 12.1 MP
Image Stabilizer: Yes
Screen 2.8″, Tilt, Touch
Connectivity: Wi-Fi, NFC
Water Proof: No
Battery Life: 3hr + Recording
About:
The Canon Powershot N is one of the cameras that gives a strange impression when first seen. The truth is that this camera has nothing strange other than removing unnecessary physical space. That's why this camera is a really good video camera.
In addition to having no external microphone input, the camera has all the basic functions to record a high-quality video blog. It can record up to 1080p, has an optical stabilization function, and its lens covers many focal lengths, enough to cover what you need as a video logger. It can be used at 28 mm if you need to record in selfie mode, and 50 mm if you want to place it on a tripod to give the most natural appearance.
It's more pocketable than any other camera on this list, so you can't take it anywhere to record a video. This is what the video logger needs on the camera.
Design:
As already mentioned, the design of the Canon PowerShot N is one step away from the norm with the ring-based zoom and shutter controls, which means that the compact camera can be used regardless of the position it is in. In addition, thanks to the lack of a rigidly located single shutter button, the camera are as easy to use for left-handed users as for right-handed users.
Although there appears to be a foldable screen, there is no way to observe it during recording because it is only a 90-degree tilt screen. Unfortunately, there are no cameras with that feature in this price range.
Unusual on most fronts, with a form factor of 78.6 mm x 60.2 mm, which is a relatively thin thickness of 29.3 mm, the Canon PowerShot N has an almost square shape.
Features:
The 2.8-inch capacitive LCD screen provides crisp image composition and reproduction. The tilt function enables shooting from high and low angles, making it easier to see even in direct sunlight. The compact PowerShot N can be easily operated with one hand even when deployed, and the touch panel control allows simple and intuitive menu settings.
The 12.1MP CMOS sensor delivers high-quality images and low noise even at high ISO levels. The high-speed design captures images at high speed and moves quickly to the image processor for faster autofocus and continuous shooting.
The latest generation of Canon DIGIC 5 image processor increases speed and processing power, provides crisp images even in dark places, and performs advanced functions such as lens correction and creative scene mode.
The 8x wide-angle lens with 28mm optical zoom offers a wide range of shooting options from wide-angle to telephoto. This lens offers a 35mm focal length equivalent to a 28-224mm lens with maximum aperture f / 3.0.
The lens's optical image stabilization system corrects camera shake, increases shutter speed even in dark places, and provides clear images. Six independent image stabilization modes provide crisp images for both photo and video capture.
A dedicated movie button allows you to switch directly to video mode. Capture video with full HD 1080p video at the touch of a button at 24 frames per second. Video is also available in low resolution, thumbnail mode, and a super slow-motion mode. Short "digest" movies can be created at 1280 x 720 resolution.
Connectivity:
With built-in Wi-Fi, you can use the Canon CameraWindow application to wirelessly transfer images to your computer or iOS or Android device. This application can be downloaded for free. Images can be sent directly to social networking sites such as Facebook via the CameraWindow application. The mobile device connection button on the camera allows you to connect to your smartphone or tablet with one touch.
Pros
Optical Image Stabilization
8x Optical Zoom Lens
Canon DIGIC 5 Image Processor
High-Sensitivity CMOS Sensor
Bottom Line: Overall, this camera has a very balanced package for vloggers..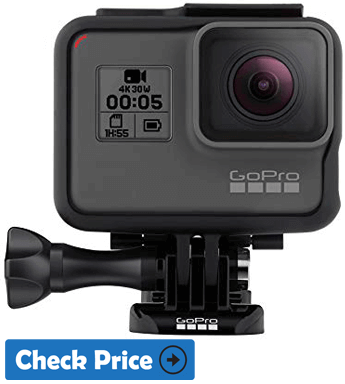 Specification:
Type: Action
Resolution Max: 1080P
Mega Pixel: 16 MP
Image Stabilizer: Yes
Screen 3″, Tilt, Touch
Connectivity: Wi-Fi, NFC
Water Proof: No
Battery Life: 3hr + Recording
About:
The most notable feature of this GoPro camera is its live streaming capability, which can stream images directly while saving them to an internal SD card for future editing and storage.
Its durable, waterproof outer shell lets it reach places your phone won't be able to record safely, and optional voice commands let you use it as a hands-free recording device. In addition, the time interval settings allow you to record sequences up to 30 times faster without consuming your entire SD card in the process.
The power and versatility of this device make it a great tool for all kinds of vlogging, and its durable design means you won't have to worry about its breakage when trying to capture images or take photos.
Design:
This model is elegant and compact, so it is ideal to take your adventures. It has 30 different accessories such as brackets and remote controls, among many others.
If you are an extreme athlete, the ideal way to record your adventures is to use a GoPro Hero camera. This model allows its control by voice commands, so you can concentrate on the activity you do.
Features:
Video resolution
The GoPro Hero 5 black is presented with a video resolution of 4K and is also capable of taking photos at 12MP (in individual mode, burst, and sequence).
Get the highest quality content possible, and you can also preview everything you've done (you can play it, change the settings and edit some functions directly from the camera).
SPF Amount
The GoPro 5 hero black is capable of recording at 30 or 24 fps in 4k quality. If we lower the quality a bit, up to 2.7k, we can also record at 60fps, at 48fps, at 30fps or at 24 fps. Even if the quality reaches 720p we can get up to 240fps in panoramic format.
Stabilization
In the opinions of the GoPro Hero 5 Black, the stabilization system of this model is highly valued. It allows us to capture very firm videos, recorded by hand, or with supports fixed to our favorite teams. In any case, we will have clear content, which will not move at the worst time.
Screen
The screen is tactile, and this is an advantage since the functions will be much easier to handle. The only downside we can put is that it is something small.
Autonomy
In the opinions of the GoPro Hero 5 Black, it is indicated that the battery lasts about 46-60 minutes with the maximum possible quality.
accessories
The price of the item includes no less than 30 different accessories, such as 3-Way, Remo and many others.
Connectivity:
Another reason to buy the gopro hero 5 black is that it is presented with WiFi technology, being able to share content easily, without the need for cable. It also has Bluetooth, in case we prefer this technology, or directly use the USB socket to download everything we want.
Pros
Predicts movement for smoother images
Up to 30 times the speed of execution of time interval settings
Waterproof
Automatic reduction of blur and noise
4k video quality
Cons
The battery cannot be replaced (it will have to be done by the technical service).
Bottom Line: This camera is very good, compact and with superior recording quality. It also has a good ability to stabilize the image, and achieves unique results. If you are looking for the best action vlogging camera under 300 dollars, then you can pick this one.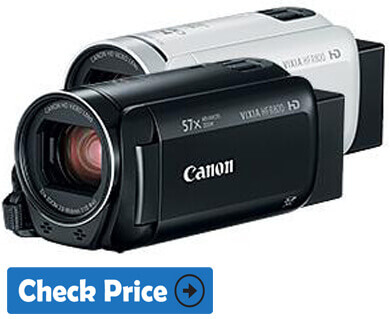 Specification:
Type: Camcorder
Resolution Max: 1080P
Mega Pixel: 3.28 MP
Image Stabilizer: Yes
Screen 3″, Tilt, Touch
Connectivity: Wi-Fi, NFC
Water Proof: No
Battery Life: 3hr + Recording
About:
Capture the most important memories of your family with the VIXIA HF R800 camcorder. Thanks to its powerful zoom, you can record short, long and intermediate moments. New exciting features include a priority highlight mode with backlight compensation that allows you to take the best shots possible, and improved slow and fast recording options that let you experiment with different recording methods.
The lightweight VIXIA HF R800 package is easy to carry, so you can record what you need on a removable SD card that can be replaced quickly and easily whenever you want. Easy to use and carry, grab the VIXIA HF R800 and start making memories.
Design:
Carry the VIXIA HF R800 for unforgettable memories of life. The lightweight, compact and convenient body means that the camcorder can be prepared for these special moments without having to worry about valuable luggage space for vacations, outings and family trips.
The VIXIA HF R800 camcorder is equipped with a 3.0-inch capacitive LCD panel, which displays bright and clear even outdoors in the sun, providing rich natural color reproduction. The simple user interface makes it easy and fun to select a focus, track a moving subject, and shoot and watch videos. Choose your shooting mode and recording format and get clear instructions so even new photographers can create impressive videos safely.
Features:
It has 32x optical zoom and 57x advanced zoom.
Framing assistant, to help you re-frame when you have the zoom applied.
Equipped with a 3.28 Mpx Full HD CMOS sensor to capture your memories in a resolution of 1920 x 1080.
It has a powerful processor incorporated. The Digic DV4 is designed to capture more light, and free of chromatic noise even in low light sockets.
The sophisticated image stabilizer helps correct involuntary hand movements and a wide variety of movements with its internal 5-axis system resulting in a crisp and stable image.
Highlight Priority mode helps prevent loss of detail in high brightness areas. Now with backlight correction, the video is more balanced and realistic, leaving you with beautiful memories to enjoy in the coming years.
You can record images in slow motion in the speed settings from 0.5x, ideal for controlling your golf swing or to create slow-motion effects like the movie. The fast movement has a maximum speed of 1200x, you can even choose the new speed setting of 300x and 600x for greater flexibility.
The rechargeable lithium-ion battery not only allows long hours of shooting, but also has intelligent technology that can accurately indicate the remaining battery time for additional insurance so you don't miss important shot opportunities.
Connectivity:
The VIXIA HF R800 camcorder records Full HD video directly to a removable SD memory card. Share videos quickly and easily with widely available SD memory cards in a variety of capacities. In addition to SD memory cards, the VIXIA HF R800 can also use ultra-high capacity SDXC cards. The SDXC card, the same size as a standard SD card, can store up to 2048 GB and provide ultra-fast data transfer.
Pros
57x Advanced Zoom
Sophisticated Super Range Optical Image Stabilizer
DIGIC DV 4 Image Processor
Slow and Fast Motion Recording
6. YISENCE Cheapest Full HD Digital Camera for Vlogging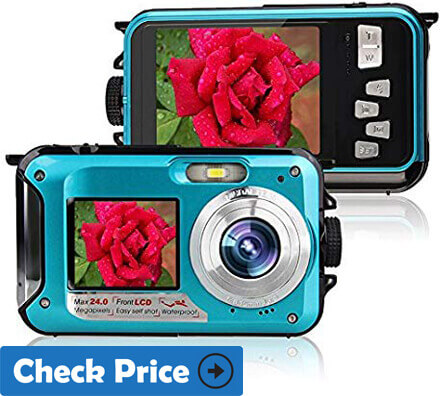 Specification:
Type: Action
Resolution Max: 1080P
Mega Pixel: 24 MP
Image Stabilizer: Yes
Screen 2.7″, Tilt
Connectivity: usb
Water Proof: Yes
Battery Life: 3hr + Recording
About:
Design:
The compact design is perfect, and the cord helps carry it without sinking or falling off while taking pictures or videos. This waterproof camera is built for an active lifestyle.
The perfect dust-proof travel companion, capture all the adventures and fun selfies underwater. Rugged, compact, lightweight and portable everywhere, it can handle all the toughest trips, from the most rugged and dusty desert tour to underwater selfie.
Features:
With a 2.7-inch full-color LCD screen facing backward and a second full-color 1.8-inch LCD screen facing forward, this waterproof digital camera is the perfect viewfinder for selfies. Use the built-in 10-second timer to get along with the whole gang in the same frame and never miss a moment of action.
Underwater digital camera: dive up to 10 feet deep, waterproof one hour at a time without housing. Taking photos and videos underwater. Up to 24 MP and 14 optional resolutions. Built-in LED flashlight.
You can capture high-quality photos and videos with or without audio anytime, anywhere while traveling.
Connectivity:
You can save images and videos to a 32 GB micro SD card (sold separately) or transfer via built-in USB port.
Pros
Water & dust proof
Cheap price
robust and solid build quality
Built-in mic & speaker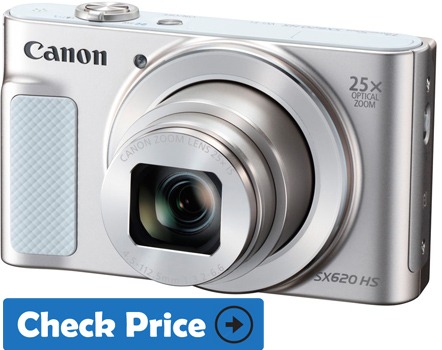 Specification:
Type: Compact
Resolution Max: 1080P
Mega Pixel: 20.2 MP
Image Stabilizer: Yes
Screen 3″, Tilt, Touch
Connectivity: Wi-Fi, NFC
Water Proof: No
Battery Life: 3hr + Recording
About:
Capturing the exceptional moments of our daily lives is a legitimate need. To achieve this wish, many manufacturers have set to work to work on the design of cameras in several models. This gives you the possibility of having a choice and taking photos as well as videos. As needs emerge, improvements are made to provide users with better quality cameras, including the Canon PowerShot SX620 . The latter can perfectly match you. To be so sure, discover its different features in this article.
Design:
This Canon PowerShot SX620 digital camera is decorated in black color. To allow you to make the choice that quickly adapts to your colorimetric preferences, the manufacturer has designed this device in other colors, namely red, white, etc. In addition, it is compact and light, which makes it very handy and easy to transport. Its case allows it to easily stay in your pocket or purse. You can then take it wherever you want with ease. As for its quality, you will certainly appreciate it in all its splendor because the manufacturer has taken care of its know-how in its design in order to offer it flattering finery. The latter is also endowed with good precision in terms of images which greatly enhances its charm.
The area chosen for placing the control buttons has been very well selected to allow easy accessibility and convenient use. Who would not like to have and display a stylish camera to their loved ones? In addition to being well dressed, this digital camera also has essential features for your creativity and more.
Features:
As this camera is more intended for beginners without photographic experience, the manufacturer has thought of inserting basic exposure modes to make the activity simpler and easier. Manual and priority mode shots are not possible in this device. This is why the manufacturer Canon has focused on smart technologies such as its Smart Auto and Creative Shot modes. Each of these modes has a specific function and lightens the task for you by making certain adjustments for you.
First of all, the Smart Auto mode allows this device to automatically choose all the exposure variables based on scene analysis in order to produce a relatively simple photo, as you surely want. As for the Creative Shot mode, it allows you to manage everything manually, but it captures six images at a time, cropping them automatically, then superimposes them with automatically selected filters that will suit your friends on Facebook or Instagram.
As another function retained by this camera is the hybrid automatic mode. The latter captures not only still images, but also videos a few seconds before each image is captured. So you can combine these short videos into a single longer video that summarizes the shooting of your day. You can also select the photo or video style such as Retro, Monochrome, Special or Natural. As you can leave it to this device to freely choose one of the filters for you.
This Canon PowerShot SX620 has a 1 / 2.3 inch high resolution 20.2 megapixel CMOS image sensor, associated with a DIGIC 4+ image processor that will allow you to frame and review your creations on a 922,000-pixel format on its LCD screen. Speaking of video, this digital camera is capable of recording Full HD video clips with a resolution of 1920 x 1080 pixels suitable for viewing on your HDTV. These videos can be made in MP4 format. You can also record bursts of photos at a maximum speed of 2.5 frames per second in automatic and program mode.
But this device has a high-speed burst moderated at just over seven frames per second. This device will give you a real pleasure to take photos and make videos, and you will be fully satisfied with the renderings thanks to its powerful image sensor. So, you will be ready to capture the exceptional moments of your daily life. It also gives you the opportunity to film your loved ones as proven TV stars or to easily record all your events.
The Canon PowerShot SX620 has a powerful 25x optical zoom. The actual focal length on the lens of this camera varies from 4.5 to 112.5 mm. This will give you access to a generous wide-angle, even if you need to increase the sensitivity or shoot in good light to take advantage of all that extra range. The lens of this camera is bright and the optimal aperture starts at f / 3.2 at wide-angle and drops to f / 6.6 at the telephoto position. This optical zoom can be used both when taking a photo and when taking a video.
Connectivity:
Canon PowerShot SX620 digital camera retains support for built-in Wi-Fi and NFC wireless communications. Clearly, you can transfer images from the camera to your Android or iOS smartphone or tablet with minimal hassle and no cables. Remote control of this unit from your mobile device is also supported using the free Canon Camera Connect app.
NFC radio simply means that Android users will be able to simplify the task of getting their camera and phone to communicate. Once connected, the Wi-Fi function is now easier to use because the manufacturer has inserted an accessible stand-alone button, which saves you from going into playback mode before turning on the Wi-Fi. The transfer of images will take place like child's play.
Pros
Canon Intelligent IS image stabilization
Interesting features
Satisfactory image quality
Fair value for money
High precision optical zoom
Good grip
Bottom Line: It offers a good result with interesting, creative features. It cheap and handy camera for vlogging.
How to Choose Best Vlogging Camera Under 300 Dollars | Ultimate Buyer's Guide
If you are here to take one of the best cameras for vlogging you have probably already thought of all the ways you can use them when you make this purchase. For those of you who are less sure of your plans, we have written a comprehensive guide to using a vlog and how to make sure you get paid for vlogging.
Video Blog Purpose
Videographers making critical reviews of the latest box office films do not have the same material needs as hiking fans who show off the most beautiful corners of a country. The first will focus on the quality of the sound and image return in the lighted studio, the others will bet on the lightness of the device and perhaps the different options of image stabilization, for example.
So, before you even start flipping through the hardware catalogs, take the time to define the most recurring shooting conditions for your vlogging project: will you always be indoors, or on the contrary, outdoors? How bright is your location? Will you be mobile or will you address your audience always facing the camera? According to your answers, certain technical criteria of your future camera will hold your attention more than others, when choosing.
HD? Full HD? 4K?
Your project will allow you to assess the degree of definition of the image you need. The unit of measurement is the pixel. Simply put, the more pixels you have in an image, the sharper it will appear on the screen. You will find below the number of pixels according to the different names of the so-called "high definition" formats:
HD (high definition or 720p): 1,280 pixels per line × 720 lines
Full HD (1080p or 1080i): 1,920 × 1,080, or approximately 2 million pixels per image.
UHD (or ultra-high definition, in 16: 9 screen orientation): 3,840 × 2,160, or 4 times more pixels than in Full HD.
4K: 4,096 × 2,160, slightly more than UHD, but with a cinema format. Thin black bands will appear at the top and bottom of the image.
Many will tend to say that the higher the definition at the start, the sharper the image will be, allowing a qualitative final rendering. However, is it really necessary for a youtube use beauty to film in 4K, and thus give the opportunity to each spectator to count the pores of his nose? Also, keep in mind that a film shot in 4K is not only greedy in terms of storage space, but will also require a much more powerful computer and recent editing software, for editing your videos. These parameters can weigh heavily on your initial budget.
Sensor Size Matters
The size of the sensor is crucial in your choice, perhaps more than the definition. Indeed, the larger the sensor, the more it is able to store light and therefore, the more the image is likely to be bright, even if the place where you are shooting is not particularly so.
Please Note: this size is expressed in millimeters or a fraction of an inch, depending on the manufacturer. For example, a 1 / 2.5-inch sensor is smaller than a 1 / 1.6-inch sensor and a 24 × 36 mm sensor is larger than an APS-C sensor.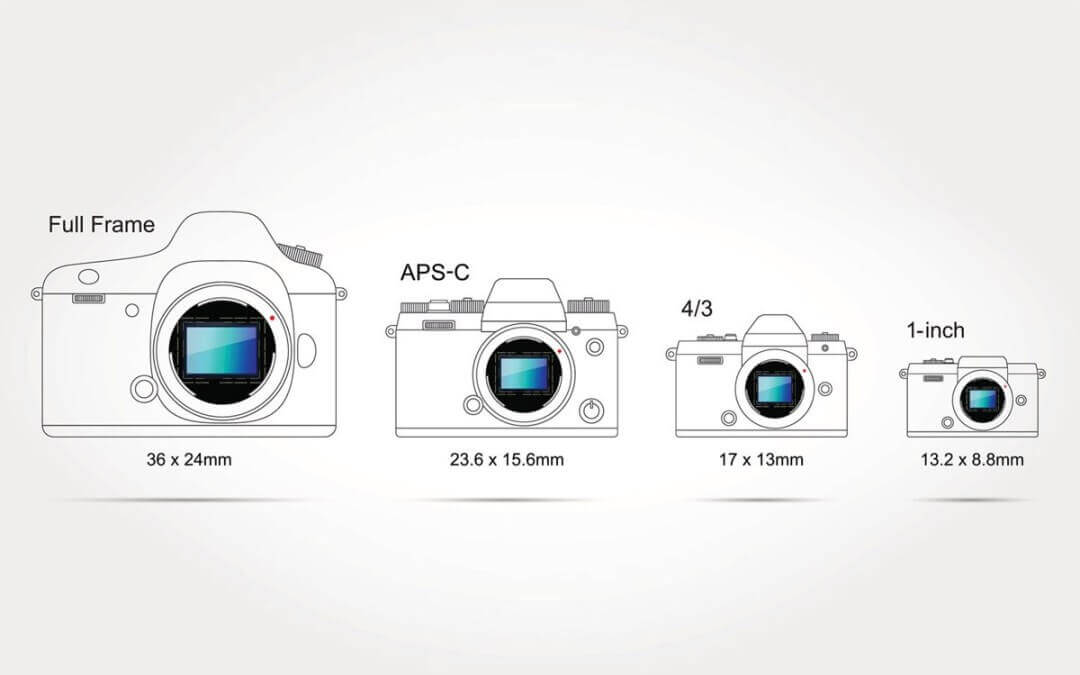 Focal length and zoom
Are you going to film large landscapes or the details of your porcelain collection? Your answer to this question will determine the focal length desired for your future camera. The focal length is the "viewing angle" of your camera. It is expressed in millimeters. The smaller the focal number, the wider the viewing angle, the larger the number, the tighter the plane.
Thus, a focal length of 24 mm allows you to make wide shots and film the floral park or the whole family during your cousin's wedding in one take, without moving. Conversely, a focal length of 100mm or more will allow you to highlight the fine cracks in this painting by Monet, even if you are 3m from the painting.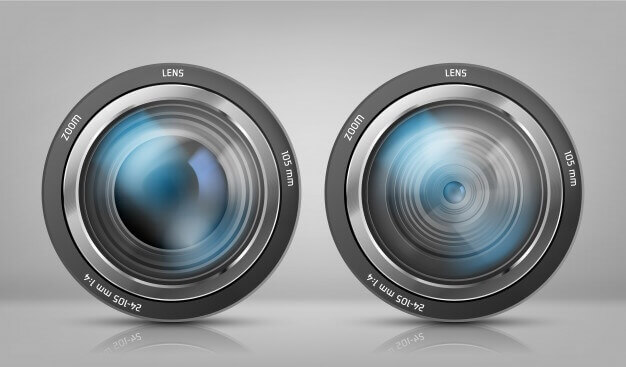 We have presented compact digital cameras in this review, so the lens is not changeable. All are equipped with a variable focal length lens, which is to say a lens that offers the possibility of making camera zooms. In addition to the magnification capacity of the image, check the following two data before making your purchase:
Choose an optical, not digital, zoom. Digital zoom magnifies part of the image while keeping the initial definition of the image, unlike optical zoom, which brings the captured subject closer by moving the objective lenses. At equivalent magnification, the optical zoom retains an optimal definition of the image details unlike the digital zoom, which may appear more pixelated.
The more powerful the zoom, the more the stabilizer of the camera will also have to be, in order to be able to easily frame your image and avoid unwanted motion blur effects.
Depth of field: open your diaphragm
Additional focal length data, the aperture value of the diaphragm (expressed by the sign f / followed by numerical values) allows you to assess the capabilities of your camera to restore the depth of field of the filmed scene (or more simply, the blurring effect behind the framed subject).
When the diaphragm is wide open (f = 1.4, a lot of light enters the lens), the depth of field is reduced. This allows you to isolate a sharp subject in an environment, during a portrait or a macro shot for example. Conversely, a very closed diaphragm (f = 32, little light enters the lens) increases the depth of field, useful for integrating an action or a character in a setting or capturing a landscape in its entirety.
Sound
Although the proposed devices are all equipped with audio sensors, these may prove to be insufficient to obtain a quality sound mix for your vlog, especially if you have set your device to the autofocus mode, or if you are turning in outside. The possibility of connecting an external microphone to your device (as allows the YI 4K +) can, therefore, be a decisive detail for the success of your future videos. Remember this adage of vloggers: the public easily forgives the poor quality of the image, but not that of the sound.
An adjustable screen to control your shooting
If you plan to make videos facing the camera, a swiveling screen will prove to be a considerable asset to control what happens on the screen during filming, without moving from your chair. With a 180 ° orientation, the Sony RX100 IV and Canon G7X Mark II cameras are excellent pupils on this criterion of choice.
Connectivity
Connectivity side, check the compatibility of your device with a wide choice of SD cards on the market (like the YI 4K +) Discover here the best micro SD cards. This will prevent you from interrupting your shooting in 4K every 10 minutes because of an undersized memory card.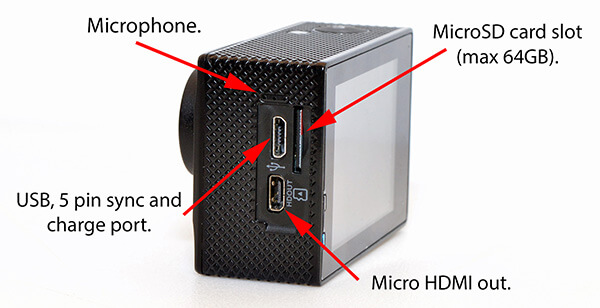 An HDMI port is essential to connect to the choice, an external hard drive to store your files, a screen monitor to control the image quality if your camera does not have a swiveling screen or even an external microphone if your box does not have a specific output for the latter.
Make sure that this output does not apply data compression, to preserve the image quality as much as possible before editing.
In terms of connectivity, more and more cameras integrate a Wi-Fi connection or even NFC technology, to couple your smartphone to your camera and transform it into a remote control for example. The Nikon Coolpix A900 is a good example of connectivity by combining WiFi, low-power Bluetooth and Snapbridge functionality in a single box.
Regarding these technologies, check the packaging for the uses recommended by the manufacturers. For some devices, WiFi only serves as a data transfer facilitator from the camera to your computer, while others allow you to browse the web directly from your camera.
What is Vlogging?
Vlogging is simply having a blog in video format. You can create just about any type of vlog, like a food vlog, a travel vlog, or even an everyday lifestyle vlog to keep your fans interested in what you do day today.
More than just presenting information, a vlog is a kind of entertaining look at the lives of others, so that in general, vloggers follow their hobbies or speak for themselves from a place that really interests them.
You can use a vlog as a companion to an existing blog or website that you own, and it can add depth to the visitor experience that they would not get while reading. Vlogging is a way to keep your content fresh and vibrant because it can sometimes be difficult to read pages and pages of content when you are trying to relax.
Why not be different and vlog using a drone-mounted on a video camera.
Starting a vlog can be something you do as an exciting project or something you want to make money from. If you are blogging for fun, you probably don't plan to invest a lot of money in the equipment you use, but if you want to make it a full-time job to create content and get paid for it, you are going to have to invest a lot of time and energy in learning to vlog.
Professional vloggers will learn how to use the camera, video and audio editing software, and their presence on social media. Click here for more comments on camera equipment.
What is a video blog?
A video blog is also called a vlog, so they are essentially the same thing, but how they differ from a regular blog is a more important distinction to make. A video blog is usually a snippet of something you do in your daily life, whether it's cooking your favorite cake recipe or even spending time talking about your political beliefs.
The real change is that all the content of a vlog is displayed in video format instead of text like on a traditional blog, there are no long reports or newsletters. Think of it as the difference between holding a pen and holding a camera when you want to capture something that interests you. It's that simple, and there are certain advantages to having a video blog instead of a regular blog:
Easy to enjoy - where some blogs could be easy to read and have lots of images, some blogs would work much better if they were done on video. For example, a blog may be fully readable and easy to read for the eyes, but if you are trying to fix an engine or learn how to check your tire pressure, a video is much more effective.
If one of these devices is a little too advanced, why not try a simpler digital camera like the ones we reviewed.
Dynamic content - with the right plans and good editing, everything can seem exciting, that's why video blogging is so fun. Take something that isn't much fun otherwise - like using everyday objects or cleaning the house - and if you put fun music and speed up the pictures, it could be really fun to watch. You can do just about anything with video blogging, and the more creative you are, the easier your content will be to distinguish from the competition.
Short and sweet - you could make long blog posts if you needed to get rid of something, but people will be able to watch a 5 or 10-minute video full of content and not get bored or tired.
Reading is difficult for the eyes and the brain, and sometimes you just want to sit back and relax while watching your favorite vlogger. Talking on video can also make your content more enjoyable because people will see your face and the way you use body language when you chat.
Greater appeal - you will reach many more people by blogging and sharing your content via video, because young people are unlikely to choose to read blogs, and the time spent on reading may be too large for busy people.
Vlogging can also introduce people to areas of life that they may never be able to discover. Therefore, hiking the mountains of Japan with your vlogging camera may well bring happiness to someone else who could never dream of having the opportunity.
How to start a vlog?
Starting a vlog is simple, all you need is a camera, an account with a video hosting site like YouTube or Vimeo, and a touch of creativity. To publish content on YouTube, you need a Google account, so make sure you have created one of these accounts first.
From there, you can go to www.youtube.com and log into your account at the top right of the site. Once you've done that, you'll find a download button that looks like an upward-pointing arrow, and you'll just have to follow the instructions from here. Other tips for vlogging are below:
Plan your content - the first thing to do when you start a vlog is to make a plan for what you want to do. Filming the content of a vlog can be as simple as carrying a portable camera or installing a camera mounted on your body.
If you are a lifestyle vlog, you will probably be freer to film and take your camera with you wherever you go in the house, at the store or perhaps for a walk in the city. You might have a more specific plan for filming particular scenes if you do something like a motorcycle channel where you ride or build motorcycles, like bakerXderek.
Create your content - this is where the best cameras for vlogging come in, as you'll need a nice, high-resolution video camera to take awesome pictures. You can get a variety of accessories for your camera, which makes it even easier to create content, such as a tripod or a camera where you can drag the camera around for moving shots.
Infographics and animations can also be part of your content, you may want to allow time to create or find them. Using an archive photo site like Depositphotos or Shutterstock will give you an advantage in obtaining high-quality content for voiceovers or wallpapers from your vlog channel.
Editing your content - you can use professional software to edit your vlogs, such as Apple Final Cut Pro or Corel VideoStudio Ultimate X9, which are more advanced and probably require some tutorials. They are not that difficult to master, however, and if you are learning these skills to make money, they are certainly worth knowing.
Using small jumps and fun transitions between scenes can be a fun way to enhance your content and attract more viewers. YouTube also has an on-site editing section where you can make a few simple edits if necessary, but it's usually best to upload your finished video directly to the site.
Sharing your content - there are different platforms on which you can share links to your content, such as Instagram, Facebook, Google+, Twitter and more. Make sure you hook up with as many of them as possible, as each of them reaches a spectator base that will increase your views.
You can configure automatic sharing from YouTube so that when a video is downloaded, you will receive a short URL to link to your Facebook page and other pages. Keeping your page active is also vital! Post updates or even content teasers when you can't download full videos because you will always want your page to look busy and active, even if you are not able to do much with it.
How about ideas for vlogs? Well, let's divide them into simple categories and think about what it might mean:
Travel - the most coveted (and probably the most difficult to maintain) vlog is the travel vlog because showing exotic locations and foreign lands is one of the best ways to get people interested in what you're doing.
You don't have to go abroad to do a travel vlog, however, you could very well go on tours in your own country and give others an experience of how people live in another state. , or how the landscapes are like in your state's natural parks. Even nature walks may be eligible!
Food - we should include drinks here too because it's fairly common for people to start food and wine blogs, but having a food vlog like Daym Drops can be a fast track to fame. You can do food assessments from anywhere, as long as you have a plan on how you will assess the food.
Do you use a scale of 1 to 5 or a percentage? It's up to you. Revisiting restaurants or fast food can cost you a little money, but if you make it part of your daily routine and set up your camera at dinner time, you may be able to make a profit by eating your own meal once you are popular enough. People may even start asking you to come to their restaurant to make a review to increase their popularity.
Lifestyle - sometimes you just have to show people what your daily life looks like to generate some interest from the online community. People like to look at others, it's integrated into us!
Lifestyle vlogs can be based on a particular part of your day, like your morning routine, or just about any time you want to record. Do not be afraid to have a vlog based on your own life, because you would be surprised at how much people will appreciate your efforts and your ideas.
Pets - people love animals, so vlogging about your pets is usually an easy way to get people interested. If you are taking your dog for walks or playing with your cat in the garden, you may want to take the camera out and have a good time filming cute content. If you know a thing or two about pet care you could also do an informational vlog that teaches people how to properly care for their pets.
Hobbies - this category would include showing your hobbies and talking about them when you go out to have fun with them. If you like fishing, you could do a fishing vlog where you go to the lake and sit with your camera while you wait for a catch.
If you like building RC cars or planes, you might also have a vlog following your latest builds and how you go about making new things. A very fashionable hobby vlog idea right now comes from blacksmiths, and there have been several start channels on the types of things that people do in their home forges.
Tutorials - think of something you know well. It can be hairdressing and makeup, carpentry, car engine repair - anything that you have some sort of expertise or interest that you can teach others.
You could start a vlog showing people how to do a new hairstyle or makeup style once a week, or if you like to cook, you could grab some great recipes and see what you can do with them in each new episode of your vlog. Usually, you will choose something you know well, but it can be fun to try things you have no idea about - which brings us to the next category.
Humor - trying to make people laugh can be a tough decision, but if you have a knack for gossip, you could start a humorous vlog where you tell funny stories, test strange products, or just have fun. Keep in mind that not everyone has the same sense of humor, so it can take a while to gain a clientele if you have a particularly rare sense of humor.
If you need other vlogging tips, you can always check out how to be a vlogger on WikiHow, and watch this BFvsGF video to see what a popular professional vlog looks like:
How to make money vlogging:
The most common way to make vlogging money is to make money from advertising revenue. YouTube is the easiest site to use because it is relatively easy and hassle-free. You will need to sign up for a Google AdSense account and keep in mind that you can only have one of these accounts.
You can have several different YouTube channels, but only one AdSense account, because billing and all relevant copy-writing information will be linked to your specific identity. You can go to your channel settings and select "Monetization", then navigate to "Link an AdSense account".
Depending on your country, you may need to provide identification or social security number and link the AdSense account to a bank account. With YouTube, you can get paid anywhere in the world, but if you live outside of the United States, it's likely that you will receive a check with your name in the mail instead of being paid by transfer. direct electronic funds (TEF).
The more visits you have, the higher your advertising revenue will be, so working hard on your vlog content will be a good way to ensure that you keep the cash flow. Ads will run before or during your video depending on the options you select, and it's always a good idea to ask your audience about the format they prefer.
If they have no objection to banners appearing on top of your content, it might be a good idea to avoid people having to wait to skip full ads that come before your content. It is also a good idea to read the Google AdSense terms and conditions before actually going into vlogging to get paid.
Know what the legal limits are for the use of other people's content, and how you can do business properly as an online professional. Remember that you must be 18 or older to start making money on YouTube, but you can still work with an older person like a relative or friend to collaborate on videos and share the money.
FAQs
Conclusion
Top-Rated Vlogging Camera Under $300 of 2022