Street photography is an art that requires a good eye, a bit of discretion, and a camera you can carry with you wherever you go. In the world of photography, it is said that the best camera is the one you carry with you, and while you can capture interesting moments with your smartphone when the time comes, a dedicated camera can take your street photography to the next level.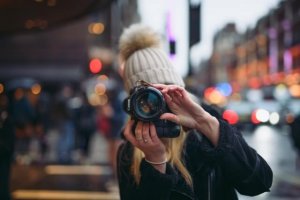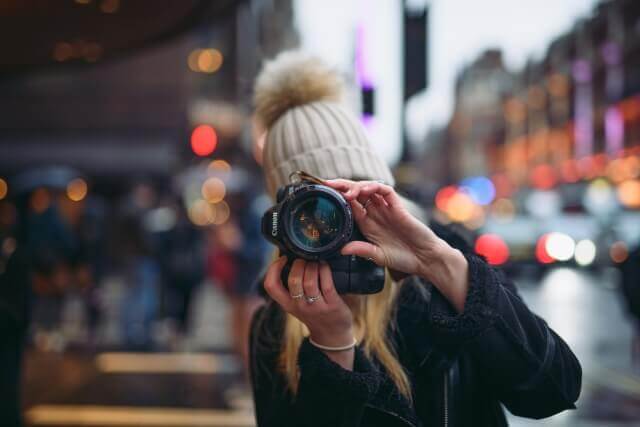 A good street camera should be lightweight and easy to carry, have easily adjustable settings, a relatively fast lens, and autofocus that is effective at capturing the moment. For these reasons, high-end digital cameras are preferred, but larger interchangeable mirrorless SLR cameras may also be suitable depending on your needs and preferences.
Best Cameras for Street Photography
Having tested over 60 cameras, we recommend the following street cameras that many people should buy. These were chosen not only for their performance but also for their features and price.
Also read: Best Cameras For Landscape Photography
Best Cameras for Street Photography | Comparison Table 2022
Top Quality  | 5 Star Pick  |  Great Prices
| Image | Title | | Buy |
| --- | --- | --- | --- |
| | Fujifilm X100V Digital Camera Bundle Includes: SanDisk 64GB Extreme PRO SDXC Memory Card + Spare Fujifilm Battery + More (6 Items) (Black) | Fujifilm | Check Price |
| | Panasonic Lumix LX100 II Large Four Thirds 21.7 MP Multi Aspect Sensor 24-75mm Leica DC VARIO-SUMMILUX F1.7-2.8 Lens Wi-Fi and Bluetooth Camera with 3" LCD, Black (DC-LX100M2) | Panasonic | Check Price |
| | Canon PowerShot G5 X Mark II Digital Camera w/ 1 Inch Sensor, Wi-Fi & NFC Enabled, Black | Canon | Check Price |
| | Ricoh GR III Digital Compact Camera, 24mp, 28mm F 2.8 Lens with Touch Screen LCD | Ricoh | Check Price |
| | Sony RX100 VII Premium Compact Camera with 1.0-type stacked CMOS sensor (DSCRX100M7) | Sony | Check Price |
| | Z 50 DX-Format Mirrorless Camera Body w/ NIKKOR Z DX 16-50mm f/3.5-6.3 VR | Nikon | Check Price |
| | Fujifilm X-Pro3 Mirrorless Digital Camera - Black (Body Only) | Fujifilm | Check Price |
| | Fujifilm X-S10 Mirrorless Camera Body- Black, X-S10 Body- Black | Fujifilm | Check Price |
| | Canon EOS M6 Mark II Mirrorless Digital Compact Camera + EF-M 15-45mm F/3.5-6.3 IS STM + EVF Kit, Silver | Canon | Check Price |
Prices and images pulled from the Amazon Product Advertising API on:
Best Cameras for Street Photography | 2022 Products Overview
1. Fujifilm X100V Best Digital Cameras for Street Photography
FUJIFILM X100V Digital Camera - USA Warranty

SanDisk 64GB Extreme PRO SDXC Memory Card, Vivitar Card Reader, Memory Card Wallet, Lens Cleaning Kit

Spare Fujifilm NP-W126S Li-Ion Battery Pack

Inside Camera Box: NP-W126S Li-Ion Battery Pack, USB Type-A to USB Type-C Cable, Lens Cap, Hot Shoe Cover, Shoulder Strap, Metal Strap Clip, Clip Attaching Tool, Protective Cover, 1-Year Fujifilm USA Warranty
Check Price
Also read: Types of Photography: A Complete List of Photographic Genres
Error: Unknown Link Type
Check Price
Also read: Outdoor Photography
3. Canon PowerShot G5 X Mark II Top Cameras for Street Photo
20.1 Megapixel 1.0 inches Stacked CMOS Sensor and DIGIC 8 Image Processor

5x Optical Zoom Lens (24 120mm f/1. 8 2. 8) with Optical Image Stabilizer

4K 30p / FHD 120p Video. Operating Temperature: 32 104°F / 0 40°C

Pop up EVF with 2.36 Million Dots, Touch and Drag AF
Check Price
Also read: why do photographers always wear black?
4. Ricoh GR III Digital Compact Camera For Street
24 MP CMOS Sensor with accelerator unit helps achieve remarkable image quality; 3 Axis; 4 Stop Shake Reduction ensures sharp images even in lower light conditions; It is also compatible with multi tone 14 bit RAW image recording

3 inches Air gapless Capacitive Touch LCD Screen makes controlling the GR III event easier with complete menu control as well as focus and shutter release; It is confirmed that a USB connection can be established between the camera and the following OSs; Windows 10(FCU, CU) (32 bit, 64 bit), Windows 8.1(32 bit, 64bit), Windows 8(32 bit, 64 bit), or Windows 7(32 bit, 64 bit); Mac macOS 10.14 Mojave, macOS 10.13 High Sierra, macOS 10.12 Sierra, OS X 10.11 El Capitan, OS X 10.10 Yosemite

The GR III features a hybrid AF system combining a contrast type AF mechanism, superior in focusing precision with a phase detection type AF mechanism assuring high speed focusing operation; Taking advantage of both mechanisms, it assures faster, more responsive auto focus operation

The GR III provides wireless LAN functions for easy pairing with mobile devices such as smartphones and tablet computers; By installing the dedicated Image Sync application on a mobile device, the user can display a Live View image on the device's monitor, release the shutter and send various commands from the device

Full HD movie recording (1920 x 1080 pixels, 60 frame rate) in the H.264 recording format

Compatible with Pentax AF 201, AF360 FGZ II and AF 540 FGZ II Flashes
Check Price
Also read: Why should we shoot in RAW format?
5. Sony RX100 VII Best budget street photography camera
20. 1MP 1. 0 Type stacked CMOS sensor, Zeiss Vario Sonnar T* 24 200 millimeter F2. 8 F4. 5 large aperture high magnification zoom lens

0. 02 sec. High AF speed, 357 point focal plane Phase detection AF and 425 point contrast detection AF

Up to 20 fps blackout free shooting, using up to 60 times/sec. AF/AE calculations. Diopter Adjustment: -4.0 to +3.0 m-1. Operating Temperature- 0 degrees C.- +40 degrees C. / 32 degrees F. - 104 degrees F

AI based real time tracking for stills and movies, and touch tracking. Real time eye AF for human (stills and movies), and for animal (stills only)

4K video with us log3 and Interval Shooting. Microphone jack and vertical position data recording. Active mode image stabilization in 4K video recording, and Movie Edit add on compatible
Check Price
Also read: 5 Reasons to go to school to learn photography
6. Nikon Z 50 DX-Format
Compact, lightweight and durably constructed mirrorless camera

First DX-format mirrorless camera to use a large 55 millimeter lens mount, offering advantages in high image quality and low light performance

20.9 MP sensor with robust 4K UHD video features

Built-in Wi-Fi and Bluetooth for simple pairing to a smartphone

Selfie flip down touch LCD screen, great for self-portraits and blogging

Compatible with Nikkor Z lenses.

Also compatible with F Mount NIKKOR Lenses using the FTZ Mount Adapter (sold separately)
Check Price
7. Fujifilm X-Pro3 Best camera for night street photography
Advanced Hybrid multi viewfinder: optical Viewfinder (ovf) uses a 0. 5x magnification and parallax-correcting frame lines to provide an uninterrupted and true-to-life view of what's in front of you. Additionally, the 3. 69M-dot OLED electronic viewfinder (EVF) offers a fast and high-quality representation of exactly how your image will look.

X-trans CMOS 4 sensor and X-Processor 4 combination. This exceptional 26. 1MP sensor uses a back-illuminated design to maximize quality and dynamic range, while its unique color filter array controls Moiré and false color without the need for an optical low pass filter.

X-Pro3's timeless body design features a top and base plate constructed from titanium, which, despite being little more than half the density of stainless steel, is seven-times more durable. In addition to classic black, the weather-sealed X-Pro3 is also available in silver and charcoal colors, which utilize cold plasma technology for a scratch-resistant finish.

16 digital Film Simulation modes. This cutting-edge technology allows photographers to achieve stunning results straight out of camera and X-Pro3 introduces two exciting new additions to the collection: CLASSIC Neg. and MONOCHROMATIC Color.Bluetooth Ver 4.2 (Bluetooth low energy)

Every aspect of x-pro3 has been designed for photographers who like to live in the moment, but none more So than its hidden 1. 62M-dot tilting LCD Touchscreen. When closed, All that can be viewed is a Mini-Display showing essential settings, removing the distraction of a full screen while shooting. With your mind and your eye always on the scene in front of you rather than the scene YOU'VE just shot, you can find a better connection not just with your subject, but also with your art.

DCI 4K(4096×2160) 29. 97p/25p/24p/23. 98p 200Mbps/100Mbps up to approx. 15min
Check Price
8. Fujifilm X-S10 Mirrorless
It's All About How It Feels: X-S10 has been designed to provide on-the-go photographers with maximum control. Its deep handgrip affords solid, confident handling with any kind of lens attached, while the intuitive controls ensure effortless operation, no matter what camera system you are used to. When you also consider the 180° vari-angle LCD touchscreen and up to 20fps uncropped continuous shooting, with X-S10 you will be ready to unleash Fujifilm's acclaimed color science for any and every photo opportunity.

Making State-of-the-Art Simple: Designed to be simple and minimalist on the outside, X-S10 still enjoys Fujifilm's renowned image-making technology at its heart. With the state-of-the-art X-Trans CMOS 4 sensor and X-Processor 4 combination, it is easy to create astounding results. The 26.1-megapixel back-side illuminated sensor offers a wide dynamic range and incredible image quality, while the quad-core CPU not only provides precision autofocus at speeds of up to 0.02 seconds and in light levels as low as -6EV, but also superfast stills and video processing to keep up with your creative needs.

Putting Stability in Your Hands: To document the most amazing moments, you need to be in the right place at the right time, but the greater lengths you go to in search of the perfect angle, the higher the risk of a shaky camera ruining it all. That's why X-S10 features a five-axis in-body image stabilization (IBIS) system that gives you the freedom to go handheld and get right to the heart of the action. The five stops of image stabilization will help keep your images sharp and your video steady no matter what conditions you are faced with.

From Small Camera to Big Screen: Video is becoming an increasingly important means of expression for creators around the world, so it is essential to have a camera that can excel in both photography and videography. X-S10's outstanding movie-making abilities provide the perfect solution. This camera allows you to record in cinema-quality DCI 4K/30p and super-slow-motion Full HD/240p, and when you combine the five-axis IBIS with a four-axis digital image stabilization feature, you can always be confident that you will get incredibly smooth footage. Add to this 4:2:2 10-bit color via HDMI, and you have everything you need for professional filmmaking.

Powerful Image Manipulation Made Easy: Fujifilm has been producing photographic films for over 85 years and, in this time, it has developed a legendary reputation. Some of the world's most renowned creators have chosen Fujifilm to make some of the world's best-loved images. The FUJIFILM Film Simulation modes were created to celebrate this history by digitizing some of the industry's most iconic analog films and placing them at your fingertips. X-S10 features 18 Film Simulation modes, including ETERNA Bleach Bypass, the newest addition to the much-loved FUJIFILM Film Simulation mode collection, which creates a beautiful, desaturated, high-contrast look that any image maker will find irresistible.

Video capture resolution: 2160p
Check Price
Also read:  Best Strobe Lights For Photography
9. Canon EOS M6 Mark II
High image quality with 32.5 Megapixel CMOS (APS-C) sensor

High-speed continuous shooting of up to 14 fps with AF/AE tracking

Dual Pixel CMOS AF with 5, 481 manually selectable AF positions, and eye AF Servo support

4K UHD 30P/ Full HD 129P video

Use the EOS Utility Webcam Beta Software (Mac and Windows) to turn your Canon camera into a high-quality webcam, or do the same using a clean HDMI output.
Check Price
Also read: Best Ring Lights For Photograph 
How to find the best camera for street photography in 2022 | Ultimate Guide
First, you've decided on the type of camera you want to use for street photography. Then, you need to further narrow down your choices. There are many different makes and models of cameras available. However, if you are choosing one specifically for street photography, you should choose one with the following features
Small, lightweight, and portable
Unlike other types of photography, such as portrait or architectural photography, street photography requires you to be constantly on the move. Therefore, it is best to avoid bulky cameras that slow you down and tire you out.
The site is not very obvious.
As mentioned above, street photography is all about capturing humanity organically. Remember, however, that people may behave differently or more consciously once they are aware of the camera's presence. To avoid this, street photographers should choose cameras that are almost invisible. Avoid cameras with silver or colored glossy enclosures.
Extremely quiet
For the same reason, a camera that is quiet in operation is also desirable. Even if you are trying to secretly photograph a subject, the sound of the shutter will certainly give you away. Choose a camera with a quiet shutter.
Lightning-fast autofocus
Spontaneous pictures are not easy to take. Also, if your camera is slow to focus, you may miss a lot of great shots. Fast (and accurate) autofocus is always very useful when shooting moving subjects.
High shutter speeds
When photographing street scenes and subjects, everything always moves very fast. Therefore, street photographers usually use fast shutter speeds to capture the action.
Durability and water resistance
Street photography requires the camera to be able to shoot outdoors and deal with changeable weather conditions. While this may not be as important to some people as it is easy to purchase accessories to protect the camera from rain and other elements, if possible, choose a camera that is durable and weatherproof, to begin with.
Equipped with image stabilization
Again, this is not very important if you plan to use a monopod or tripod. A camera's image stabilization tools can help set it apart from others. It is helpful to have a camera (or lens) with built-in image stabilization to reduce camera shake when shooting hand-held.
Best Cameras for Street Photography | Video Explanation
Frequently Asked Questions
Q: How should I carry a camera for street photography?
To capture a moment on a street corner, it is most important to keep a camera close at hand so that you can take a shot at any time. However, street photographers are often seen carrying their cameras with a strap around their wrist, over their shoulders, or hanging from their waist.
Q: What is the best setting for street photography?
Speed is the name of the game in street photography. For this reason, a fast shutter speed is most important. Tracking the subject is also very useful. At night or in dark areas, open the aperture to let in more light. Conversely, when shooting during the day, set the aperture to about f/5.6 to f/8 to allow more objects to come into focus.
Q: What kind of digital cameras do professional photographers use?
Professionals are accustomed to having a variety of controls when shooting, so when using a digital camera, they tend to look for cameras that offer these options. Typically, professional photographers want a camera that can switch to manual mode so they can control shutter speed, aperture, ISO, etc. Fortunately, there are many high-end compacts that offer these advanced features.
Q: What is the best focal length for street photography?
This depends on personal preference and the importance of the story you want to tell in your composition. However, a focal length of 23mm (equivalent to 35mm full size) is optimal because it provides a natural angle of view.
Q; What is the Methodology for Selecting a Street Camera?
In selecting products for this guide, we considered features such as autofocus capability, body design, image quality, and, of course, price.
Any camera can be used for street photography, but based on our experience, it is best to choose a low-profile camera that allows you to blend in with the crowd and capture the world. For this reason, mirrorless cameras and high-end compacts are often chosen. We also wanted to represent products that fit any photographer's budget, from the high-end Leica Q2 to the more affordable Fujifilm XA-7.
Our final consideration in writing this guide was to choose products that we actually use in the field. Each of the cameras featured in this buying guide is one that we have tested, used in the field, and demonstrated in an afternoon over the years.
Final Thoughts on the Best Street Cameras
When choosing a camera for street photography, it is important to consider weight and autofocus capabilities. Ultimately, you want to choose a camera that is unobtrusive and intuitive to use, yet fun to work with. Street photography is about seeing the world, and you want a camera that will help you do that as an extension of your eyes. The cameras in this guide do just that.