Music Videos have seen a resurgence in interest in recent years, which has led to their appearance on the Internet. If you are planning to produce your music videos, you might be looking for the Best Cameras For Music Videos to make it a reality.
But what are the characteristics to take into account for a camera to be able to make music videos? Video quality, frame rate, and cost should be considered if you're looking for the Best Cameras For Music Videos. In this article, we'll take a look at our ten favorite picks for cameras, as well as our top picks. We'll also answer some Frequently Asked Questions (FAQs) about Best Cameras For Music Videos that create music clips.
Best Cameras For Music Videos 2022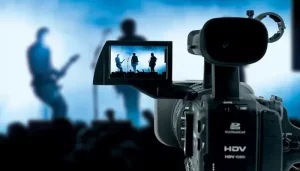 A music video usually consists of footage of a performance by a band or other artist.
The video is often made to accompany a song, but it may also be made for advertising or as a short film.
The type of camera used to shoot a music video depends on a variety of factors, including budget, location, and lighting conditions.
Shooting outdoors in low light requires a different setup than shooting indoors in natural light; you may not need a RED!
What makes a music video different?
Any camera that can shoot video can technically be used to shoot a music video; an iPhone, camera, DSLR, or camcorder can be used to shoot a single song-length video.
However, music videos are unique.
They are usually short (no need to shoot continuously for long periods of time)
It can be a visual spectacle
Bring a sense of rhythm and ease of movement
With this in mind, let's quickly consider what makes a good camera for shooting music videos.
First, since we want to be flexible in creating scenes shot in a variety of styles, a camera with interchangeable lenses is recommended.
For example, you may want to shoot a rock band live from a distance and leave some camera shake with the headbanging audience. For this, you will need a zoom lens. Or you might want to use a lens with a soft-focus effect to create a romantic cinematic effect.
In short, the more lenses you can use, the more possibilities you have.
Second, videos are often shot by hand, with the cameraman moving around. It is rare to find a music video where the camera is always fixed and only the subject is moving. Therefore, it is ideal to use a camera with in-body image stabilization (IBIS) instead of relying on in-lens image stabilization (IBIS). Many lenses have optical image stabilization, but many do not.
Finally, since video is short, you will not need a camera that can shoot continuously for long periods of time. Professional video cameras can usually record continuously for 12 hours or more, but we don't need that, so we have a little leeway in that regard.
Best Cameras For Music Videos | Comparison Table 2022
5-Stars Pick | Great Prices | High Quality
Prices and images pulled from the Amazon Product Advertising API on:
Best Cameras For Music Videos | Reviews 2022
Product Overview:
The Sony Alpha a6400 Mirrorless Camera is a compact and versatile camera that is perfect for photographers of all skill levels. It features a 24.2 MP Exmor CMOS sensor that is capable of capturing stunning images with crisp, clear colors. The camera also boasts the world's fastest autofocus speed at 0.02 seconds, which is perfect for capturing fast-moving subjects. Additionally, the camera has advanced real-time Eye-AF and Real-time object Tracking AF, which allows for accurate and precise focusing even when the subject is moving.
The Sony Alpha a6400 also has a wide 425-phase/425-contrast detection AF points over 84% of the sensor, which makes it easy to focus on any part of the scene. The camera also has up to 11fps continuous shooting, which allows you to capture rapid movements and action with ease. Additionally, the camera is equipped with multiple movie functions, such as time-lapse movies and slow/quick motion videos, which makes it perfect for videographers as well.
One of the most notable features of the Sony Alpha a6400 is its 180-degree tiltable touchscreen LCD. This feature allows you to customize the camera for vlogging, still photography, or recording professional films. The camera also has Wi-Fi for easy file transfer and remote control, which makes it easy to share your images and videos with friends and family.
The package includes a rechargeable battery, AC adapter, shoulder strap, body cap, accessory shoe cap, eyepiece cup, and micro USB cable. With a wide range of features and capabilities, the Sony Alpha a6400 is a great option for anyone looking for a high-performance mirrorless camera.
Check Price
Product Overview:
The Canon EOS 5D Mark IV is a full-frame DSLR camera that offers a range of advanced features and capabilities. With a new 30.4 megapixel full-frame CMOS sensor, this camera is capable of capturing versatile images in nearly any lighting conditions, with an ISO range of 100-32000 and expandable up to 50-102400.
One of the most notable features of this camera is its ability to capture 4K Motion JPEG video at 30p or 24p, as well as in-camera still frame grabs of 8.8-megapixel images. Additionally, it offers multiple video options, including full HD up to 60p and HD up to 120p, making it a great option for photographers and videographers alike.
The camera also features a superb Dual Pixel CMOS AF, which provides responsive and smooth autofocus during video or live view shooting. The LCD monitor has a full touchscreen interface, which allows for an easy selection of AF areas. With excellent performance, up to 7.0 fps continuous shooting speed, and a high-performance DIGIC 6+ Image Processor, the Canon EOS 5D Mark IV delivers improved speed and excellent image quality.
Additionally, it has built-in WiFi, GPS, and an easy-to-navigate touch-panel LCD, allowing the camera to become an extension of you. This camera is ideal for wedding and portrait photographers, nature and landscape shooters, as well as creative videographers who appreciate the brilliance and power that the EOS 5D Mark IV delivers.
Check Price
Product Overview:
The Blackmagic Design URSA Mini Pro 4.6K G2 Camcorder is a powerful and versatile digital film camera with 15 stops of dynamic range. The camera features a Super 35mm 4.6K sensor with Blackmagic Design Generation 4 Color Science, allowing for stunning image quality and color accuracy.
The camera supports project frame rates up to 60 fps and off-speed slow motion recording up to 120 fps in 4.6K, 150 fps in 4K DCI, and 300 fps in HD Blackmagic RAW, making it ideal for capturing fast-moving action and slow-motion footage.
The URSA Mini Pro 4.6K G2 comes with an interchangeable lens mount with an EF mount included as standard. Optional PL, B4, and F lens mounts are also available separately, giving you the flexibility to use a wide range of lenses with the camera. The camera also features a 4-inch flip-out advanced touchscreen LCD, dual CFast 2.0 and dual UHS-II SD card slots, and a bright, backlight status display for easy operation and monitoring.
Built with a durable magnesium alloy body, the URSA Mini Pro 4.6K G2 is designed to withstand the rigors of professional use.
Check Price
Product Overview:
The Panasonic Lumix ZS200 is a compact digital camera that features a 20.1-megapixel 1-inch high-sensitivity MOS sensor, a 15X Leica DC Vario-Elmar lens, and 4K UHD 30p video capabilities. It also includes 4K Photo and 4K Live Crop, which allows for cropping and zooming in on a specific area of a 4K photo while maintaining 4K resolution. The camera also includes a Venus Engine image processor, which enables high-quality image capture and high-speed signal processing for 4K video recording.
One of the key features of this camera is its 5-Axis HYBRID O.I.S.+ (Optical Image Stabilizer Plus) which helps to suppress hand-shake and provide a stable image, both in the photo and video recording. Additionally, the camera includes a new L. The monochrome mode in Photo Style creates an impressive monochrome image with rich gradation similar to that of black-and-white film.
The Lumix ZS200 also includes a 0.21-inch 2,330K-dot equiv Live View Finder, which provides excellent viewing clarity even in bright light. The camera also features a 3-inch touchscreen display with 1240k dots and supports JPEG, RAW, and MP4 video. This bundle also includes a variety of accessories, such as a camera case, 32GB SD card, Corel PC software, SD card case, and cleaning kit, which makes it a great option for photography enthusiasts and professionals.
Check Price
Product Overview:
The Canon EOS 60D is a digital SLR camera that is designed for photo enthusiasts who are looking for a powerful tool to foster creativity. The camera has an 18 MP APS-C CMOS sensor that is capable of capturing tremendous images. It has a new DIGIC 4 Image Processor which enables finer detail and excellent color reproduction. The camera's ISO capabilities have been improved from 100-6400 (expandable to 12800) which allows for uncompromised shooting even in the dimmest situations.
One of the standout features of the EOS 60D is its 3-inch articulated Clear View LCD with 1,040,000 dots. This allows for easy and precise framing of shots and the ability to review images in high definition. The camera also has a 9-point AF system (all cross-type) which ensures that your subjects are in focus even when they are moving. Additionally, the EOS 60D allows for wireless flash control which enables you to control the flash remotely.
The camera also has a number of new in-camera creative options and filters. It also has HDMI output for viewing images on an HDTV. The camera's design is user-friendly with continuously curved surfaces, exuding solidity and refinement. The EOS 60D is the true digital inspiration for the evolving photographer. The camera comes with a 1-Year Limited Warranty.
Check Price
Product Overview:
The Nikon D3300 is a digital SLR camera that features a 24.2 MP CMOS DX-format sensor and 5 frames per second continuous shooting. With 11 AF points and 3D tracking, it provides the user with a wide range of options for capturing their desired shots. Its ISO range of 100-12800 (expandable to 25600) allows for uncompromised shooting in dim lighting conditions. It also includes 1080P HD video recording capabilities and a 3-inch LCD with 921,000 dots. The camera is also Wi-Fi enabled and can be paired with an optional WU-1a Wireless Adapter and a compatible smartphone or tablet (not included).
One of the key features of the Nikon D3300 is its Expeed 4 processing, which allows for high-quality image and video output. It also includes an easy panorama mode and beginner-friendly Guide mode to help users navigate the camera's settings and capabilities. This version of the Nikon D3300 is a Certified Refurbished product, which means it has been tested and certified to look and work like new. It comes with a minimum 90-day warranty and all relevant accessories.
In terms of cons, the Nikon D3300 is a body-only camera, which means that you have to purchase the lens separately. Additionally, the camera doesn't have built-in WiFi and NFC, which is not ideal for those who want to share their photos and videos on social media. Lastly, the 3-inch LCD screen has a low resolution of 921,000 dots which may not be sufficient for some users.
Overall, the Nikon D3300 is a great option for amateur photographers looking to step up their game with a more advanced camera. With its high-resolution sensor, fast continuous shooting, and advanced processing capabilities, it provides users with a wide range of options for capturing their desired shots. Additionally, the camera is budget-friendly and easy to use, making it a great option for those looking to get more out of their photography.
Check Price
Product Overview:
The Canon VIXIA HF G20 is a high-performance camcorder that is designed for professional and advanced amateur videographers. It is equipped with a 10x HD video lens (5mm equivalent: 30.4mm – 304mm) with 8-Blade Iris and a 3.5-inch touch LCD. The camcorder also features a Canon HD CMOS Pro Image Sensor (1/3-inch, 1920 x 1080 image sensor) which provides extraordinary flexibility with extended dynamic range, enhanced gradation, and significantly more light capture for 20% improved low-light performance.
The VIXIA HF G20 has a large capacity for recording up to 12 hours of HD video that can be stored on the 32GB internal flash drive or simultaneously on 2 memory card slots (SDHC and fast, high-capacity SDXC - Memory Cards Not Included). The camcorder also has a unique feature called Relay Recording which automatically switches recording to the SD memory cards when the internal drive is full, so you never miss a moment, the second card takes over automatically when the first becomes full.
The VIXIA HF G20 also has advanced stabilization features such as Dynamic SuperRange Optical Image Stabilization, which keeps your video smooth and blur-free, even at the long end of the zoom, and Intelligent IS which ensures effortless stabilization no matter what the shooting situation. Additionally, the camcorder has a range of manual functions and Professional Shooting Assist Functions that provide a high level of control over your video. It also has a simultaneous output to both the Electronic Viewfinder with a pro-style large eye cap and the bright 3.5-inch Touch Panel LCD.
Check Price
Product Overview:
The JVC GY-HM250 UHD 4K Streaming Camcorder is a professional-grade camera that is designed for single-operator use, making it perfect for live streaming events and recording high-quality footage. This bundle comes with a variety of accessories including a 64 GB SD memory card, a large padded carrying case, a professional LED 160 video light, a micro HDMI to HDMI high-performance cable, and a cleaning kit.
The camera itself is equipped with a 1/2.3" CMOS sensor, which allows it to record UHD 4K video at 24/30p and 4:2:2 4K at 24/30p. It also has the ability to stream Full HD in the field and offers remote camera control and monitoring from a mobile device or laptop. The GY-HM250's integrated IP engine allows you to stream directly from the camcorder, and is compatible with RTMP, Zixi, and Wowza streaming, making it easy to set up and use.
One of the standout features of this camcorder is its ability to add lower thirds and titles while recording in HD or streaming, without the need for an external character generator or switcher. Additionally, it comes with pre-installed color schemes and the ability to upload icons or logos to add a personalized look to your footage. Overall, the JVC GY-HM250 is a versatile and powerful camera that is perfect for professional videographers and streaming enthusiasts.
Check Price
Product Overview:
The Sony Alpha a7S III Mirrorless Digital Camera (Body Only) is a high-performance camera that offers optimized video, sensitivity, and speed. It features a revised 12.1MP Exmor R BSI CMOS sensor and an updated BIONZ XR image processor, which provide faster performance, improved noise reduction, and a wider dynamic range.
The camera is capable of recording UHD 4K 120p video and has internal 10-bit 4:2:2 sampling. The camera also has no recording time limits and incorporates HLG for direct HDR production as well as S-Log2/S-Log3 gamma profiles for advanced HDR production.
The a7S III also features an improved autofocus performance with 759 phase-detection points, which provide intelligent subject tracking and Real-time Eye AF, ensuring critical focus on moving subjects in all recording modes.
The sensor and BIONZ XR processor also facilitate impressive sensitivity, with an expanded range from ISO 40-409600 and fast 10 fps continuous shooting for up to 1000 consecutive raw frames. The camera also has a 9.44m-Dot QXGA OLED EVF, 3.0" 1.44m-Dot Vari-Angle Touchscreen, 5-Axis SteadyShot Image Stabilization, and dual CFexpress Type A/SD Card Slots.
This bundle includes the Sony Alpha a7S III Mirrorless Digital Camera (Body Only) along with a SanDisk SecureDigital 64GB Extreme PRO Memory Card, NP-FZ100 Rechargeable Lithium-Ion Battery, Corel Photo Software With PhotoMirage, AfterShot, Painter Essentials, PaintShop Pro, and Video Studio, a Large Padded Case, NP-FZ100 charger, Memory Card Reader, Micro HDMI Cable, Deluxe Cleaning Set, 12 Inch Flexible Tripod and Memory Card Wallet. This product is eligible for a replacement or refund within 90 days of receipt if you are not satisfied.
Check Price
Why should I buy a video camera instead of using my phone?
In truth, not everyone needs a dedicated video camera anymore; our phones have excellent cameras which are good enough most of the time. However, there are a few main reasons why you might want a standalone camera.
Zoom
Alternatively, interchangeable lens cameras offer additional creative control, even if their lenses don't zoom as far or as easily.
Battery life and record time
If you need to film a long event – ​​from a small league game to a wedding ceremony – you probably don't want to risk draining your phone's battery. Especially with mid-range and high-end camcorders, video cameras often offer several different battery sizes, with high capacity options designed for such situations. Mirrorless cameras, like the GH5 above, have optional battery grips that can be attached to extend battery life, while cinema cameras can be powered by large external batteries.
Image quality
If you want to achieve a cinematic look, you can do so relatively affordably with any DSLR or mirrorless camera. The combination of a large imaging sensor and interchangeable lenses offers much more creative control over the look and feel of your video, allowing you to shoot with shallow depth of field and dramatically improve performance in low light on your phone.
Audio quality
Let's face it: your phone kinda sucks at recording audio, especially in a noisy environment. A camera with a dedicated video camera will not only have better built-in microphones, but it will also allow you to connect an external mic to get the best results in any given situation, from a wireless lapel mic for recording dialogue, to a mic shotgun to cut through ambient noise, to a stereo mic to record music.
What are the main characteristics of a video camera?
Music Video Camera FAQs
1. What is the best 4k camera for music videos?
If you want a specific 4k camcorder, then the Panasonic HC-X1 4K UHD Camcorder is your best choice. This camera supports 4K, HD, UHD, FHD, and a variety of other options. It's larger than most of the cameras and camcorders listed here, but it's built specifically for this kind of work. You can also record two different memory cards simultaneously; it has 2 audio XLRs and several other ports for optimal audiovisual recording.
2. What equipment is needed for a music video?
If you're looking to put together a kit so you can make a great music video, you want to make sure you have the right gear. Here is a quick list.
The right camera(s)
Camera Tripods
A lightweight camera
three-way lighting (minimum; you can also use multiple lighting configurations)
Micros canon
Installation of a microphone with boom and shock absorber
Audio cables and recorder(s)
XLR cables (audio cables)
Headphones (so you can adjust sound levels more precisely)
Extra batteries, memory cards, and other gear, so your gear doesn't 'die' while you're filming.
You may also need other hardware if you work in a particular environment. Sit down with your team and figure out what is essential and what you may not need in terms of gear.
3. What is the best lens for shooting music videos?
The Canon EF 135mm f/2L USM lens is one of the best lenses on the market for making music videos. It has an UltraSonic motor, a focal length of 135mm, and a focusing distance of 3 feet. You can also get it with a polarizer or UV protection filter.
The speed and versatility of this lens let you get great video, and it works with most of the camera models we've covered in this article.
4. How long does it take to make a music video?
It depends on what exactly you are doing in the video. Most of the time, artists have some sort of idea of ​​what their main concept in the video will be, and who they want to work with. Otherwise, the record company will take care of these things. In general, it depends on the song recorded and the budget used.
On average, it takes about two weeks to get everything registered and up and running; organization and scheduling can take longer upstream and downstream.
The Best Camcorders for Music Video - A Brief Description
As with any camcorder purchase, there are several things to consider carefully when choosing a camcorder for shooting music videos.
Here are some key points to consider.
The type of project you are responsible for.
Your specific budget (yours and yours alone).
The goal you already have.
This last question is very important. You may want to integrate a new camera with your existing lenses. This is always the cheapest option.
However, with so many mounts available for all kinds of cameras, lenses and situations, combining a camera with a non-original lens has never been easier.
As proof of this, many people use Canon EF lenses on Sony cameras.
We hope this article on the best cameras for shooting music videos helps you choose the best camera for you and your project. We wish you success with your music video or whatever you shoot with your camera.
Have we forgotten your favorite camera for your music video project? Let us know what you use in the comments section below.