Have you decided to switch from your smartphone or compact camera to something more "serious" to take photographs, but the excessive weight of Reflexes scares you?
Would you like a camera with an interchangeable lens that is light, handy and easily transportable anywhere? The answer to your problems is one: you need a mirrorless camera.
in this guide, I will explain to you how to pick Best Mirrorless Camera Under 1000 USD. My Ultimate Buyer's Guide explains everything to you.
What is Mirrorless Camera
The mirrorless cameras are compact cameras with interchangeable lenses that offer the user a shooting customization capability similar to that of the Reflex cameras, if not identical. Although a few years ago they were inferior in quality to cameras for professionals, for some years they have combined the reduced dimensions to picture quality and video recording at the highest levels.
Also Read: Best Vlogging Camera under 500
However, choosing a mirrorless is not a child's task, because you need to know the basics of photography, the basics of making a perfect shot and the fundamental components that make up a camera. But don't be afraid:
This article will explain to you step by step how to choose the model made to measure for you among the best mirrorless on the market.
Let's begin!
Why are Mirrorless Cameras Better?
Is a mirrorless camera better than a digital SLR?
The optical part of the Mirrorless camera is in strong development, and even if it is still a little less provided than that of the reflex, one begins to find interesting focal lengths, with particular fixed focal lengths pancakes light, light and discrete. Some brands even share their mount, such as Olympus and Panasonic for the micro 4/3 with very compact optics or Panasonic, Leica and Sigma via the "L-MOUNT ALLIANCE" for the format 24 x 36 mm. Finally, with adapters, you can mount almost all lenses for SLR on this mirrorless.
With their dual AF system, which combines the phase correlation (fast and useful for mobile subjects) with contrast detection (accurate but often slow), some mirrorless cameras have very responsive autofocus, sometimes-even more effective than that of SLRs in professional mirrorless cases.
The electronic viewfinder (EVF) mirrorless are also progressing, with improvements in terms of magnification (perceived size in the viewfinder) and dynamics. Although this viewfinder is not comparable for many photographers to optical viewing, being able to enjoy a preview of the final image (as it will be recorded) allows you to take a serene shot, especially in low light conditions where the electronic viewfinders are very bright compared to the optical system.
The mirrorless viewfinders are also developing optical coupling covered and electronically at Fujifilm and Canon for example. Because of their technical constraints, they are still little exploited but could really tip the balance in the future years.
The video mode implemented on mirrorless has also progressed a lot in recent years thanks to the absence of a mirror. More and more mirrorless cameras are incorporating a 4K / UHD video recording mode, or even 4K Cine, to also appeal to the videomaker target and make the mirrorless a two-in-one package. Coupled with a stabilization of the sensor and those of certain objectives, it is today a real marketing argument.
Best Mirrorless Camera Under 1000 USD of 2020
Best Mirrorless Camera Under 1000$ | Comparison Table
Top Quality | Great Price | 5- Star Picks
Best Mirrorless Camera Under 1000 Dollar | 2020 Reviews
1. Sony Alpha A7 Mirrorless Camera Under 1000 (Editor's Choice)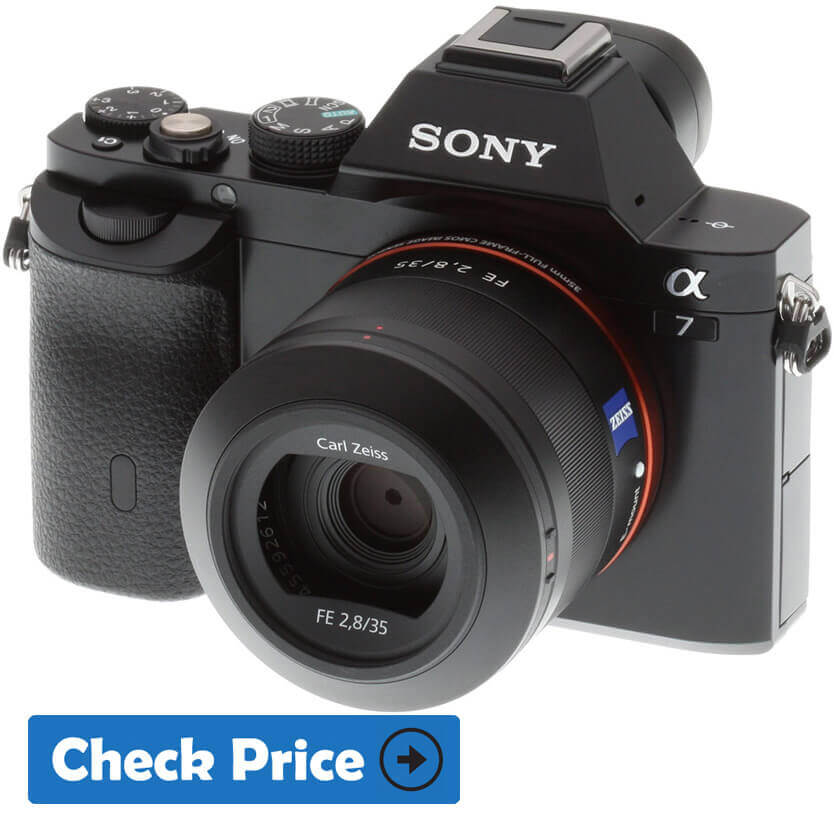 Specification:
Sensor Size: Full Frame
Resolution Max: 1080p
MegaPixel: 24 MP
Image Stabilizer: Yes
Screen 3″, Tilt, Touch
Connectivity: Wi-Fi
ISO Range: 100-25600
Battery Life:
About:
Sony A7 III is a beast with many facets. You can go out and photograph landscapes one day and shoot sports the next day in a beautiful video clip.
This camera has everything you could expect: a high resolution of 42.4-megapixel, rapid shooting speeds, a 4k video with excellent quality. It's fun to compare the first-generation A7 S with the A7R III. The latest camera is much more refined, but its size has not increased much.
Also Read: Best Action Camera Under 100
DesignFeaturesConnectivity
There are manual controls and ports for all around its case. You have a forward and reverse dial for speed and aperture, and an exposure compensation dial, programmable buttons, and three pre-programmed shooting modes. Above the dial of the numeric keypad is the new joystick and on the left the articulated touch screen, which can be tilted up or down but not forward or sideways.
It's crazy to take 10 images of 42.4 megapixels per second in a short burst. I would not say that the A7R III is a sports camera, but you could certainly use it for fast-moving action scenes. The large sensor makes it ideal for landscapes and wildlife and you will not disturb athletes, bears or brides during a ceremony using the silent electronic shutter mode.
Autofocus is faster and more accurate than ever, thanks to a sharp increase in the number of contrast detection points from 25 to 425. The quality of still images in raw mode has improved thanks to the increased range. dynamic and resolution in 14-bit color. This is particularly useful for high ISO shooting.
Regarding the video field, the A7R III is the best full-frame mirrorless camera you can buy. However, it does not have the same 10-bit colorimetric width of the Panasonic GH5, but it does provide a complete reading of the sensor. And by using the entire sensor, it produces a rendering that the GH5 cannot match.
Integrated five-axis stabilization and extra weight help a great deal in maintaining stability when shooting freehand.
The Sony camera is not free of flaws though. The menu system is better than before, but it is still too big and some parameters have been grouped in categories that do not logically correspond to my sense.
A7 cameras have always been the lightest and most compact full-size cameras on the market. But Sony has made the A7R III a little bigger so that it can accommodate some of the functions we needed the most. It now has a larger battery like that of the A9 with a range of two times greater.
The app to connect your smartphone to the A7R III is still very tedious, but it does the job.
There are two SD card slots, one for two high-speed UHF cards, and a USB Type C port, you get a joystick and a touch screen for focusing.
It has headphone, HDMI and microphone inputs, making it a professional video device that most consumer cameras.
Also Read: Best Lavalier Microphones
Pros
Bigger and brighter electronic viewfinder
Bright autofocus system
Bottom Line: The Sony Alpha A7 is among the best mirrorless camera on the market in terms of value for money, and can offer you with a bit of skill and the right equipment the highest quality shots
2. Fujifilm X-T100 Best Budget Mirrorless Camera under 1000 USD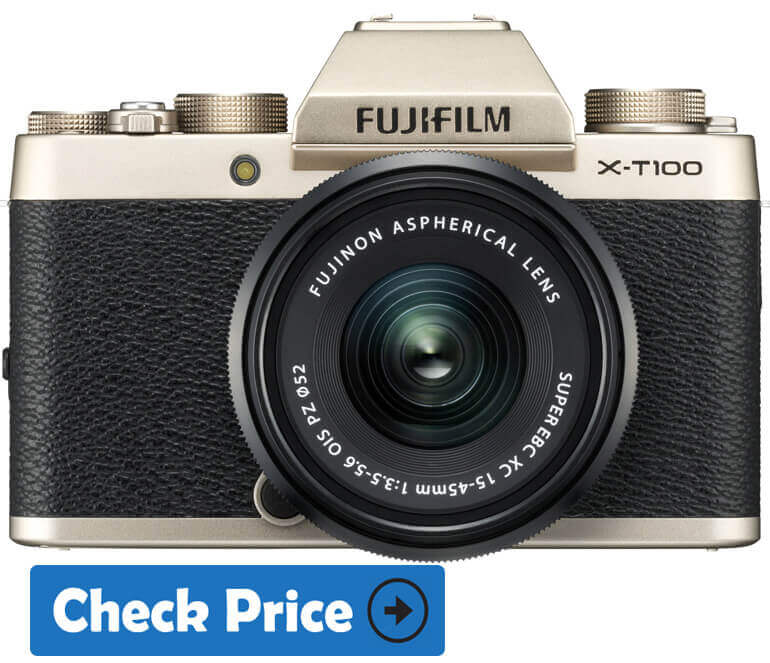 Specification:
Sensor Size: APS-C
Resolution Max: 4K
MegaPixel: 24 MP
Image Stabilizer: Yes
Screen 3″, Tilt, Touch
Connectivity: Wi-Fi
ISO Range: 200-12800
Battery Life:
About:
Another interesting mirrorless camera among the cheapest is the Fujifilm X-A10 , which (in extension).
The Fujifilm X-T100 is a beautiful object to take with you everywhere, a real travel companion for everyday images, no frills, but especially the excellent value for money compared to what proposes the competition.
DesignFeaturesConnectivity
With a compact body, sophisticated design, good build quality and photographic combined,  there is no doubt: it is a pure blood Fujifilm.
It is robust, well assembled and really beautiful with its retro charm.
The horizontal covering strip, which separates the two metal elements at the top and bottom, is the only element that betrays the entry-level nature because it looks good but is made of a plastic that is more rigid than that of the higher models.
I appreciate its low weight and generous support for the thumb on the back.
It is still quite comfortable to use.
Compact and lightweight, this box features a cropless 4K 30p mode enhanced hybrid autofocus, with 2.16 megapixels with phase detection for fast, accurate tracking performance.
The camera also has a new mode of detection of the eye and faces to facilitate the portrait picture.
It has a 24  MP APS-C CMOS sensor and is combined in this kit with a 16-50mm all-around lens very bright with OIS II function integrated.
The 3 ″ LCD screen can also be oriented for selfies
As far as the burst is concerned, up to 6 photographs per second can be taken.
Supports videos in Full HD at 30 fps, while for autofocus we have up to 49 exploitable points.
The ISO range is from 100 to 25,600
It includes a microUSB connection and charging port, the micro HDMI video output and the microphone input. The last is isolated in a compartment on the left, while the other two are on the right.
both Wi-Fi and Bluetooth LE support, convenient for speeding up the pairing operation with the smartphone and keeping it active.
The remote control app is not the best in terms of solidity and features.
Pros
Better ISO gain and superior image quality
incorporates a standard CMOS APS-C sensor with a definition of 24.2 million pixels
Excellent build quality
Visible sight fringing
EV dial easy to hit
Cons
Not found any negative point in it
Bottom Line: If you are looking for budget mirrorless camera then thin beasts would be ideal pick. It a true True travel companion have great battery backup and many features. It will adapt to all those who wish to evolve their photographic practice
3. Canon EOS M50 All Purpose Mirrorless Camera Less Than 1000 Dollars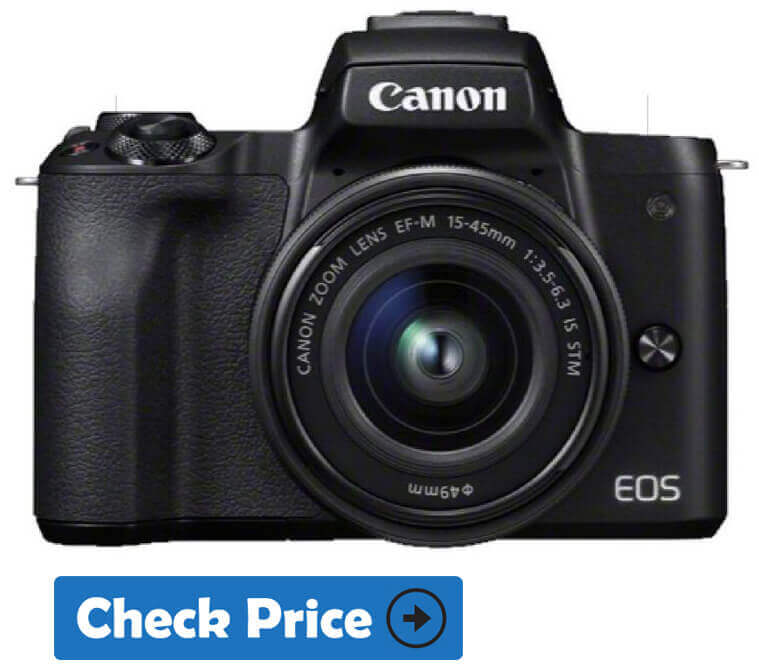 Specification:
Sensor Size: APS-C
Resolution Max: 4K
MegaPixel: 24 MP
Image Stabilizer: Yes
Screen 2″, Tilt, Touch
Connectivity: Wi-Fi
ISO Range: 100-25600
Battery Life:
About:
Competitors have strategically decided to focus on technological development and research for the production and creation of high-performance mirrorless cameras. They have therefore chosen a different market segment than Canon and Nikon. From this, it is clear that overtaking was immediate.
Now Canon with its new mirrorless Canon EOS M50 is trying to reduce this gap compared to other mirrorless on the market.
The Canon EOS M50 is another excellent mirrorless, very cheap but with excellent shutter qualities, especially if you're just starting out with the world of photography.
DesignFeaturesConnectivity
Canon EOS M50 is very stylish and ergonomics design and look like a DSLR cameras.
The designers have maintained a design that is practically the same for the rings and for the various reliefs on the body in aluminum mixed with polycarbonate (more the opposite in reality) and then considerably increase the grip.
The left side almost completely empty, the central part occupied by the hotshoe slide and a right side invaded by a ring that surrounds the shutter button, the program dial, a button function, the on / off switch, and the video recording key.
The front is rather minimal and shows in a clear view the shutter button (which we highlighted earlier with regards to the upper side), the Canon logo, the central hotshoe slide, the focusing light, the attachment for the optics and the quick release button for lenses.
This model implements a 24.2 MP APS-C CMOS sensor with automatic and manual modes.
It has a burst of 10fps in AF-S mode or up to 7.4fps in AF-C, which is a good value for this price, and you can also take advantage of smartphone-style touch-screen controls.
A DIGIC 8 processor derived directly from more professional models, autofocus with Dual Pixel system (which is a good Canon exclusive)
Its video recording in 4K @ 24fps
Let's not forget the 99-point AF (Auto-Focus) which, coupled with the Dual Pixel system, can really behave very well.
Its ISO performance is superb when you compare it with the other models of the same price.
It has an adjustable 3″ touch screen LCD monitor
The tracking of moving subjects has also been improved compared to other models. And " eye detection " has been added.
The LP-E12 lithium battery can last on average 235 shots or 85 minutes of footage.
It can connect to external devices via Bluetooth and WiFi and with the Canon Connect app
the immediate sharing of photos and videos (of your "stories") directly on smartphones, or on social media really becomes child's play.
Canon also provides the Irista Cloud service, to back up your photos and videos via Wi-Fi and Bluetooth
Pros
Tracking of faces and subjects by automatic recognition
Perfectly balanced body
Excellent image sensor
Dual pixel autofocus
Integrated flash
Bottom Line: This model should be considered by an advanced amateur or by those who do not want to invest too much money to buy a EOS R (maybe the professional photographer looking for a second body or who wants to jump on the mirrorless system.
4. Panasonic Lumix DMC-GX9 Best for 4k Mirrorless Video Cam Under 1000$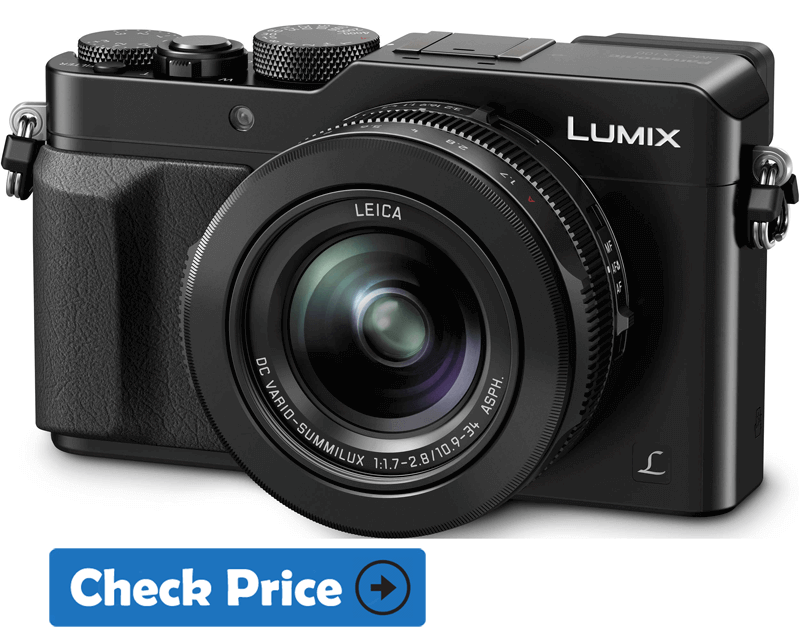 Specification:
Sensor Size: Four Thirds
Resolution Max: 4K
MegaPixel: 24 MP
Image Stabilizer: Yes
Screen 3″, Tilt, Touch
Connectivity: Wi-Fi
ISO Range: 200-25600
Battery Life:
About:
The Panasonic Lumix DMC-GX9 is a great mirrorless with Micro Four Thirds sensor, capable of taking good quality 16 MP photos.
The GX9 is a surprisingly fast mirrorless. Turn on, image processing, image display, menu scrolling, touch function, AF. Everything works smoothly and with great efficiency, which makes it a really nice camera to use.
DesignFeaturesConnectivity
It boasts a good general build quality, with a simple but functional rectangular shape.
It can use any lens designed for the four-thirds microsystem, with a wide range of options from Panasonic, Olympus and a third-party series, which therefore makes it a very versatile machine.
The viewfinder, flash, and slide are located inside a flat top plate, while the front is well structured and offers an excellent solid grip in hand.
It offers several manual controls and quick access to different settings, a combination that could pleasantly surprise even experienced photographers who love the manual.
It has a Dual IS image stabilizer but it is mainly characterized by the possibility of recording video at 4K resolution.
It costs very little and implements a 24-Megapixel Micro Four Thirds sensor, combined with a 12-32 mm lens in the base kit. Excellent to start both on the photographic and video filming sectors.
The Integrated on the camera body is a 2.76 million dot LCD viewfinder, while the traditional display has touch-screen functionality and can be tilted, this feature considered very valuable by different photographers.
It supports for 4K videos in the AVCHD format Progressive, vintage and elegant aesthetics are the strengths of the Panasonic Lumix DMC-GX9
It has a new focus mode lever, in which you can choose between manual focus, single AF or continuous AF, and since it is proposed as a street camera, quick access to mass control in focus is a very important element.
The battery life is just 260 shots and 250 shots with the EVF (adding some videos, you can easily go down to 200).
It is equipped with WiFi and Bluetooth, which consumes less energy than Wi-Fi and allows us to remotely control and share images using a smartphone via the Panasonic image app.
It also equipped with Micro USB and Mini HDMI ports, although unfortunately, it lost the microphone input we had on the GX8.
Pros
49-point contrast-sensing autofocus system
Extremely compact dimensions
small body and at an attractive price
Integrated stabilization for sharper results
Integrated flash
Silent shutter
Cons
Non-tropicalized body
Uncomfortable default settings for use with viewfinder
Bottom Line: The Panasonic GX9 is undoubtedly a good quality mirrorless. Compact, full of external controls, with solid technical specifications and capable of producing remarkable JPEG images
5. Samsung NX30 Best for Artful Focusing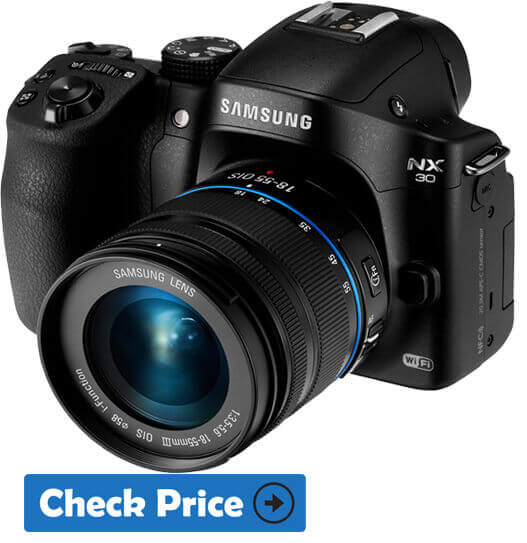 Specification:
Sensor Size: APS-C
Resolution Max: FHD 1080p
MegaPixel: 20 MP
Image Stabilizer: Yes
Screen 3″, Tilt, Touch
Connectivity: Wi-Fi
ISO Range: 100-25600
Battery Life:
About:
A GREAT mirrorless in the body of a small reflex. The Samsung NX 30 is a border camera. The point of union between two worlds.
Korean engineers have tried to concentrate both the reflex and mirrorless worlds in a single machine.
The intention is to satisfy users accustomed to using an SLR but who want a lighter and less cumbersome machine (but at the same time very comfortable to grip with medium-sized fingers) both users coming from the world of mobile phones and compact phones who want to make the leap in quality towards sensors and lenses of a completely different level, without giving up the ease and speed of shooting and complete connectivity but sacrificing the pocket size.
DesignFeaturesConnectivity
The more traditional design of the NX30 means that it can bring together the best of SLR and CSC technology.
This is undoubtedly our preferred CSC for ergonomics. The handle and the palm rest are superbly shaped for a perfect fit, even in large hands.
It's also more comfortable than other mirrorless cameras.
There is a good distance between the compartment door and the tripod wire, so it may still be possible to remove a card while the camera is mounted on a tripod.
The electronic viewfinder (EVF) extends to ensure a distance of 36 mm from the back of the camera. It also tilts upwards, which is useful when shooting from a low camera position.
There is a sensor at eye level to detect when EVF is used, but it is a bit slow to respond when switching between LCD and EVF. When the EVF was not extended and we quickly raised the camera to eye level, we were able to move the autofocus point with a tip to the nose on the touchscreen. The EVF image is very sharp with a resolution of 1.024×768, but unfortunately, it is a bit smaller than the EVF on competing CSCs.
Samsung's new flagship comes with leading-edge technical features: 20.3-megapixel CMOS APS-C, phase/contrast hybrid focus, 2.36 million pixels mobile electronic viewfinder
It has 3-inch Super Amoled adjustable screen
The shutter speed up to 1/8000
full HD video, flash, external microphone socket and full Wi-Fi Ncd connectivity. The powder and rain resistant metal body then complete the first-rate endowment from a high-end machine. A complete Adobe Photoshop Lightroom 5 installation disk and license is also supplied.
The camera operates with sensitivities between 100 and 25600 ISO and offers a recording of Full HD 1080p movies.
There are two optics with which it is presented: the Samsung 16-50 mm F2-2.8 S ED OIS zoom is noted for the brightness throughout the arc of the covered focal lengths, while the motorized lens with the same Samsung 16-50 focal length mm F3.5-5.6 Power Zoom ED OIS focuses on very small dimensions.
There is the integration of Wi-Fi and NFC technologies, which are used to provide users with advanced sharing features.
With the Photo Beam function, it is possible to transfer an image from the camera directly to a tablet or smartphone simply by combining the two devices and without needing any preliminary configuration. MobileLink instead allows you to share multiple images simultaneously with up to four devices.
With AutoShare, the photos are instead shared the moment they are taken while Remote Viewfinder Pro remotely controls the camera via smartphone.
It also has a 3.5mm mic input so you can connect external microphone as well.
Pros
lighter design than the SLRs
80 ° adjustable electronic viewfinder (XGA resolution, 2,359K-dot)
9fps shutter speed
two 16-50mm lenses
Bottom Line: Best for users who want a light machine, less bulky and hyper connected. Without sacrificing quality.
6. Olympus OM-D E-M10 III Best Entry Level Mirrorless Camera Under $1000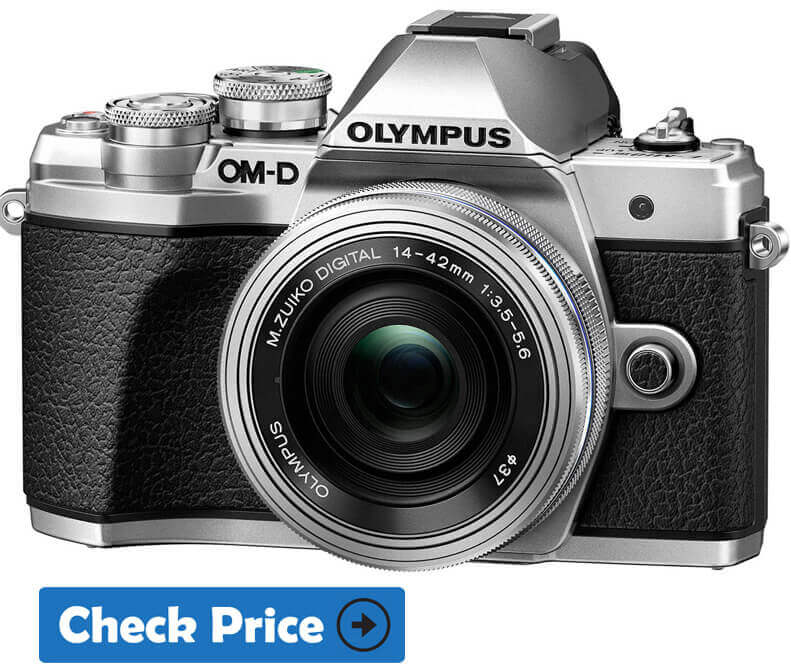 Specification:
Sensor Size: Micro Four Thirds
Resolution Max: 4K
MegaPixel: 16 MP
Image Stabilizer: Yes
Screen 3″, Tilt, Touch
Connectivity: Wi-Fi
ISO Range: 200-25600
Battery Life:
About:
It is actually a camera that has only the price of entry level since the performances are those of a top of the range.
And in fact, I loved her so much (and not just because she is beautiful!).
We then have the Olympus E-M10 Mark II, a mirrorless with a classic design that uses a five-axis stabilization system to take photos without blur.
Before jumping into its features, I tell you it is not suitable in my opinion for those who want vlogging because it doesn't have microphone input.
Lets move to its specifications;
DesignFeaturesConnectivity
I really liked this Olympus camera, first of all because of its beautiful appearance, its double color and its vintage look that makes it even more appealing.
It  have a 16 MP Micro Four Thirds sensor, combined with a 14-42mm lens
It has 5-axis optical stabilization which allows shooting on the move even when walking without the need for other stabilization devices.
The electronic viewfinder integrated into the body is a quality OLED, while there is the possibility of recording time-lapse video in 4K and slow motion.
It has two M.Zuiko lenses: a 14-42 mm for closer shots, and a 40-150mm for shots from higher distances.
supports a range of ISOs from 200 to 25,600.
It supports a 4.8 fps burst and features a 121-point focusing system, and can record video at 4K Ultra HD resolution at 60 frames per second.
Burst shooting up to 9 frames per second with RAW bursts up to 22 frames
The display is adjustable and touch-screen.
The possibility of managing via smartphone via OI.Share software and Wi-Fi connectivity
Also Read: Cheap Vlogging Camera with Flip Screen
Pros
Quick focus & Digital zoom
Lock rings for room management
Compact and handy even thanks to the ergonomic groove
Color detail and file balancing
Cons
Lack of audio jack for the microphone
Lack of NFC for immediate photo sharing
Bottom Line: If you are beginner in the field of photographer, then you can pick this mirrorless camera
7. Nikon 1 J5 Mirrorless Camera Under $1000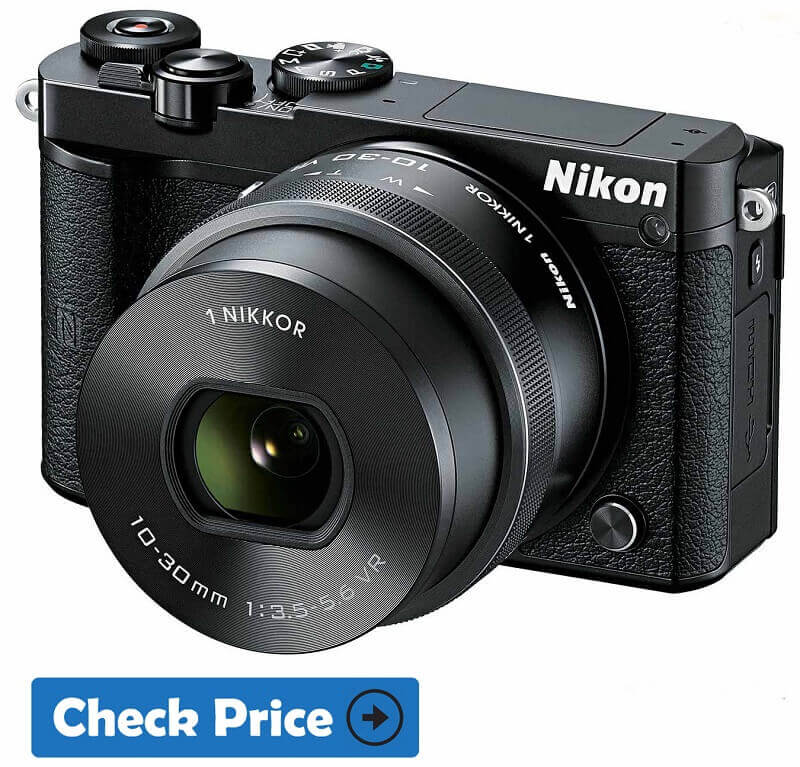 Specification:
Sensor Size: 1″
Resolution Max: 4K UHD 2160p
MegaPixel: 24 MP
Image Stabilizer: Yes
Screen 3″, Tilt, Touch
Connectivity: Wi-Fi, NFC
ISO Range: 100-25600
Battery Life:
About:
The Nikon 1 J5 , one of the most successful models of the Nikon chain regarding mirrorless.
It really gave a hard time to reflexes.
It more lightweight and professional mirrorless camera, and have become the ideal photographic machines for the amateur photographer who wants to have fun with professional instruments.
It stimulates creativity already at the first impact, its adjustable display is closely linked to the possibility of taking pictures with unlikely shots, ideal for shots different from the usual.
Also Read: Cheap Camera for Youtube
DesignFeaturesConnectivity
The incredible lightness is the aspect that most strikes us when we take it in hand.
Weighing just 265 grams, The Nikon 1 J5 is one of the lightest mirrors ever.
The design is decidedly refined, with a style in the balance between modern and vintage, especially if we choose the white color (alternatively we can have it black or gray ).
The construction materials are of the highest quality, as is the ergonomics on which Nikon has worked very well. Worthy of note is the closing of the lens characterized by a technologically interesting solution: instead of the classic lens cap, the final part is retracted and covers the lenses, similar to the compact mechanism.
 It uses a 24 MP Full-Frame CMOS sensor with 273 focus points and a high quality 3.7 MP OLED viewfinder.
This model also features a 3 ″ LCD Touch and supports video recording at 4K Ultra HD at 30 fps.
It can shoot 400fps video for slow-motion mode, with a lower resolution and an ultra-widescreen 2.67: 1 ratio. Despite the different resolution, the quality is adequate for uploading movies on any Social Network or Youtube platform, Vimeo and the like.
The same screen is at the cutting edge being a touch screen and gives the possibility to enlarge the shots just taken to check the quality in real-time.
Smart Photo Selector allows the camera to capture 20 photos with a single press on the shutter, analyze individual images and leave only the best photos for clarity and brightness.
The processor used is the Expeed 6, while as regards the native ISO range we have from 100 to 25600.
It saves files in JPG format already suitable and compatible for both the web and for printing, but at the same time, it has the possibility of being able to shoot in RAW.
From ISO 100 to 800, the Nikon mirrorless keeps very well without the slightest perception of noise, from 1600 to 3200 you begin to perceive a slight presence that increases in sensitivity becoming more and more present.
This mirrorless has a hybrid autofocus system with 105 sensing focus points and 171 contrast focusing points.
With Wi-Fi your Nikon will be connected in real time to your smartphone
Also support micro HDMI and USB
Pros
Adjustable Touch Screen for creative shots
Super-fast in shooting
Flash also usable for bounce
Zoom with incorporated cap
Cons
Slightly noisy zoom
Absence of a slide for external flashes
Electronic and non-optical image stabilization
Bottom Line: The Nikon mirrorless is really well made, but it certainly isn't a camera for professional shots.  It is perfect for everyday use, to be carried around during a vacation or a walk in the center.
Its weight and size underline how this is the strength of this mirrorless.
8. RicohGR II Mirrorless Camera Under 1000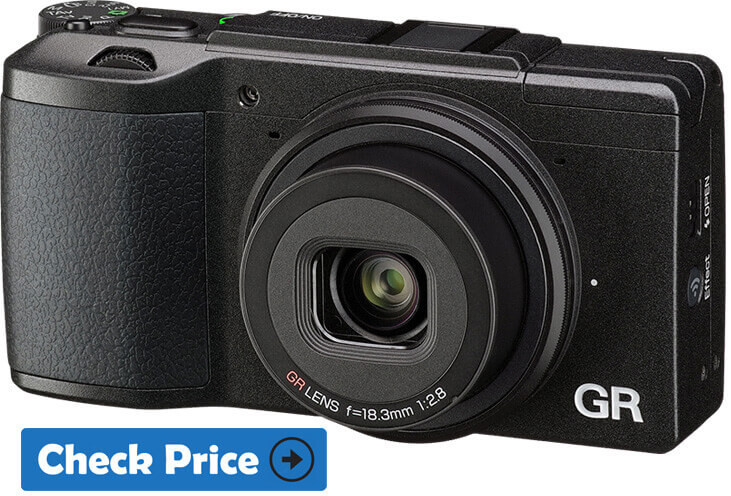 Specification:
Sensor Size: Full Frame
Resolution Max: FHD 1080p
MegaPixel: 16 MP
Image Stabilizer: Yes
Screen 3″, Tilt
Connectivity: Wi-Fi NFC
ISO Range: 100-25600
Battery Life:
About:
The Ricoh GR II is probably the best compact camera available on the market today. we has put it to the test with fully satisfactory results for those looking for high quality in an extremely pocket-sized product.
Inside the package, we find the classic equipment of compact cameras, which is a rechargeable battery with its battery charger, the cd-rom with the software to be installed on the pc, the wrist strap, and the user manual.
DesignFeaturesConnectivity
The first impression one has of this camera is that it is really very small: with it's 111.7 mm x 61 mm x 34.7 mm it is, in fact, possible to hold it comfortably in the palm of a hand.
It has a very compact body in magnesium alloy, with a design practically identical to the model that directly preceded it, namely Ricoh GR: the lines are essential and not retro like most cameras on the market today. The flash is integrated and positioned in the upper left part of the body, the slots for the battery and for the SD card are in the lower part, while the USB and HDMI sockets are to the right of the camera body, closed by a flap.
Most of the controls are located on the back next to the LCD screen.
It is built predominantly in magnesium alloy, even if the plastic is not missing.
The handle is covered with a layer of knurled rubber material to facilitate finger grip. Despite the very low weight of around 215 grams without battery, the tactile sensation is positive: the Ricoh GR II looks like an absolutely resistant and solid camera, built with remarkable accuracy.
For high-end compact cameras, the Ricoh GR II stands out for its very small size compared to direct competitors and performance. It is equipped with a 16-megapixel APS-C sensor and a fixed lens with an equivalent focal length of 28 mm and a maximum aperture of f 2.8.
It can also record video in full HD at 30/25/24 fps in H.264 format. Let's look at it in detail, starting our review with the contents of the package.
One of the strengths of this camera is no doubt the 3-inch LCD screen with 1.23 million points, one of the best in the world of mirrorless cameras.
It uses the same technology that Sony has used on its flagship products, such as the Sony RX100, and that makes the images very bright and bright.
It is also equipped with an automatic brightness adjustment function that adapts it to the ambient light, to make it always readable.
In the shooting phase, it shows the information relating to the aperture and shutter speed, the grid to aid in the composition, and the electronic level to indicate the vertical or horizontal inclination of the camera.
This camera is powered by a lithium battery whose charge level is shown by an icon on the display. Full battery recharging takes about 3 hours while the autonomy of use indicated by the manufacturer is 320 photos. Obviously, by adopting some tricks it can extend its duration, for example by setting the automatic shutdown after a few minutes of inactivity, or by selecting the darkening of the monitor or eliminating sound signals altogether.
With wi-fi and NFC connectivity, it is possible to quickly transfer files to a PC or watch them directly on a mobile device. It has a very short startup time which makes it a particularly appreciated camera for the street genre.
The possibility of connecting Ricoh GR II via wi-fi to a PC or mobile device allows quick access to the GR Remote web application, through which the user can remotely control, or from a smartphone, tablet or computer, all the keys and the camera dials.
In this way, it is possible to better see the macro shots or to take original selfies by checking the composition of the photo even during shooting.
By installing the Image Sync app on an iOS or Android mobile device, you can quickly transfer files or simply preview them on a larger monitor.
Pros
Excellent image quality
Good video quality
Very quick to turn on and shoot
Very solid construction materials
Excellent battery life
Great LCD Display
Possibility to use manual & customize  controls
Cons
It is not equipped with an electronic viewfinder
Bottom Line: Ricoh GR II is ideal for lovers of the street genre: small, quick to light up, to focus and to take high quality photos. It is one of the very few compact cameras on the market that uses a fixed focal length which, as we know, has a higher yield than zoom lenses. Furthermore, the synergy between sensor, lens and image processor makes it capable of producing excellent shots and videos with any ambient light.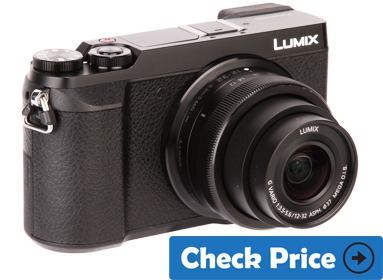 Specification:
Sensor Size: Micro Four Thirds
Resolution Max: 4K UHD 2160p
MegaPixel: 16 MP
Image Stabilizer: Yes
Screen 3″, Tilt, Touch
Connectivity: WiFi, Usb
ISO Range: 100-25600
Battery Life:
About:
DesignFeaturesConnectivity
The dimensions of this camera is extremely limited, making it quite easy to grip, especially for those with not particularly large hands.
It has a minimal and compact design, weighing about 380 grams. The presence of the rubberized grip makes it even more functional and pleasant to handle, making it stable and firm during use.
The Panasonic gx80 is also equipped with a nice feature, which will allow you to get panning fluids with HD resolution from a static video shot in 4k, from applause !!
The screen is a traditional 3 "LCD with 1 million points. It offers very good visibility, with automatic brightness adjustment and excellent color rendering.
The 4: 3 image format is wider at the sides of the classic 3: 2 with an optical sensor resolution of 16 megapixels while the size of the optical sensor is 4/3.
The stabilization on the sensor is composed of 5 axes and in addition, the stabilized lens allows you to take freehand photos up to a second, obviously with a bit of practice and confidence with the machine.
The sensor of the Panasonic Lumix DMC GX80 is composed of an electronic and mechanical shutter of the latest generation.
The minimum focal length is 24 mm. The display size is 3 inches with a touch LCD monitor that contains most of the GX80 camera's features, very simple to use.
The battery is lithium with 10025 Amph, packed with all the equipment, being present the energy saving function, it is more than sufficient for entry level use.
Like all the latest generation cameras, the WIFI system is available for best use.
From the web, it is possible to download the dedicated application on your mobile phone so as to quickly connect the Panasonic DCM-GX80 in a fast and stable manner.
Pros
Perfect 4k video with 25-30 fps
HD that can reach up to 60 fps
Timelapse
built-in flash
Bottom Line: It is a very versatile camera that can be used with satisfaction both by the amateur and by those who already have some experience in the field.
With its innovative photographic functions, it is particularly suitable for Street photography and with its ridiculous weight and ergonomics it is ideal for landscape photography.
How to Choose The Best Mirrorless Camera Under 1000 Dollars | Buyer's Guide
If you are interested to read my thorough & research based camera buying guide, this guide will help you a lot to know each & every thing about the cameras & its technical terms..
Sensor Sizes
The first feature you need to choose when buying a mirrorless is the sensor, which is also the most important component. It is a chip formed by photodiodes that have the task of recording the light and all the information related to it.
In combination with an image processor ( ISP ), the sensor transforms the information into files, which must be saved in a memory card almost always external and in SD format (to be purchased separately). There are mainly three types of sensors, in addition to other models that use smaller sensors - and lower quality - with a diagonal of about 1 ".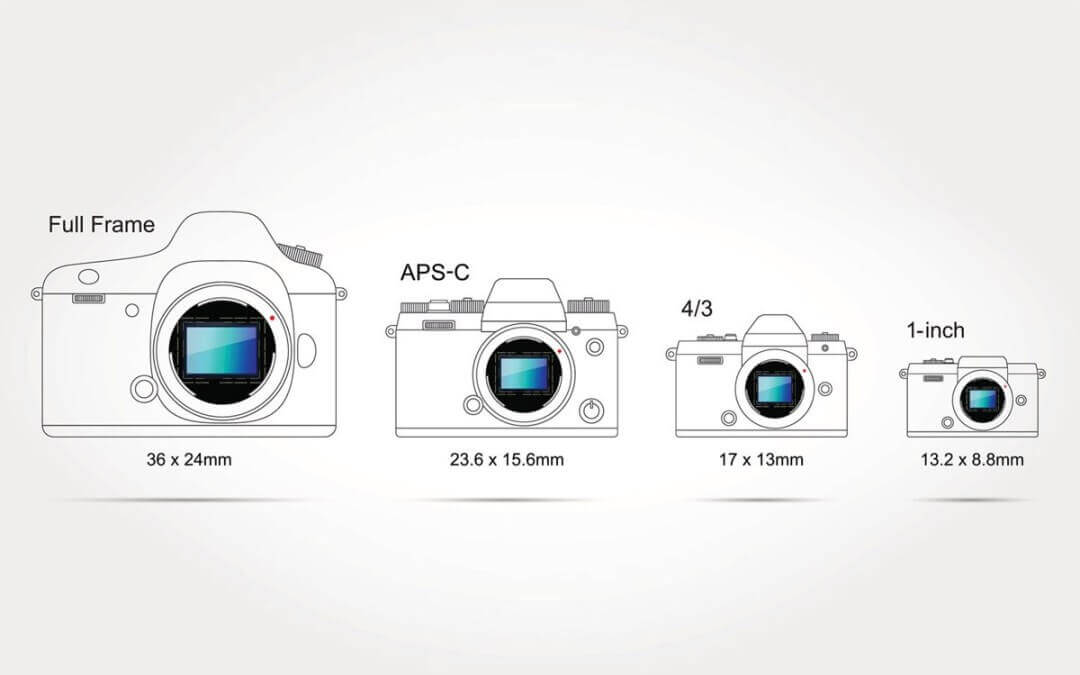 Mirrorless Full Frame
The full-frame mirrorless models are the most expensive and those that offer an absolute higher-quality shot. A full-frame sensor measures 24 × 36 millimeters and is equivalent to the standard 35 mm film format. The full format, as it is called in Italian, is characterized by its ability to capture a greater number of light than other types of sensors. I'll explain why right away.
A full-frame sensor is larger, and therefore for the same resolution, it integrates larger pixels that can give greater clarity and less noise in the same circumstances compared to an APS-C or Four Thirds sensor. They can take a higher field of view, and consequently offer a blurred effect against the background of greater impact. This effect is called jargonly bokeh.
Mirrorless APS-C
If the full format is too much for you and you want something qualitatively valid, but at the same time you don't want to faint on the economic level, there are many models of mirrorless APS-C on the market. They are the most widespread and clearly adopt an APS-C sensor measuring 23 × 15 or 22 × 14 millimeters. They carry a crop ratio (cutting factor) of 1.5x on Sony, Nikon, and 1.6x models on Canon models.
If you use a full-frame lens on these cameras (it is possible, but not vice versa), the real focal length will be the one declared multiplied by the crop ratio. The acronym APS-C means Advanced Photo System Type-C (Classic) and identifies a format with an aspect ratio (ratio between the long side and short side) of 3: 2. Between the two formats that I have indicated to you, there is also the APS-H (High Definition), but it is very little used and you will hardly find a model that uses it.
Mirrorless Four Thirds
Finally, let's point out the Four Thirds mirrorless, or rather those that integrate a Four Thirds sensor. This format measures 17 x 13 millimeters and has a crop ratio of 2x compared to the Full Frame. There are not very many cameras with this type of sensor, and in fact, unless you need a camera that reduces the bokeh I suggest you go directly to the APS-C format, which is also the one preferred by users a little more advanced.
The name Four Thirds does not derive from the aspect ratio, as it is mistaken to think, but the dimensions of the diagonal similar to those of the old cathode ray tube, therefore 4/3 ″.
Resolution MegaPixel
More photodiodes have a sensor and the higher the resolution supported by the photographs. One often thinks - wrongly - that the higher the resolution, the better the quality of the shot. It is measured in megapixels and represents only and exclusively the definition of photography in ideal conditions. The resolving power of a camera (and therefore the ability to capture the finest details) is instead determined by a long series of factors: sensor, response to ISOs, quality of lens elements, and light conditions in the environment.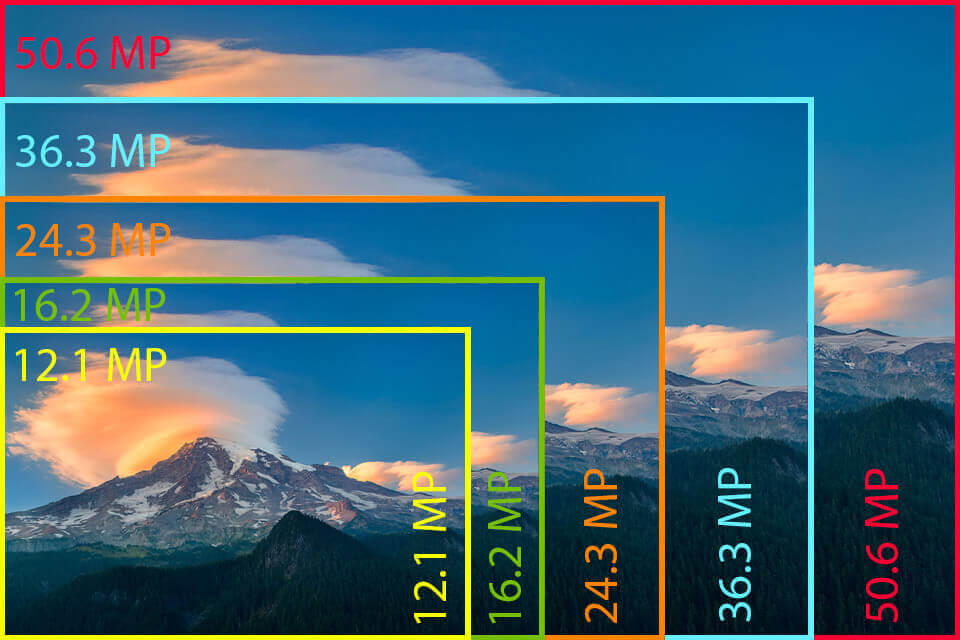 You will agree, therefore, with me if I say that Megapixels do not say much, and already a 16 MP model can offer you such a definition to guarantee prints of 30 × 40 centimeters with exceptional quality. Do not dwell too much on this data: now all the mirrorless on the market offer an optimal resolution for the images imprinted on the files.
Video Recording
A mirrorless can not only take pictures but also record videos, with professional quality as well. There are models that are even designed to record video thanks to sensors with not too high resolution. By combining this with interchangeable lenses, you can achieve a high degree of creativity and exceptional shooting quality. If you are interested in video recording, you should mainly consider these basic aspects.
Resolution:
there are various formats that indicate the maximum resolution supported. The HD format indicates a resolution of 1280 × 720 pixels, the Full HD a resolution of 1920 × 1080 pixels, the Quad HD 2K a resolution of 2560 × 1440 pixels, the 4K Ultra HD a resolution of 3840 × 2160 pixels. The latest generation models support at least Full HD, but also consider whether to take a model that records in 4K if you are interested in this particular area and want to be ready for the future.
Bit-Rate
If you want high-quality video check the maximum bit rate supported by the camera. Some models use codecs that compress the image a lot, degrading the image, while others can also support bitrates of 50Mbps and more. The SD memory card must also support this speed. To learn more about this, don't miss my guide on the best SD.
Frame Rate
videos can be recorded normally at 25 or 30 fps ( frames per second ) but if you want a more fluid representation especially of the most animated scenes I suggest you consider video recording at 60 fps. Some models can go further, reaching 120 or 240 fps for playback in slow-motion or slow-motion.
Lenses
Focal length - is the distance between the surface of the sensor and the center of the objective lens when set to infinity. It is expressed in millimeters and establishes the type of objective: normal, when it is equal to the diagonal of the format; wide-angle when it is less than 35mm; telephoto lens, when it is over 50 millimeters; macro when they have a small minimum focusing distance.
Viewfinder
Auto-Focusing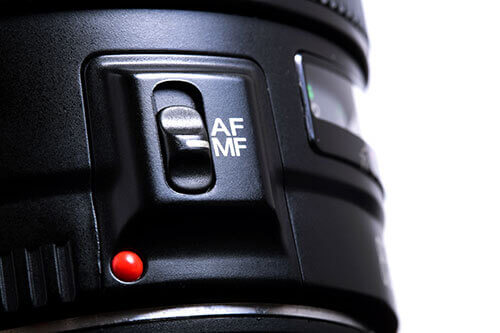 To define the importance of a subject or an element of the photo, the photographers use the "blurred". The most modern mirrorless - such as smartphones, compact cameras, and Reflex cameras - can set a focus point or decide automatically so as to blur everything that is closer and farther away. Jargon is called auto-focus and autofocus, the device can even automatically choose what to emphasize.
The mirrorless can have more or less points of focus inserted within a precise space of the sensor. Usually, the sensor surface is covered and the focus is more precise.
Particularly important in this sense is also the speed of focus, which in the last models has now become swift allowing to keep the "focus" constant on an element even if it is in motion. Indispensable for sports photography, and for photos of animals or children.
Image Stabilization
some lenses use a stabilization system to reduce movement during shooting and vibration. The best models allow you to earn up to 4 stops avoiding the micro-blur. Stabilization is essential when there is little light in the environment.
Shutter Or Burst Speed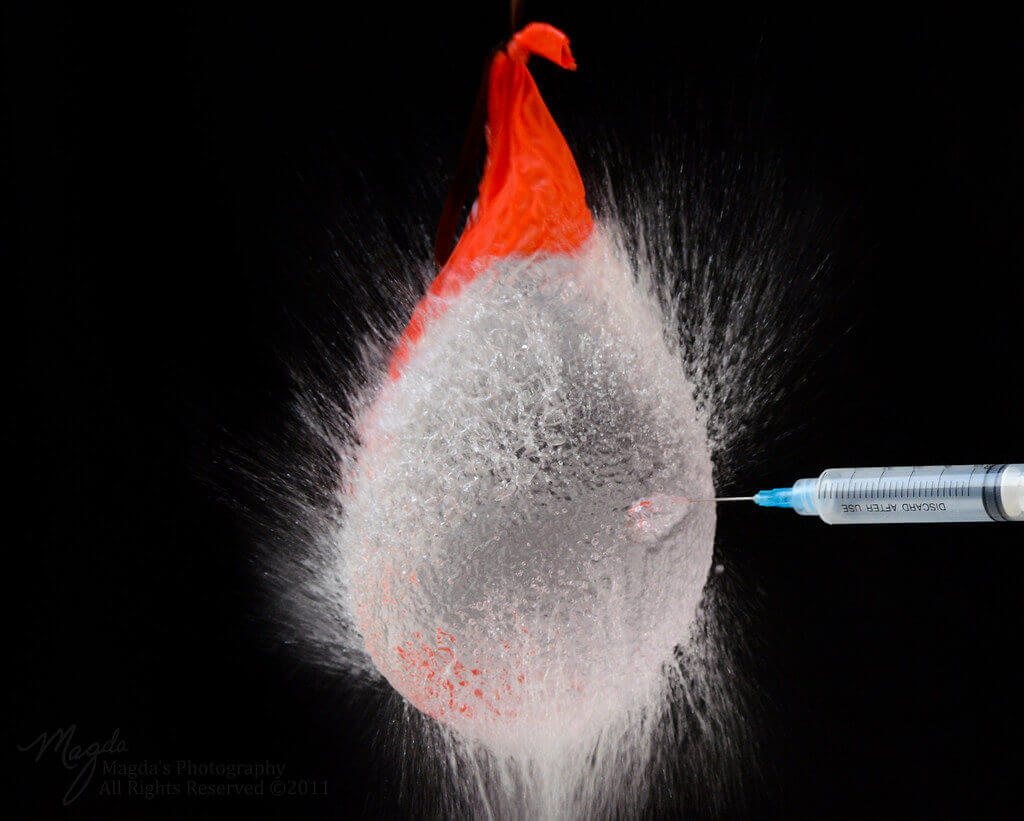 The shutter speed is also fundamental in these last three areas. Experts call it to burst and indicate a series of photos taken and saved quickly in succession by holding down the shutter button.
The faster the burst, the greater the possibility of obtaining a quality photograph in the circumstances I have specified before (and in all those where you are not sure of the final result).
This is an aspect in which the mirrorless has now surpassed the Reflexes, and some models that are not too expensive allow you to shoot without too many problems even more than 10 frames at full resolution in just one second!
Settings
Battery and Flash
Environmental Sealing
Mirrorless can be tropicalized, which is the term used to define resistance to weathering, to the unwanted introduction of liquids, dust or even shocks. If they are not "standard" and you want to use them in difficult conditions you will have to provide you with special cases for your model, which typically have a very high cost.
ISO Range
We talked about ISO sensitivity and I'll tell you right away what it is. Once, when the film was still used, there were several rollers that supported a higher or lower sensitivity. Now there is no need to change anything on the mirrorless, but it is the sensor that can increase or decrease the sensitivity to acquire or reduce the light captured by the environment. Everything, however, has a cost.
Increasing the ISO sensitivity not only increases the "brightness", but also the noise. A quality sensor reduces the quality degradation, but at high ISO usually the level of detail and the sharpness of the colors are slightly compromised on all the cameras. If you want to find out how a specific model behaves by increasing the value I suggest you consult the many reviews you find online, including those of the excellent DPreview.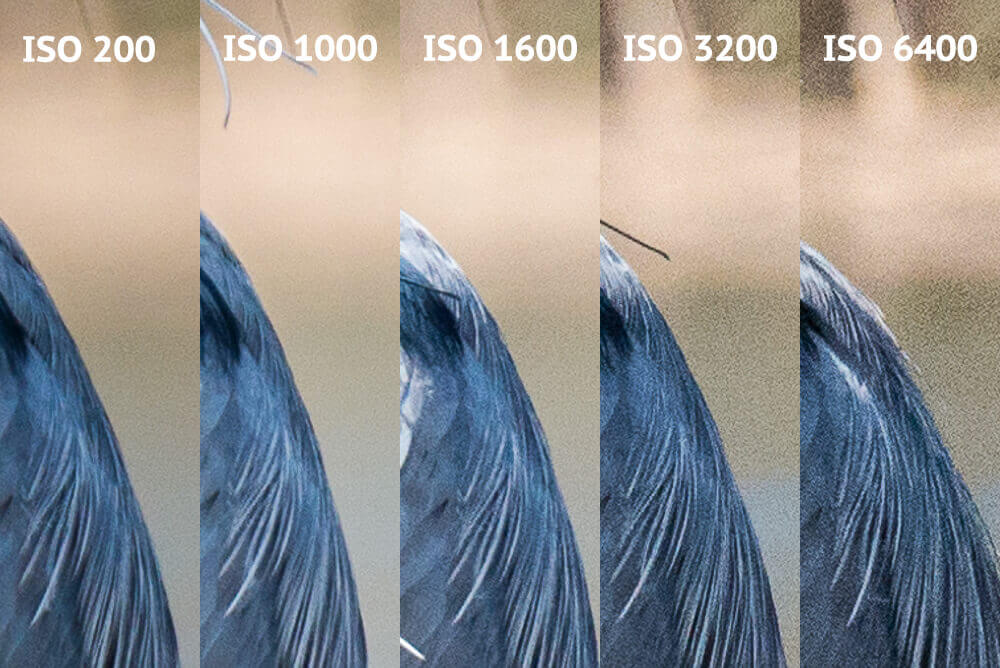 Connectivity
Very important, on a mirrorless, also the connectivity: in addition to the possibility of saving the files on an external SD card, the mirrorless can also transfer them - not always, however - even via cable or via Wi-Fi or Bluetooth. Some models support the NFC for fast pairing with smartphones and tablets, while the more advanced ones also have a GP S module to save information on the shooting position.
Weight
FAQs | Mirrorless Cameras under $1000
Conclusion
I am sure that after reading my advice you no longer have any doubts about what to evaluate when purchasing an advanced digital camera. Below, therefore, I propose you the best mirrorless camera under $1000 on the market in terms of value for money.
Top-Rate Mirrorless Cameras of 2020 under $1000